If you are looking for a simpler way to keep fit, then a Bowflex treadclimber is one of the tools you may want to put on your wish list. This device has lately become a popular alternative to the traditional elliptical machine or treadmill. It is designed to be of low impact for easy use at home. Besides that, it is constructed with moving style pedals, which move up and down when you stride. An inclined angle and ease of movement make this machine one of the most effective solutions for burning calories without necessarily running. On the flip side though, there are different models available and it is important to find one that corresponds with your particular needs. Below is a run-down of top 5 Bowflex Treadclimbers followed by a verdict on which one of them provides maximum value to the user.
Bowflex TreadClimber TC10
Overview
TC10 is popular because of its great features and a reasonably low price tag. The machine combines the movements and benefits of a treadmill, elliptical and stair climber, all at a convenient walking speed of about 4 miles per hour. Best of all, you can track your progress as you exercise on the display screens which indicate – number of calories burned, distance, speed ad time. It boasts a compact design occupying just 30.3 X 52.3 X 50.6 inches which means you will not have problems finding some space for it in your home. In addition to working out your legs, abs and cardio, this treadclimber boosts your energy level, metabolism, HDLs and bone density. Unlike normal running exercises, which cause pressure on your body structure, this machine actually reduces your risk of osteoporosis, body fat and back pain. It is also gentle on your joints.
It comes with strong wheels which make it easy to transport i.e. you don't have to carry it from one room to another.
The machine is pretty convenient to use because you can choose how fast or slow you want to walk. You can choose within a speed range of 0.5 and 4 miles per hour.
The manufacturer provides a 2-year warranty cover for the entire unit.
You don't have to worry about how to assemble it. It comes with a detailed manual and just in case you have difficulties following that one there is an assembly service readily available.
If you like sipping some water during your workout sessions, then this machine, with its cup holders, will definitely improve your journey.
Product
Specification
Photos
Restore and boost your energy while sculpting your ABS and legs with the TC10. It features an easy-to-read display where you can monitor your speed, time, distance, and calories burned. Just set the ...
Available:
In stock
| | |
| --- | --- |
| Product Dimensions | 50.6 x 30.3 x 52.3 inches ; 185 pounds |
| Shipping Weight | 407.8 pounds (View shipping rates and policies) |
| Origin |  USA |
| Item model number | 100341 |
Last Nov 2011, my doctor told me that if i did not get serious about my fitness, i was going to become diabetic and have other major problems. On that day, I weighed 273 pounds, had a blood glucose # of 122, cholestrol # of 206, trigylcerides of 304 and my hemoglobin A1C was 6.6. i Am just under 6 feet tall.I bought my TreadClimber TC10 as a Christmas present to myself (and my wife) and started to walk. It was really hard at first. for the first few weeks I could only go for 10 minutes at 1 mph.Between Jan and Aug I had 1 number to watch.. my weight. I went back to the doctor in August, the weight was 239... 34 pounds lost. I was a lot more nervous about the numbers I could not see and anxiously awaited his review of my blood work. Oh that date, my blood glucose # was 106, my cholesterol # was 137, trigylcerides 119 and my hemoglobin A1C was 5.7. His message in August to me was 1) don't stop what you are doing and 2) your actions for the past 8 months made a big difference in your health.Its now almost Christmas 2012.. just about 1 year after I bought the treadclimber. My weight is now at 222#, and tomorrow (12/21) i have my blood work done again for my next doctor visit in Jan. I am now spending 45 minutes on the treadclimber 4-6 nights a week. I just hit a new max distance of 2.51 miles in 45 minutes topping out at out at 4 mph for the last 7-8 minutes.. Most weeks, i am getting as far as 12-14 miles on this machine.Thank you for a machine that is helping me get my health back. I am 52 years old and feel fitter than ast any other time in my life. I am not yet done with losing weight... and hope to be below 200# by spring.
December 20, 2012
My wife and I bought the TC 10 and began a very dedicated workout schedule to lose weight and get in shape. The unit quit working in less than two months due to some electronic failure. In contacting for service the replacement parts were not available and it would be weeks before the unit could run again. We are very disappointed and Bowflex could only offer an apology for our lost time and effort.
October 8, 2012
My wife made arrangements to buy this about a year and a half ago. I had been laid up for a while with back problems, she paid for the assembly. Well, it arrived, but the assembly folks were unable to show for a couple weeks as I recall. I told her to call the company ancel the assembly service, I'd do it myself. This was a good option, because anyone with any sense of mechanical ability and a few simple tools can assemble these things. It's certainly not worth $200 or however much they were charging.Well after that it was used sporadically for a while and nearly became a clothes rack. However a month ago I decided that I as way too fat (275ish) and it was time to do something. So off I went. 30 days later I've dropped enough that it's noticeable and last weight check was 258. Generally speaking I feel better overall. I've been confining my workouts to between 30 & 31 minute 6 days a week. I just make it a point to raise the intensity by burning a few more calories each day.The product itself could be a bit sturdier. the Shocks or whatever they call them overheat about 20 minutes in if the speed is too low and they will start to bottom out. Lighter, faster people may not have this problem. Since I have picked up the pace it's stopped being an issue. The treads themselves could be a bit longer. I'm 6'3" and I can make it work if I pay close attention to my stride. You get used to it, but it requires accommodation on your part. When I get tired, I tend to lean on the handles. Not a problem but there is some noticeable flex in the overall frame assembly. It's not alarming but it might bear watching. The frame could be a bit taller for us tall folks as well.The other reviews mention mechanical/electrical issues. Nothing to report on that front. It runs reliably.
March 12, 2015
PROS:
Well-built frame capable of supporting up to 300lbs weight
Has a goal setting feature which tracks your progress
Suitable resistance variation with four functions
Well thought-out accessory tray and 4 separate LCD screens
3-in-1 workout design to burn calories faster
CONS:
Lacks a music entertainment feature
It may get noisy if operated on higher speeds
back to menu ↑
New Bowflex Treadclimber TC100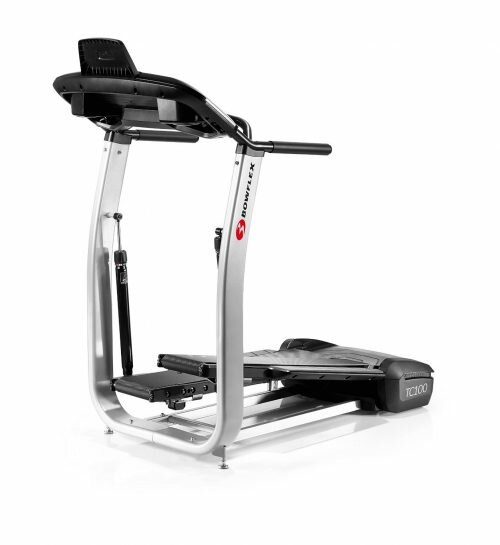 Overview
This newly upgraded treadclimber comes with a backlit console, self-charging features, workout tracking ability and heart rate monitor. New Bowflex Treadclimber TC100 has two separate treadles with moving belts like that of a treadmill which move in an up and down motion – achieving a unique workout experience which can burn 2.5 times more calories than an ordinary treadmill. Its console is a bit more advanced and personalized since its more spacious and comes with media and cup holders.
Boasts a 3-in-1 design that allows the user to enjoy low-impact exercise while still burning more calories
Has a small footprint and compact design in addition to wheels which make it easy to transport and store
Two user profiles are provided making it easy to track personalized data to help the user meet their fitness goals
Has a roomy console with over sized cup holders, contact grip sensors, media holder and the display screen is one large screen instead of 4 small screens as seen on the TC10
Equipped with a rear platform, which makes it easy for you to get on the treadclimber in addition to providing a sense of safety
Product
Specification
Photos
The new Bowflex® TreadClimber® TC100 delivers many of the features and enhancements of our top-of-the-line TC200 model, but caters to those seeking an impressive walking workout that's as friendly on ...
Available:
In stock
| | |
| --- | --- |
| Shipping Weight | 590 pounds (View shipping rates and policies) |
I bought this direct from Bowflex with a promotion they had going on. I've been watching this new model since it came out and finally bit the bullet and bought it.... so glad I did! If fact, I wish I would have bought it sooner! I kept holding back due to the fact there is only one review on their website and I am big on reading reviews before I make any major purchase... any purchase really. I've only use this a couple times so far and am completely in love! It really gets your heart rate going and makes your legs burn! I was able to assemble it in a couple hours by myself with constant interruptions by 2 small children 🙂 🙂 Tip: watch their assembly video on YouTube - very helpful! I only needed assistance attaching the console to the main unit. I feel like this is something that I will hop on every morning and get my walk in. It's convenient, has a small footprint, and is a great workout! I can't wait for my husband to try it! This is our third bowflex purchase (have the M5 max trainer & dumbbell set) and are very happy customers! Great quality products!
March 24, 2016
The tread climber is a great product but it's hard to get used to after my recumbent bike. I will go on!
January 27, 2016
Awesome, now if I can just work myself up to a full 20-30 minutes it will make me happy. Very well made, easy to put together. I would buy it again.
April 20, 2016
PROS:
Offers a wide range of customizable options
Provides a media shelf and charger for entertainment
Compact, and easy to store
Easy to assemble and has a 2 year warranty
CONS:
Despite its advanced technology, TC100 lacks built-in workouts.
back to menu ↑
Bowflex Treadclimber TC20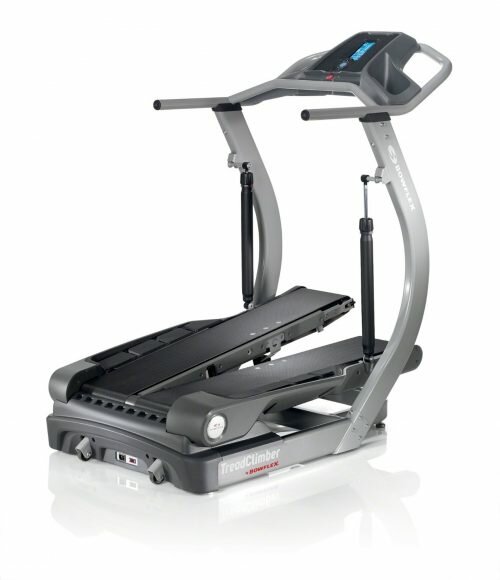 Overview
TC20, just like its siblings, offers a combination of treadmill, elliptical trainer and stairclimber. However, it is a bit more advanced than its closest relative the TC10 because it has a heart rate monitor, longer treadles, more weight capacity and extra programming to make each workout session more motivating. The machine boasts advanced Goal Oriented Coach technology which allows for highly personalized training goals for up to two users. In addition, you get 3 landmark workouts which are set to let you virtually climb the stairs inside famous structures such as the Statue of Liberty. And just to make sure your heart rate is on point, an integrated pulse monitor is provided to help you track your data conveniently. The space efficient model has a 51 x 30.5 footprint and attached wheels, making it easy to move when necessary. It weighs about 215 pounds and its sturdy frame can accommodate a maximum weight limit of 300 pounds.
Boasts advanced programming technology with three modes of action that allow for 3 independent types of exercises to be undertaken which is similar to fitting 3 machines in a space of one.
The advanced electronic console allows one to set up a profile, set goals and even track progress.
It has a comfortable design including a convenient place to store your water bottles and other electronic gadgets for maximum convenience.
Unlike the other two machines that we have reviewed so far, the TC20 comes with an extended warranty of 3 years. TC10 and TC100 come with a 2 year warranty.
This is a low impact machine and it is designed to reduce pressure on joints – thanks to its low perceived exertion. This is of course in addition to a backlit LCD display that tracks speed in the range of 0.5 and 4.5 mph.
Product
Specification
Photos
Our top-of-the-line TreadClimber® TC20 is perfect to help you avoid workout burnout with built-in motivation and versatility. Great for households with more than one user, the TC20 comes with five ...
Available:
In stock
| | |
| --- | --- |
| Product Dimensions | 55 x 31.5 x 55.2 inches ; 217 pounds |
| Shipping Weight | 300 pounds (View shipping rates and policies) |
| Origin |  Andorra |
| Item model number | CR052 |
Hello Friends, if you are looking to buy a treadclimber TC20 here are the things they don't tell you:1) Please know that the shocks are very tight right out of the box. I thought I was going to die after just 10 minutes. We spent 1 1/2 hours putting this thing together and all I could think of is "how do we send it back." Then my husband said "you must be doing it wrong" So he went on it and had the same realization. After a couple of days it loosened up and we both found our strides. Please don't give up.2)Start out slow and work your way up. I made it through half of the space needle in the beginning and under two weeks I am making it to the top.3)The motion of the machine is not hard to get use to. Even my 70 year old mother could use the machine on lower speeds. I did find myself with a "death grip" on the first and even second use but I think I had just watched to many youtube videos of people be shot off the treadmill.4) I was very discouraged by the "go coach" because all it does is see if you made it to the amount of time or calories or whatever you set it for. You can do that on your own. I wish it did more for the money I spent. Another kicker is that the manual tells you to unplug your machine and if you do this it re-sets the go coach completely.5)The TC20 is the right machine for taller people (6'+)my husband is 6'4 and needs even bit of stride allowance on the machine.6)over all I love my machine. It is VERY sturdy. I am not burning 500 calories a session yet. and I have to wonder how this machine factors in my weight to give me an accurate calories burn total? Because I am moving 197 lbs around and I did workout for 30 minutes but I burned less than 200 calories... things just don't seem to add up. Oh well, I can tell things are firming up already so hopefully I will see lower number on the scale soon. See you at the top.
August 25, 2013
I've been on my treadclimber nearly everyday since it's arrival. Yes, it arrived on the exact date projected. It took it a little bit of time to assemble it, but then I was off and walking. I was pleasently surprised by the extent of the workout, and then a tad sore the next day, because I woke up some muscles that have been slacking. Now, I'm not unfit, if that's the thought. I'm active in martial arts, swimming, and trail biking...the treadclimber, however - keeps you at a constant pace, climbing. If I turn on an NFL game, I've lost track of time, and spent over an hour and a half walking while engrossed in the game. I didn't get it for weightloss, but for variety in addition to what I normally do, and during the cold/rainy season. Love it. I've got friends that have offered to pay me to come over and use it. It's getting it's workout between my son, myself, and a friend or two.
October 27, 2012
I purchased the TC20 from the Bowflex site since they were offering a great incentive package--discounted price, free mat, free shipping. There is little I can add to some of the excellent reviews already offered, except for the issue of noise and vibration. We have our TC20 on the second floor in a room with ceramic tile. I thought the free "protective mat" would dampen the vibration and sound, but that was not the case. You could hear and feel the vibration and noise throughout the house. And the "free mat" lasted only the first hour. This is a heavy machine with adjustable disk feet in front, but only 1" posts in the rear topped with a simple plastic cap that punched through the mat like a cookie cutter. I threw away the useless mat and added 1" heavy rubber chair tips to the rear leg posts. That helped but was not enough. What really made a difference was adding Appliance Anti-Walk Pads under the front and rear legs. Wow! What a difference. These are made for washing machines but isolate the machine and prevent transmission of vibrations to the floor, protecting floor surfaces and dramatically reducing noise and vibrations through the house. Removing the mat also made it easier to keep the floor under the machine clean.Rubber chair tips (1") can be found any hardware store, but the Waxman Appliance anti-walk pads I only found at Lowes [...]
March 12, 2014
PROS:
Comfortable design allowing for maximum convenience for the user
Easy to assemble, and in case of challenges one can contact an assembly team that is always on stand-by
Comes with an extended warranty period
Has more features and better quality than its lower tier siblings
CONS:
Despite being in the same price range as high-end treadmills, it lacks an iPod port and internet connectivity.
back to menu ↑
Bowflex TreadClimber TC200
Overview
The new TC200 treadclimber is the top of the line model by Bowflex replacing the older TC20 model. It comes with an upgrade console that is very easy to read and has a place for your phone, beverage and even your tablet. It also comes with a free Bowflex app, numerous customizable programs, charging station and Bluetooth connectivity that enables you to track your workout goals over time. The TC200 offers the low impact and efficient workout inherent in the design of all Treadclimbers. In addition, it is equipped with numerous customizable programs including Distance Goal, Just Walk, Interval, Calorie Goal and Time Goal to motivate you to reach your goals and avoid boredom.
Comes with an accurate Heart Rate Zone Indicator that allows you to track your heart rate across four discrete zones including Performance, Fat Burn, Warm-up and Cardio.
Has a very compact design- measuring 55 inches by 31.5 inches by 62.5 inches.
 year manufacturers warranty for the entire treadclimber plus a 100 percent satisfaction guarantee.
Provides a three-in-one workout motion for an efficient calorie burning exercise. This means you not only get the forward motion of the treadclimber but the fluid motion of the elliptical and the stepping of the former stair masters also.
It also comes with a hand grip heart rate monitor and a wireless heart rate chest strap so you stay in your fat burning zone as you walk.
Product
Specification
Photos
Enhanced digital connectivity. Increased console interactivity. A bold new design. Meet the revamped Bowflex® TreadClimber® TC200, our premier walking workout machine. Walk your way to a more fit ...
Available:
In stock
| | |
| --- | --- |
| Shipping Weight | 591 pounds (View shipping rates and policies) |
I'm very happy with my TreadClimber. It's solidly constructed and has a smaller footprint than my old treadmill, which I appreciate. If you put it together yourself, be sure to look at the instructions before unpacking the boxes (two). I made the mistake of cutting two zip tie/bands on the tread-pedal assembly and caused myself some added difficulties. Assembly wasn't bad though. The boxes were very heavy, but I'm glad I didn't pay for someone to assemble it for me.
January 13, 2016
I tried out the TreadClimber TC200 for three weeks for a demonstration for review. I was impressed at how great of a cardio workout it gives at an easy walking pace. The action is similar to walking in deep sand. It is very low impact, so it is better for those of us with knee or hip arthritis. But it is just a walking motion, not the odd elliptical motion or the higher stress on the knees you get with a stairstepper. At a slower pace, I have a higher heart rate on the TreadClimber. It also has a smaller footprint than a treadmill or elliptical, although it doesn't fold. It is simple to use, you really only have the cushioning adjustment and the speed adjustment. The TC200 have five workout programs, but they mostly relate to the goals. It has a good integrated tablet holder for your iPad or mobile phone, with a USB charging port. It's quiet and solid. I liked it enough that I bought one.
January 12, 2016
In our opinion, the Bowflex TreadClimber delivers what the descriptions and advertisements promise. I can get the same results (calories burnt, heart rate) in less than half the time compared to treadmills or elliptical trainers. And my wife, who has absolutely no weight issues, enjoys using it to strengthen her core muscles and improve her general conditioning and endurance. We are both in our middle to upper 60s and recommend the Bowflex TreadClimber for weight management and general fitness.
February 21, 2016
PROS:
Weighing around 217 pounds only, this machine has a very solid and stable feel
It has longer treadles "foot" allowing the user to position their feet where they feel comfortable
One is likely to burn up-to 423 calories in just half an hour with this machine which means you will see faster results in less time
Has a new climb indicator feature
CONS:
Being a premium model, it is a bit expensive hence a good choice for people on a budget
back to menu ↑
Bowflex Treadclimber TC3000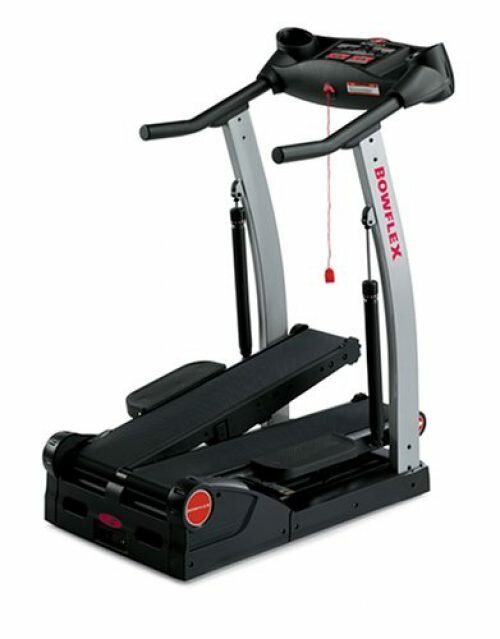 back to menu ↑
Overview
Bowflex TC300 treadclimber is a combination of stair steep, treadmill and elliptical. This makes it an excellent pick for people who love doing low impact cardiovascular workout and those who like to walk instead of jogging/running. It comes with 12 different settings that allows you to customize the work-out to fit your needs. It also features a clear and easy to operate five panel LCD display windows so you can view your current speed, your distance, the total amount of steps you do, total time spent on the treadclimber and total amount of calories burned.
Measures 46 inches by 28.5 inches by 55.25 inches while weighing 300 pounds maximum capacity.
hree year warranty on the motor, one year on hydraulics and two years on electronics which is the best offered compared to its rivals.
Has a low impact design ideal for maximizing your workout. The design reduces the stress on your joints and the treads are well cushioned to make the design more absorbent.
Adequate space provided on the console for accessories such as a remote control, magazines etc and even water bottles.
Has a minimum speed of around 0.7 miles per hour and maximum speed of 4 miles per hour.
Product
Specification
Photos
The TC3000 offers an impressive array of electronics and features at a great mid-level value. It also incorporates the same workout speeds and ergonomic console design as our top-of-the-line ...
| | |
| --- | --- |
| Product Dimensions | 46 x 28.5 x 55.2 inches ; 185 pounds |
| Shipping Weight | 221 pounds |
| Item model number | TC3000 |
I got my machine earlier this year. As the other reviewer indicates, at first I really didn't like it. It was awkward and hard to use. I was really worried.The second time I used it I slowed down the speed and worked on getting the feel for the machine. On a treadmill I always walk at about 4.5 MPH. So I set this machine initially to 4.0 MPH. That is much, much too fast for a beginner. (Don't worry it is still a good workout at 3.0 MPH.) That did it.Now it is the easiest and best exercise machine I have ever used. I get a better workout than a treadmill with lots less stress and pain in my knees. It is more natural for me than an elliptical.If you get one of these, you will love it. You just have to stick to it for a few times (it took me two workout sessions) to master it.
February 9, 2006
Because of the business of my life, I do not have the time to make it to a gym on a routine basis. Therefore, I take great consideration when it comes to investing in a piece of work-out equipment. I have been diligently using an elliptical for over a year now and it's done a fairly good job of working my lower body. But, it gets boring and it started to make my hips ache.After researching the TreadClimber for over a year (the cost was a big factor for me), I decided I'd purchase it because it not only worked my lower body, but was versatile enough for cardio. So the "three-pieces-of-equipment-in-one" was a big selling point to me.If I could go back, I would not have bought the TreadClimber and here's a few reason's why:1. The hydraulics with the stepping are awkward and they do not go up and down on their own (cheaply engineered for the price I was paying). So, if you are like me and do not walk "perfectly", the machine will pull to one side - not moving up and down evenly. Therefore, you are spending more time in your workout "getting leveled out" then working effectively.2. It is small width-size, so I cannot walk without smashing my hands into the side bars.3. The treadles are slim and if you have larger feet (especially once you have sneakers on - I wear a woman's size 10), you are bound to hit the motionless sides and get catapulted several feet behind you.4. Because of the increased chances of hitting the motionless sides, you must FOCUS on the treadles constantly, if you are to get the best work-out - which means NOT holding onto the side bars. It is discouraging and distracting to be staring at the belt for the entire workout.5. Do not believe that the stair stepper is of any use.Read more ›
December 31, 2007
Thankfuly, we bought this machine through Amazon, and they have given us wonderful customer service so we're not out nearly 2 grand!This machine does not work properly. We were never able to make the treadles go up and down more that a few inches. Regardless of the setting and regardless of the size of the person using it. Sent the first one back - received the 2nd and it worked exactly the same!!Unfortunately for Bowflex, they provide you with an instructional DVD. Unfortunate, in that it is obvious that the machine sitting in your home does not work like the one on the DVD. Not even close!!Please do not waste your money! We called Bowflex to get some customer support (if that's what you want to call it) and really, I think they're aware that this is a cheap product. If even 1/2 the people that order this peice of junk keep it, Bowflex still makes a fortune!Not only does it not work, but it makes a tremendous amount of noise....not working. Buyer beware!!
May 19, 2009
PROS:
Offers smooth operation and is easy to use even for beginners
Has a compact design that makes it a perfect option for people who are short of space in their home for exercise equipment
This machine is able to reduce your exercise time with its super efficient and low impact work-out
Makes a regular walk a bit more cardio-intensive by adding the stair climbing element
CONS:
It is not ideal for very tall people so if you're over 6'1, this machine is not for you
How To Choose The Best Bowflex Treadclimber
Bowflex treadclimbers comes in many different models hence choosing the best one that fits all your needs can be quite a task. For this reason, here are some things to consider to help make your choice a lot easier.
Budget
This might be one of the most important things to consider. Different Bowflex machine models come in different prices. While a premium model will cost you more, there are still affordable models for people on tight budget. So, if you are on a budget, you can choose to buy a second hand model or go for the lower priced models.
Fitness level
If you are an advanced exerciser (i.e you have been work out for quite some time), an advanced machine with higher resistance settings is the best option. On the other hand, if you are just a beginner then a basic Bowflex model could work for you as it allows one to buy upgrades and attachments as needed.
Space
The space available in your home to put your Bowflex machine is very important. So ensure the Bowflex machine you buy can fit where you need it. This way your Bowflex won't end up disappointing you when it fails to fit the designated area.
Who will be using the machine?
In case you are the only one who will be using the machine you can easily make the choices of what features you would like and those you don't. However, if more people are going to be using it, then you should consider a more advanced model to provide adequate work-outs for everyone.
Effectiveness of the machine
How effective is the machine? A good Bowflex machine should be simple to use and conform to different elves to match your activity. It should also work seamlessly and round the clock to get the best results from your workout exercise.
Competition — Which One Is the Best Among Reviewed and Why?
Although the TC10 model, TC100 model, TC20 modeland TC200 Bowflex model are incredibly worth every penny, the TC3000 model beats them all. It offers an impressive array of electronics and features including 12 settings all at a great price thereby giving you value for your money compared to the rest of the Bowflex machine. Second, according to reviews and opinions, most people recommend this model and consumers are extremely happy with it. In addition, it has better warranty for all its parts: 3-years on the motor, 2-years on electronics and 1-year on hydraulics which is why it is one of the best among all these top Bowflex machine.
Sources:
Treadmill-Ratings-and-Reviews.com