One of the wisest investments you can make around your home is to invest in one of the best whole house generators. A well built, long-term machine can provide you with a consistent and stable power supply for extended periods. In the event of a power outage, you can turn to one of these to keep your home or business running.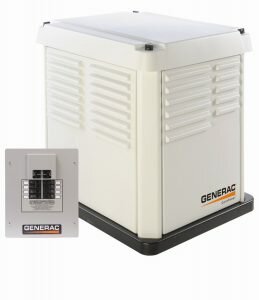 But because different machines have different capabilities, it is even more important to go for a system that meets your exact needs and offers good value for money. Below is a comparison of ten popular generators model with a final verdict on which one of them is capable of providing efficiency and reliability.
Why Do You Need A Whole House Generator
Power blackouts are sometimes unpredictable. They happen when you least expect and you may have to compromise on your quality of life or schedule if such an occurrence is reported in your neighborhood. That's where a whole house generator comes in handy.
Also, having a generator whole house can be powered, which is quite important if you live where natural disasters like an earthquake, winter storm, wildfire or even hurricanes are common as this can leave your family in freezing situations and hinder your access to freshwater.
It provides you with much-needed power so that you can complete all your important tasks before powermen can restore their systems. People buy these generators in order to guarantee seamless operation either at home or at work.
Topping our list of home generators reviews is the Kohler 20RESCL-SA7. It's powered by the powerful and dependable Kohler command pro engine made for robust commercial applications. Its hydraulic valve lifters eliminate the demand for interval stops while in use and so, it can handle long periods of runtime.
This standby generator is designed to automatically kick in whenever there is a blackout promising to restore your power is as little as 10 seconds. Kohler 20RESAL-SA7 boasts a 5-year limited warranty or an alternative of 2,000-hour warranty whichever elapses first.
The massive generator has outstanding motor-starting power, great power quality, and corrosion proof enclosure among other features. As the best standby generator on our list, we like how it runs quietly but with power distribution and load shedding feature that lets its motor limit the power supplied to certain devices to keep it from overheating and to certain areas of your home to keep your appliances and electronics protected.
Features:
Powerful and reliable motor powered with hydraulic valve filters and PowerBoost technology which accommodates larger electrical loads.
Has low distortion (THD), a feature that is needed to protect your sensitive electronics at home.
It operates quietly, all thanks to its advanced silencer technology which reduces sound levels and provides quiet operation at 69 dB(A) from 7 Meters
Has a built-in Ethernet and there is no additional hardware needed to make it safe for changing physical conditions. In addition, it has a pack of LED lights which allow you to view ATS status.
Meets EPA regulations for phase 2 small off-road engines and CA 2011 requirements.
PROS:
Relatively quiet and friendly for most neighborhoods
Easy to install, and it has two holes in front and back for easier carrying
Quite reliable for long-term usage
CONS:
Has a relatively weak throttle
I chose the Kohler 20RESCL standby generator for a number of reasons. One, it features a composite noise dampening enclosure, comes with a remote online controlling feature which means I can easily control it wherever I am through my SmartPhone, and three, it's backed by a 5-year warranty. The generator still works great a few years after I bought it. I would say it a great value for money.
I bought this generator in 2016 and I just love how reliable it is. I was really getting frustrated with frequent power outages in my area. Sometimes the outage would go for more than 8 hours. Kohler has solved our problem. I especially love the fact that it's automatic – no need to go outside to start it.
I absolutely love this generator. However, I don't like the fact that its operation cost is too high. It runs on propane and a single gallon costs around $3. So if you experience a power outage for a whole day or for a few days, the costs can quickly add up. Overall, it's a great generator.
back to menu ↑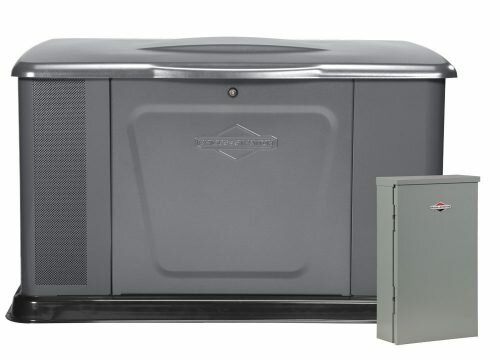 This whole house generator has the reputation of being reliable enough to provide a long-term power solution while still being flexible enough to meet the essential needs of a homeowner. The Briggs & Stratton 40396 is one of the best whole-house generators and it also features a split amp transfer switch that you can use to connect it to your electrical system at home. If there's a power failure, it will automatically come on to provide your home with energy. Briggs & Stratton 40346 is capable of supplying 20,000 watts which are managed through a 200 amp automatic transfer switch – this is enough power to power up to two air conditioners among other devices.
Features:
Fast response to the power outage, Briggs & Stratton responds in seconds and provides stable power essentially protecting electronics from power surges.
Has a transfer switch which offers flexible usage making the machine ideal for both indoor and outdoor usage – that is in addition to weather resistant cover.
Meets stringent NFPA standards, in fact, you can use it in as close as 7 meters from your home.
Has a 16-unit circuit control center inclusive of circuit breakers entirely designed to fit within your yard
Backed by a 4-year warranty cover
PROS:
Automatically restores power after a blackout
Ideal for large homes
Powered by a commercial-grade vanguard engine
CONS:
The location of its oil fill is not convenient unless you have an appropriate funnel
In the 3 outages we've had so far, the unit has performed exceptionally well. Couldn't be happier. I love how the unit activates automatically the moment power goes out and shuts off when power is restored. I've only had it for a short time so maybe it's too early to start making conclusions but I am hoping its performance will remain constant in the long-term.

It has been two years and so far, so good! It was actually very easy to install and the instructions given are pretty clear and concise. Plus my shopping experience was great – the unit was delivered in time.

After desperately searching for a good home generator, I came across the Briggs & Stratton unit and I am confident I made the right decision. It's a high-quality unit which is definitely worth the money. Installation was easy and the remote monitor feature makes adjusting the settings hassle-free. It's quite heavy though and expensive too compared to most whole house generators.

back to menu ↑
Champion Power Equipment Standby Generator (100294) – The Quietest
This Champion Power Equipment whole house generator gets an edge over most others in its class from the fact that it provides a quieter and more residential-friendly operation with its 63 dB noise level. Besides being a quieter generator, it is also more powerful as its 14-kilowatt engine can deliver at least 12,500 watts depending on whether you are using natural gas or propane. Also, the amazing whole house generator comes with a highly efficient and reliable ATS 200 transfer switch that will ensure excellent power management. And whether it is in the peak of winter or summer, you can start it with ease as its 24-volt starter will work effortlessly in almost any temperature.
If you've gone through our home backup generator reviews and still want another fuel-economical generator, then this is your best bet. Its size makes it perfect for small and medium-sized homes and it monitors when it's close to overloading so it can stop power supply to unimportant circuits to keep the vital appliances running.
Features:
It is a more powerful 14 kW that will provide up to an impressive 12,500 watts when using natural gas and 14,000 when using propane.
Comes with ATS 200 transfer switch for the whole house that includes demand control and will provide perfectly managed power for the entire house.
Uses a highly reliable 24 V starter system that has been designed to operate in adverse conditions such as extreme heat and sub-zero temperatures.
Advanced sound dampening and a low-tone muffler make it one of the quietest whole house generators in its class, and it has a noise level of 63 dB only.
Performs self-diagnostic tests every week to ensure that it remains in good running condition and make it easy to detect any problems before they worsen.
The manufacturer backs it with a lengthy 10-year warranty to ensure users get long and stress-free ownership.
PROS:
Quieter operation and more residential-friendly
Highly reliable start system
Efficient transfer switch
Convenient and highly useful weekly self-diagnostic test
CONS:
It is quite larger and has a more industrial look that is not very aesthetically appealing
The first time I saw it online, I was pretty impressed by its features. The price is a little bit on the higher end but its design and performance make it all worthwhile. So far, I am loving its performance. It's an automatic generator plus it's very quiet. I've only used it for a few months and I hope it will still exhibit the same performance for years to come.

This unit quite frankly exceeded my expectations. I will surely comment later after using it for a longer period.

It did cost me a lot of money but honestly, I can't complain. I bought this generator as a replacement for my old manual generator which was getting really expensive to maintain. So far, its performance is top-notch and I love how quiet it is.

back to menu ↑
Generac 6998 Guardian Series Air-Cooled Generator – Fastest Kick In
Generac 6998 Guardian Series is a best-selling whole house generator from a top brand that has been specifically tailored to provide an automatic solution to power outages. The top-notch quality and well-built generator will make use of Generac True Power Technology to deliver the best power quality in its class and to ensure smoother and safe operation for your sensitive appliances. And it also comes with a more efficient and reliable 8-circuit, 50-Amp NEMA 1 transfer switch and with some unique controls and indicators for more user convenience.
Features:
Uses True Power Technology to deliver top-notch power quality to ensure smoother operation and keep your sensitive appliances safe.
Comes with 8-circuit and 50-Amp NEMA 1 transfer switch that will allow for more efficient connection and has also been designed to be more lightweight.
It has some unique controls to give users an easier time, and they include LED indicators for the current generator status, the presence of the utility power supply and maintenance indicators.
Made to last for many years with highly durable and all-weather aluminum that also includes 3 removal sides to give you an easier time during installation and maintenance.
PROS:
Works with both natural gas and propane
Kicks in automatically and in seconds after power loss
Lightweight and efficient transfer switch
Easier and faster installation
CONS:
The required battery is not included in the package, and so you need to spend more cash to get it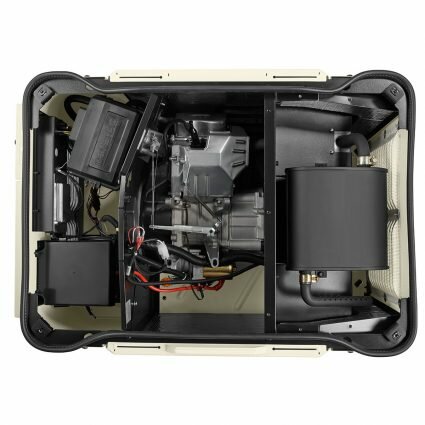 Pro Tip
Maintain your whole house generator regularly by having a scheduled maintenance routine to ensure it lasts long enough.
---
Jon
If you liked this article, you'll also be interested in:
back to menu ↑
Generac 7043 Home Air Cooled Standby Generator – Best For All Weather Conditions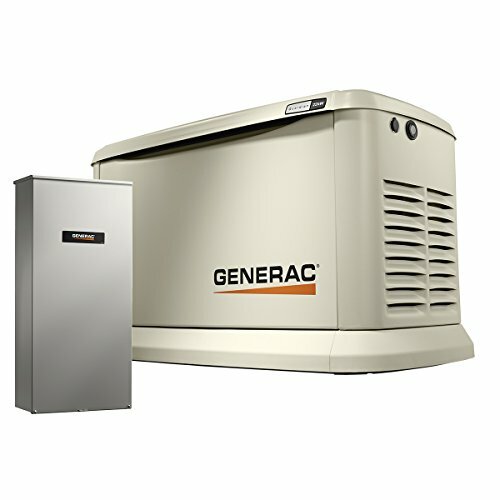 A 200-Amp transfer switch is one of the key highlights of the Generac 7043 and also what sets it apart from many other models by the company. This transfer switch has been designed for smart and more efficient power transfer for the whole house. And this generator also makes use of True Power Technology to deliver high-quality power with lower total harmonic distortion for a smooth operation of delicate appliances. The sturdy all-weather aluminum housing makes this generator more durable, and it has also been powder-coated to make it corrosion resistant. This housing also has 3 removable sides to make installation and maintenance easier. And with the smart and more user-friendly controls that also include a multilingual LCD display, you can easily track the maintenance intervals and the battery status.
If you're looking for the best home standby generator that will help you save money on energy costs and also, protect your electronics from overheating, then you can't go wrong with the Generac 7043. With its THD of about 5%, it runs quite smoothly and minimizes the risk of your devices overheating.
Features:
True Power Technology is also a key highlight like with many other Generac generators, and it delivers top-notch power with less than 5% THD to run sensitive appliances and electronics safely and smoothly.
Comes with a 200-Amp NEMA 3 smart whole house transfer switch that will deliver impeccable power distribution.
A sturdy, tough and highly durable aluminum housing that has been built for all weather use ensures that this generator will last long and 3 of its sides are removable for easier installation and maintenance.
Highly useful evolution controls that offer LED indicators for important elements like the generator status, the presence of utility power and also maintenance alerts.
More reliable G-Force engine that is pressure-lubricated and designed to withstand the rigors that come with regular generator use and will also require less maintenance.
PROS:
Smooth appliance and electronics operation
Durable all-weather aluminum construction
Indoor and outdoor rated whole house transfer switch
CONS:
Battery charging alternator not included
Seems a little more expensive when compared to others in its class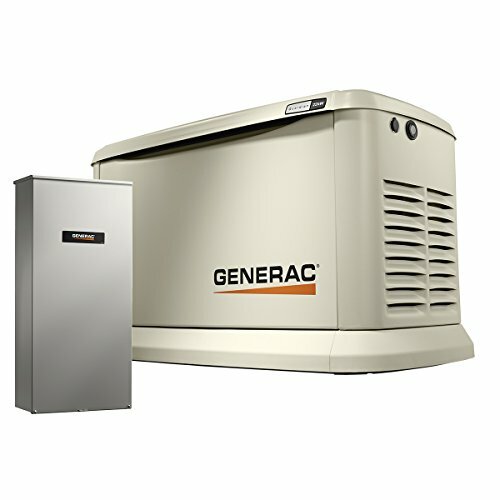 Pro Tip
Make sure that you master your generator's sound/tune so that you can easily tell when it changes which is often an indication of a problem.
---
Jon
back to menu ↑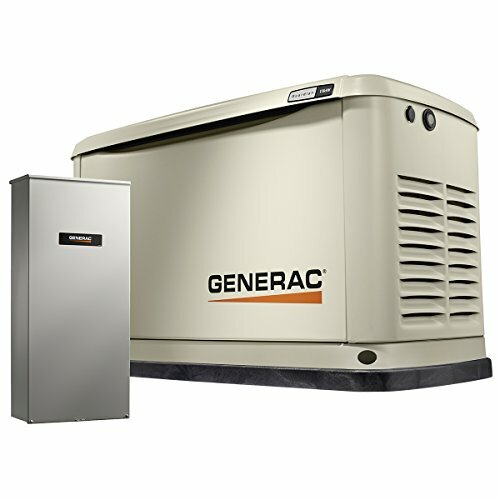 Our standby generator reviews would be incomplete if we don't mention the Generac 7033. Like other Generac models, it comes with LED indicator lights that correspond to the motor's features and tells you when it needs routine maintenance, has a full power supply and when it starts working as well.
The Generac 7033 is the generator to turn to when looking for a whole house generator that will deliver efficient power supply throughout the house. Like many other modern Generac generators, it delivers high-quality power with low harmonic distortion to keep your delicate appliances/electronic safe. And it also runs on the more reliable G-Force engine which not only handles the rigors of a generator better but will also require less maintenance. The smart and easier controls make monitoring the battery status and maintenance intervals a breeze and with the all-whether powder-coated aluminum enclosures this generator will last for many years outdoors. Being smarter and more technologically-advanced generator will also allow for remote monitoring through the Mobile Link Remote Monitoring.
Features:
A high performing G-Force engine that has been purpose-built and is pressure lubricated to ensure it can handle the rigors that come with regular use and results in a more reliable power supply and will require less maintenance.
Compatible with Generac's Mobile Link Remote Monitoring that will make it possible to monitor the generator's status from a PC or using smart devices from anywhere in the world.
Easier to operate and smart control system that includes an LCD display and will make it super easy to track both maintenance interval and status of the battery.
Durable aluminum enclosure that is not only tough but also powder-coated to ensure top-notch all-weather performance.
Uses True Power Technology to deliver high power quality with less than 5% total harmonic distortion, and this ensures smoother and safer operation of your sensitive appliances
PROS:
Low harmonic distortion
A more reliable engine that requires less maintenance
Smart and more user-friendly controls
Significantly quieter operation
CONS:
You have to spend more cash to buy the battery separately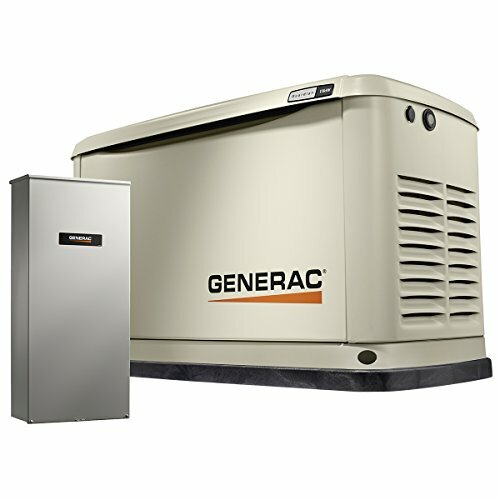 Pro Tip
Run your generator within the optimal load-bearing range as often as possible to avoid wet stacking and ensure maximum efficiency.
---
Jon
back to menu ↑
Briggs & Stratton 40445 Home Standby Generator – Best Out Of The Box
Being a relatively more affordable generator, the Briggs & Stratton 40445 is designed to ensure you get a powerful generator without spending more cash than necessary. And despite being powerful, it still has a small footprint, and it can easily fit tight lot lines. Many homeowners will also love that it can be safely installed as close as 18 inches from home. The highly efficient power management system ensures that all your appliances whether small or large will get optimal power, and the flexible all-weather 50-Amp transfer switch will allow you to select the circuits to power. To make this an even better whole house generator, Briggs and Stratton have also been built to last thanks to its Galvanneal steel housing.
If you've got a small home, want to save money on a new standby generator and need less power supplied to your home, then the Briggs & Stratton 40445 8000-watt Home Standby System with 50-Amp Automatic Transfer Switch is an ideal choice from our best home generator reviews.
Features:
With the Symphony II Power Management, this generator regulates the power used by both small and large appliances seamlessly to ensure maximum efficiency.
Made to last for many years and besides using top quality internal components, the housing is also Galvanneal steel which is similar to what is used to make automotive, and it ensures a long service life.
Despite being highly powerful, this whole house generator still boasts of having a small footprint to ensure it takes up little room in your compound
The included 50-Amp transfer switch offers more flexibility as it has been designed and rated for both indoor and outdoor installation.
It is designed for closer placement near the house as you can have it as close as 18 inches from your house which can cut down on the installation cost.
PROS:
Flexible indoor and outdoor installation transfer switch
Closer placement/installation options
Highly durable steel construction
Relatively smaller footprint
CONS:
It is a relatively noisy generator
| Product Name | Image | Power | Overall Rating | Details |
| --- | --- | --- | --- | --- |
| Kohler 20RESAL-SA7(Air Cooled) Generator | | 20,000 Watt | 10 | Check price |
| Briggs & Stratton 40346 Home Generator | | 20,000 Watt | 8.5 | Check price |
| Champion Power Equipment Standby Generator (100294) | | 12,500 Watt | 8 | Check price |
| Generac 6998 Guardian Series Air-Cooled Generator | | 12,000 Watt | 8.5 | Check price |
| Generac 7043 Home Air Cooled Standby Generator | | 22,000 Watt | 7.5 | Check price |
| Generac 7033 Guardian Series Standby Generator | | 10,000 Watt | 7 | Check price |
| Briggs & Stratton 40445 Home Standby Generator | | 8,000 Watt | 9 | Check price |
back to menu ↑
Whole House Generator Buying Guide & How to Choose
There are many whole house generators in the market, but not all will suit your particular needs, and so you cannot just settle for the first one you come across. To ensure that you make a wise pick when shopping for one, you need to consider the following important things.
The power output of the generator will determine whether it will be appropriate for your household or not. But, the ideal power output for you will depend on your consumption. To make sure that you choose a generator that is powerful enough, you should add up the watts of everything that uses electricity in the house and choose a model that can supply that wattage or more.
With generators, size is important. The sizes of top rated home generators are assessed by the Kilowatt, abbreviated as kW, and it measures the capacity or total load that the generator can handle. If you're out for a good whole house generator power solution, a 20kW would be perfect.
With generators, the type of fuel used also matters as it will determine everything from how much it will cost to operate to its environment-friendliness. Typically, whole house generators will use propane, diesel or natural gas. The cost of fuel and availability should make it easier to pick between the three options. Generators that have alternative fuel capability will be an even better choice as they will not limit you to just one fuel source.
Installation is often the most challenging part of buying whole house generator because even if you have the best one it might still not serve you well if it is not installed correctly. While some models will allow for do-it-yourself installation, most will require a licensed electrician for installation. It is important to note that the more complicated the generator is the more cash the electrician is likely to charge you for installation.
While different whole house generators will have different features, there are certain features you need to watch out for to ensure what you buy serves you well. These features include things like automatic start, fuel gauge, alternative fuel capability, low-oil auto shut-off, noise reduction, transfer switch and wheels for mobility.
back to menu ↑
FAQ
Can I install a whole house generator myself?
Yes. It is possible to install a generator on your own without the services of a technician as some manufacturers will include pre-wired systems and comprehensive step by step installation instructions. However, for your safety and to ensure you adhere to electrical codes of standards, you should not install it on your own unless you are a trained and licensed electrician.
How long does a whole house generator last?
It depends on the build quality. However, the average life expectancy of a typical whole house generator is 15 years when used for normal standby conditions. Also, the lifespan of the generator will depend on the frequency and quality of maintenance.
Is it more cost-effective to replace utility company electricity with a whole house generator?
No. It is not cheaper to use a generator instead of buying power from a utility company as fuel costs would be much higher. A generator works best as a standby source of electricity in case of emergencies and power outages.
What is the Best Home Backup Generator?
Our top pick is the Kohler 20RESCL-SA7 20,000-Watt Generator. It has outstanding motor-starting power, great power quality and corrosion-proof enclosure among other features. This standby generator is designed to automatically kick in whenever there is a blackout promising to restore your power is as little as 10 seconds.
You'd agree that when it comes to powering your home, having the best house generator is quite important and now, that you're armed with our comprehensive buying guide and generator reviews, we believe that you know what to look out for in a standby generator and you'd choose the one that meets needs better.
Sources:
Which One Is The Best?
You can be confident that regardless of whichever generator you choose from our reviews above, you will end up with something top-notch quality that will come in handy during power outages. But, given that they are different models, they will offer different features, and this means each will be ideal for different situations or users.
All in all, there are still some models that seem to stand out from the rest in certain aspects. If you are looking for a generator that offers quieter operation, the Generac Core Power 5837 is the quietest while the Briggs & Stratton 40445 has the smallest footprint and Generac 7043 tops the list when it comes to advanced features.
From our reviews, it is clear that almost every generator has an edge over the other in one or a few aspects, but overall the Kohler 20RESAL-SA7 takes the top spot as our best overall whole house generator. This top-notch quality generator kicks in automatically 10 seconds or less after a power outage. And it is also relatively quieter, delivers up to 20,000 watts that should be enough to run the entire house and also provides excellent power quality and motor-starting power.