10 Perfect Budget Bandsaw Reviews – Latest Unbiased Insights & Guide (2021)
If you're constantly faced with the need to deliver intricate cuts, you may find it important to invest in a versatile wood or metal saw. In that case, you'd be at an overall better off position if you went for nothing but the best budget bandsaw. But what goes into finding such a saw? Here's a detailed review of key facts and factors to consider.
What is a Bandsaw?
Band saws may not be the most basic of all woodworking tools but they certainly are the most versatile. You need them to handle all complicated and fun craft work. For instance, they're the best choice for creating decorative moldings among other creative cabinetry pieces. One unique quality of these saws is that they can always be relied on to cut delicate curves even in thick lumber. It's, therefore, not a surprise that these saws are often recommended as the best choice for creating and trimming irregular shapes.
| Product Name | Image | Blade | Overall Rating | Details |
| --- | --- | --- | --- | --- |
| WEN Two-Speed 3962 Band Saw | | 72 in | 10 | Check price |
| SKIL 3386-01 Band Saw | | 9 in | 7.5 | Check price |
| Rikon 10-305 Bandsaw | | 10 in | 8 | Check price |
| DEWALT DWM120K Band Saw | | 5 in | 9.5 | Check price |
| POWERTEC BS900 Band Saw | | 9 in | 7.5 | Check price |
| Milwaukee Cordless 2429-21XC M12 Band Saw | | 5 in | 9 | Check price |
| Grizzly Deluxe G0555LX Bandsaw | | 14 in | 9.5 | Check price |
| Milwaukee Deep Cut 6232-21 Band Saw | | 5 in | 9 | Check price |
| Dewalt Max Deep DCS374B Baretool Band Saw | | 5 in | 9.5 | Check price |
| WEN 3975 Benchtop Bandsaw | | 5 in | 8 | Check price |
WEN Two-Speed 3962 Band Saw
First up on our list of the best budget-friendly band saws is WEN 3962 that makes an excellent companion for any workshop. At 20 x 25 x 58 inches, the band saw boasts a fairly small footprint without compromising on performance. As such, it won't take up much space in your shop. Despite spotting a compact design, it has a very spacious work table measuring 14-1/8 x 12-1/2 inches. As such, it is capable of accommodating both small and large pieces of timber. What's more? The work table can be swiveled up to 45 degrees to the right to help you make up to 6-inches deep angled cuts. WEN 3962 runs on a powerful 3.5-amp motor that allows you to glide through boards as wide as 9-3/4 inches and 6-inches deep in a single pass. As if that's not enough, it features dual-speed operation for added versatility on various materials. You can choose to run the blade at 1520 or 2620 FPM depending on your needs. Want to know the best part? This bandsaw machine is equipped with a wide array of blade options to choose from. It utilizes 72-inch blades that can be anywhere from 1/8 to 1/2 inches thick depending on the kind of intricate required. And guess what? It is also fitted with a 3-in-1 dust port that fits dust collection hoses of various sizes.
WEN 3962 Two-Speed Band Saw with Stand and Worklight, 10"
view on Amazon
Features:
Durable ball-bearings for smooth performance
Two-year warranty
Work light for illuminating the work table
Easy-to-assemble 25-inch stand
Offers 2-speed operations
Built-in measuring guide and miter gauge
Conclusion If you are on the trail of a budget band saw that can help you make intricate, straight and powerful cuts, WEN 3962 is a great starting point. With its powerful motor and a variety of blade options, the saw would make a perfect choice for both hobbyists and professional woodworkers. For the price, it is also well-built to provide you with long-lasting performance.
Pros:
Strong and durable fence to help make straight and precise cuts
Easy to assemble and use
Efficient cutting power
Has 6-inches of re-saw capacity
Easy to work with especially in badly lit conditions
Offers many years of dependable service
A solid and stable stand that keeps the saw elevated
Cons:
Adjustments can be quite tedious anytime you install a new blade
Flimsy tension knob made of plastic
Light casts a big shadow over the piece of wood you're cutting
SKIL 3386-01 9-Inch Band Saw
Next up is the 3386-01 9-Inch Band Saw from SKIL. Featuring a 2.5-amp motor with only one speed, the machine is perfect for novice woodworkers who don't demand too much power. Therefore, if you need a band saw for commercial use, you will need to step things up in terms of budget and size. But one thing is for sure, it is capable of cutting through a wide array of wood or metal materials. The saw is fitted with a dust port designed to help reduce debris and dust in your workspace. You can also attach a vacuum hose to the port for added convenience. Another important feature of the saw is a rip fence that is adjustable to help you create straight and precise cuts. And for ease making crosscuts, it includes a miter gauge. In addition to that, like the WEN 3962, this SKIL tool comes with an LED work light to ensure better visibility on the workspace by illuminating the cutting line. This allows you to make precise cuts in poor lighting conditions and in complete safety. And another thing, it comes with a rack and pinion table to help you make the perfect angle and height changes. Boasting a 6-TPI blade, the saw accepts 1/8 to 3/8 inches blade widths. As such, it is able to cut through various wood materials with minimal fuss. An EZ-View blade tracking and blade guide adjustment also come in handy for ease of aligning the blade and making customized depth settings.
SKIL 3386-01 2.5-Amp 9-Inch Band Saw
view on Amazon
Features:
Flexible LED lamp for maximum visibility
Three-year limited warranty
9-inch deep throat
Ribbed aluminum table with up to 45 degrees tilting angle
1-1/2 dust port
Single speed 2.5-amp motor
Conclusion While it lacks the power to handle more complex woodwork projects, it still does deliver some powerful cuts for anyone starting out on woodworking journey. Besides, thanks to its rip fence and 6-TPI blade, making accurate and swift cuts should not be an issue with this saw.
Pros:
Easy to change and fine-tune the blade
Adjusting the height and angle of the table is very straightforward
Silent motor
Lightweight design makes it easy to move the saw around the shop
Keeps work area free of dust
Cons:
Some of its parts are made of plastic
Cannot handle heavy-duty cutting
If your blade starts to make belly-shaped cuts consider increasing its tension or having the teeth sharpened.
Jon
Rikon 10-305 10-Inch Bandsaw
Rikon may not be as popular as other brands but they pride themselves on offering woodworking tools of the highest quality. As far as budget saws are concerned, their 10-305 10-Inch Bandsaw is a really solid choice. For the price, it packs some nice features along with heavy-duty construction to enhance your woodworking experience. For starters, the machine boasts a 1/3 HP motor that runs on 115 volts. Although not the most powerful, it does offer sufficient power for cutting through a variety of wood materials. In addition to this, it easily moves the blade to speeds of up to 2,780 rpm. Also included with the saw is a 2-inch rip fence to help you make accurate and straight cuts every time. The fence can also be removed if you want to do hands-free work. But that's not all. The Rikon 10-305 10-Inch saw is fitted with an adjustable guidepost that allows you to either lower or raise its height with just a turn of the handle. Further, it comes with a large cast iron table measuring 13-3/4 inches by 12-1/2 inches. This ensures you have a solid work surface to operate from that is capable of accommodating large pieces of wood with no issues. Most importantly, the saw's frame is constructed from steel plate which is stronger and durable than plastic frames. Therefore, you can count on it to provide you with reliable performance for many years to come. And to ensure your work area is always clear of dust, a 2-1/2 inch dust port comes in handy.
Rikon 10-305 Bandsaw With Fence, 10-Inch
view on Amazon
Features:
Backed by a five-year warranty
4-5/8 inch re-saw capacity
Includes a paddle switch for added safety
Uses a 70-1/2 inch blade with a range of 1/8 to 1/2 inches
Edge-facing thrust bearings
Conclusion Although it is not the cheapest of the band saws in this guide, it is not the most expensive either which is why it is a great budget option. On top of that, despite being compact, it offers nearly all the same quality specs found in larger saws along with incredible cutting capacity.
Pros:
The fence is easily adjustable
Easy to set up, adjust and use
Runs smoothly and does not make significant noise or vibrations
Takes up little space in your workshop
Built with quality parts for optimal durability
Perfect for hobbyists
Cons:
Does not come with a miter gauge
Blade guides need constant adjustments
Stand not included with the purchase
DEWALT DWM120K 5-Inch Band Saw
With a 10-amp motor, the DEWALT DWM120K is built to be powerful enough to handle any tough job thrown its way and without getting bogged down. On top of that, it operates at speeds ranging from 100 sfm to 350 sfm for optimal performance and versatility. Also included is a variable-speed dial to help you quickly choose the right speed for every application. Surprisingly enough, for the price, it also comes with rubber bumpers alongside a serviceable shroud made of steel. These two features allow the saw's guards to withstand any job site abuse for long-lasting performance. What is more, the saw is integrated with an LED light that illuminates the cut line for total accuracy, especially in poorly lit conditions. And the best part? It is fitted with a multi-positioned and oversized front handle that boasts easy adjustability and a lot of hand space. This ensures you get a good grip so you can make accurate cuts with ease. An ergonomic back handle with soft grip also comes in handy with the saw for improved comfort. Additionally, the DEWALT DWM120K includes a standard blade with tracking adjustment for ease of alignment. Basically, you will be able to make cuts of up to 5-inches which is quite admirable.
DEWALT DWM120K 10 Amp 5-Inch Deep Cut Portable Band Saw Kit
view on Amazon
Features:
3-year limited warranty and 90-day money back guarantee
Variable speed control and adjustable material guide
Powerful 10-amp motor
Dual bearing guide rollers for increased blade durability
5-inch and 4-3/4-inch cuts on round and rectangular stock respectively
Conclusion Packed with a very powerful motor, this work-horse band saw is perfect for serious DIY'er and professionals alike. It is designed to cut a wide array of materials including rebar and metal framing stock. To top it off, the saw is fitted with various ergonomic features to ensure optimal accuracy and comfort.
Pros:
Extremely light-weight for maximum portability
Includes a built-in hanging hook
Durable and easy to maintain blade
Replaceable brushes for quick repairs
Properly balanced body for reduced fatigue
Cons:
Blade gets dull very fast
If the finished cut surface is too rough choose a fine-pitched blade, decrease feed rate and increase band velocity.
Jon
POWERTEC BS900 9-Inch Band Saw
The POWERTEC BS900 might not be the most heavy-duty bandsaw machine around but it is surprisingly still powerful. It features a 2.5-amp (1/2 HP) induction motor with a speed of 1725 RPM. As such, it is able to handle lighter workloads with so much ease. However, don't buy it expecting professional results because it only has a single cutting speed. Featuring an 11-3/4 x 11-3/4 inch aluminum die-cast table, the saw offers a spacious and sturdy work surface without sacrificing on quality. But probably one of the best things about the table is the fact that it can be tilted for up to 45 degrees for ease of making intricate cuts. How about the blades here? It utilizes a 62-inch blade with a thickness that ranges from 1/8 to 3/8 inches. This allows for maximum versatility when it comes to re-sawing and scroll cutting. Further, it employs a quick-release tension lever that makes adjusting the blade easy. But wait there's more. Like most budget bandsaw for resawing, the POWERTEC BS900 also employs a dust port to help keep your work area clear of dust. In addition to that, it has a throat of 9-inches and at 90-degrees; it is capable of making cuts of up to 3-5/8 in depth.
You will need this manual for safety instructions, operating procedures, and warranty. Put it and the original sales invoice in a safe, dry place for future reference.
POWERTEC BS900 Band Saw, 9-Inch
view on Amazon
Features:
The table includes rack and pinion adjustment
Blade tracking window
Patented and durable blade-guard adjustment
Table supports up to 50lbs
5-amp high-quality motor
Conclusion The POWERTEC BS900 is appreciated for its phenomenal performance especially when it comes to handling small to mid-sized projects. However, its motor is not that powerful to cope with heavy-duty tasks.
Pros:
Durable and versatile
Easy and quick blade change
Well-constructed wheels for smooth performance
Solid bearings on the guides
Dust port allows you to hook up a vacuum hose
Cons:
Lacks a rip fence
Tension knob is cheaply made
Milwaukee Cordless 2429-21XC M12 Band Saw
If you are interested in one of the most lightweight and compact band saws around, then the Milwaukee 2429-21XC might be an excellent choice. Boasting a cordless design, the saw is powered by a 12V XC battery that allows you to make up to 150 cuts on just a single charge. Want to know the best part? The battery only takes around 30 minutes to recharge fully so downtime is definitely not as significant as you would expect. Coming with a powerful motor, it cuts through 3/4 inches EMT conduit in only 3 seconds which is quite impressive for a saw with such a small footprint. On top of that, the saw features a 1-5/8 cutting capacity. While the capacity is decent enough for handling multiple applications, it is nothing to be particularly impressed about. Another feature that stands out about this bandsaw woodworking machine is the LED light for illuminating the cut line while working in a dim lit environment. This makes it possible for you to pay close attention to the accuracy of each cut you make. Last but not least, the saw utilizes a blade length of 27 inches with a thickness ranging from 1/2 to 0.2 inches for ease of making precise cuts. Also included is an adjustable blade tension release for fast and easy blade changing. Read all safety warnings, instructions, illustrations and specifications provided with this power tool. Failure to follow all instructions listed below may result in electric shock, fire and/or serious injury. Save all warnings and instructions for future reference.
Milwaukee 2429-21XC M12 Cordless Sub-Compact Bandsaw Kit
view on Amazon
Features:
One-handed operation
Five years warranty
Adjustable blade tracking and aluminum guard
Single speed of up to 280 SFPM
Runs on 12V lithium-ion batteries
Conclusion Although the Milwaukee 2429-21XC band saw is inexpensive, it is certainly not a low-quality device by any means. The fact that it allows you to make precise cuts and is easy to control thanks to its small weight and size makes it one of the best budget saws on the market.
Pros:
Comes with a plastic hard carrying case for ease of portability
Variable speed trigger allows a slow start
Easy to use with only one hand
Reliable cordless design
Makes straight cuts effortlessly
Grizzly Deluxe G0555LX Bandsaw
Grizzly has been in the power tools industry for many decades and boasts one of the largest selections of bandsaw machine in the world. Their Deluxe G0555LX is a very powerful saw designed to deal with large pieces of timber without straining even a little bit. As far as its construction is concerned, its frame, wheels, and table are made of cast-iron for optimal stability and durability. Weighing over 200 pounds, the saw is very rigid and stable which is crucial when working with larger materials for maximum precision and safety. However, you will definitely need someone to help you in moving it from one place to another. Most importantly, it boasts a heavy-duty stand alongside solid bandsaw rubber tires to ensure superior performance. What does this tool have to top it off? The saw is fitted with a 1 HP (11-amps) electric-driven motor that runs on 220 volts to provide you with a cutting capacity of 6-inches. In addition to that, it employs 93-1/2-inch blade with a two-speed operation to choose from including 1800 and 3100 FPM. Therefore, depending on what materials you will be working on, you can choose a preferred speed. As if that's not enough, the Grizzly Deluxe G0555LX features a spacious 14-inch table that can be tilted up to 45 degrees to the right and 10 degrees to the left. This allows you to make perfect angled cuts up to 6-inches deep with minimal fuss. Similarly, it includes a sturdy and adjustable re-saw fence, miter gauge and a magnifying window for perfect blade alignment. The bandsaw is a versatile woodworking tool that is used to perform a wide variety of cuts in wood stock, such as rip cuts, cross cuts, bevel cuts, miter cuts, circular cuts, contour cuts, stacked pattern cuts, etc. View this manual.
Grizzly G0555LX Deluxe Bandsaw, 14
view on Amazon
Features:
13-1/2 throat capacity
Two-speed blade operation
All ball-bearing construction
Extruded aluminum fence and fence scale
Computer balanced wheels with solid rubber tires
Conclusion The Grizzly Deluxe G0555LX is a top choice due to its exceptional build quality and power. Although it is not the cheapest option in this list of budget band saws, it is hard to argue with its re-sawing capabilities. It is the kind of tool that will make your friends and even coworkers drool.
Pros:
Built to last and extremely dependable
Easy to swap blades with a quick-release mechanism
Comes with a dust port and large throat capacity
Includes blade guides, rack and pinion guide
Bevels to the right and left
Cons:
Included stand does not have wheels for ease of portability
For best re-saw capacity, you will have to buy a bandsaw riser
Milwaukee Deep Cut 6232-21 Band Saw
Featuring an 11-amp motor onboard, the Milwaukee Deep Cut 6232-21 saw is among the best budget-friendly units that combine excellent performance with quality construction. The motor utilizes Constant Power Technology designed to help maintain constant cutting speed throughout. Consequently, it is able to cut through most materials with precision and relative ease. On top of that, the machine employs one of the industry's largest cutting capacities of 5-inches by 5-inches. This together with its variable speed action allows you to cut down different types of materials with ease that would require a lot of strength to cut. Additionally, the unit includes LED light so you can work uninterruptedly including when it is dark. But that's not all. The Milwaukee Deep Cut 6232-21 is also equipped with an all-metal direct-drive to protect it from rust as well as early wear and tear. Similarly, it includes a gear clutch onboard that absorbs high-impact forces as a result of blade lock-ups. This plays an important role in extending the life of the saw's motor and gear. Last but not least, it packs a lightweight design to ensure minimal fatigue while allowing maximum control over the machine. Also included is a heavy-duty case that offers a convenient storage solution and protection when not in use. Milwaukee Deep Cut 6232-21 Band Saw User Manual.
Milwaukee 6232-21 Deep Cut Band Saw W/Case
view on Amazon
Features:
Backed by 5-year limited warranty
Built-in LED light
Gear and motor protection clutch
11-amp motor with slimmer housing for great cutting accuracy
Debris and dust protection system
Conclusion To sum up, the Milwaukee Deep Cut 6232-21 is a very high-quality unit that can stand any abuse. When it comes to its cutting capabilities, it can cut through wood, metal and steel materials with ease and incredible speed.
Pros:
Brush on the tires keeps them free of metal or wood chips for smooth operation
Lightweight enough for a one-hand operation
Cuts deep with great accuracy thanks to its variable speed
Boasts a balanced body to ensure incredible control over the unit
Uses Job Site Armor protection technology for long-lasting performance
Cons:
No hook to hang it from when not in use
A bit loud
Dewalt Max Deep DCS374B Baretool Band Saw
The Dewalt DCS374B is one of those bandsaw woodworking machines that offer good value for money. That, however, happens when you fully understand how to put it to good use. For instance, if you know how to program it, you can have it automatically complete some of the repetitive tasks for you. Another awesome feature of this Dewalt band saw is that it comes with an LED work light. This comes in handy especially when you're required to operate in pitch dark rooms. What's more? This LED light has a 20-second delay. That's pretty much all you need to make sure each cut is done safely and precisely. Moving forward, the DCS374B comes loaded with a variable speed trigger. This gives you all the flexibility you need to enjoy versatile control over the entire machine. Last but not least, we fell in love with the fact that this unit comes with an integrated hang hook. This hang hook comes in handy in ensuring the entire is stored safely. So, you can go ahead and use it without damaging the base or handle.
DEWALT DCS374B 20V Max Deep Cut Band Saw Baretool
view on Amazon
Features:
Has a 5-inch cutting capacity
Excellent LED light feature with a 20-second delay
Well-thought-out hanging hook
Variable speed triggers
Tool-less blade change all thanks to a well-made lever
Conclusion If precision is your craving, the DCS374B from DEWALT would be your best bet. It's a high-quality saw that you can rely on to deliver curves and a lot more. You can fully rely on it for re-sawing thin strips, small rabbets as well as larger pieces of wood.
Pros:
Excellent LED light for accurate cutting
Easy to operate
Affordably priced
Fantastic hang hook for safer storage
An above-average motor
Cons:
The blades it comes with don't last long
Below par finishes for people looking for smoothness
WEN 3975 Benchtop Bandsaw
Tired of investing cash in some overhyped band saws that hardly live up to the expectations? The WEN 3975 seems like something worth taking a closer look at. It comes with a moderately powerful 4.5-amp motor which ensures it doesn't easily get bogged down. We also like the fact that it offers adjustable blade speeds in the range of 125 FPM and 260 FPM. Actually, the main selling point of the WEN 3975 is that it's compact and light in weight. It's also user-friendly and incredibly smooth in performance. Above all, some users laud it for its simplicity and user-friendliness. Our favorite amongst its key parts is that its beveling blade allows you to play around with angles of between 0 and 60 degrees. Sometimes, that's the kind of flexibility you need to take your creativity to a whole new level. It's safe to say that this machine is quite sturdy and, therefore, capable of handling intense projects. Therefore, even if you're faced with commercial work, you can always rely on it to handle any demanding challenges. The icing on the cake is that this unit can easily be transformed from a vertical to a horizontal one. How cool is that? Of course, there are quite a few other cheap bandsaw models with this feature, but this one outperforms them all.
WEN 3975 5" Metal-Cutting Benchtop Bandsaw
view on Amazon
Features:
The ability to open up for 75 to 80 degrees
Multi-speed settings with speed control knob
Compact with a pre-installed 56.5 inch by 0.5-inch blade
The ability to cut materials of 5 x 4-7/8 inch in size
Reliable 4.5 amp motor
Protected by a 2-year warranty
Conclusion You can't really look down upon the WEN 3975. It's not perfect but we think it's quite reliable and user-friendly. That said, it may struggle with extra-hard materials but that only happens from time to time. We'd confidently go for it because it's well-made and can last for a few more years provided one takes good care of it.
Pros:
Extremely easy to use
Compact design
Well-priced
Well-positioned blade tensioner
Horizontal and vertical flexibility
Cons:
The quality assurance department of WEN has a long way to go in ensuring consistency
May struggle with ultra-demanding stocks from time to time
| Product Name | Image | Blade | Overall Rating | Details |
| --- | --- | --- | --- | --- |
| WEN Two-Speed 3962 Band Saw | | 72 in | 10 | Check price |
| SKIL 3386-01 Band Saw | | 9 in | 7.5 | Check price |
| Rikon 10-305 Bandsaw | | 10 in | 8 | Check price |
| DEWALT DWM120K Band Saw | | 5 in | 9.5 | Check price |
| POWERTEC BS900 Band Saw | | 9 in | 7.5 | Check price |
| Milwaukee Cordless 2429-21XC M12 Band Saw | | 5 in | 9 | Check price |
| Grizzly Deluxe G0555LX Bandsaw | | 14 in | 9.5 | Check price |
| Milwaukee Deep Cut 6232-21 Band Saw | | 5 in | 9 | Check price |
| Dewalt Max Deep DCS374B Baretool Band Saw | | 5 in | 9.5 | Check price |
| WEN 3975 Benchtop Bandsaw | | 5 in | 8 | Check price |
How to Choose the Best Budget Bandsaw – Buyer's Guide
Buying a band saw on a tight budget can be a tricky venture to undertake. That's because there are a few factors that affect performance from one machine to the next. Here are a few of those.
Planning to work on large pieces of wood? You'll need to invest in a saw with a large cutting range. Basically, a saw's cutting range can be determined by measuring the distance between the upper blade guard and the table. While at it, it is important to note that, in some case, you can always install some riser blocks. These blocks help increase the capacity of your machine. Please note, however, that there are limits as to how far you can extend the cutting range using blocks.
Bandsaw motors are electrical systems whose effectiveness is measured in terms of horsepower. For that reason, anything ranked at less than 1.0HP might be too tiny especially for demanding, commercial work. So, if you know you'll be cutting any material regularly, it's recommended to go for a 1.5HP to 2.0HP power.
Whether you're planning to go for a portable or stationary band saw the amount of space available in your garage matters. With that in mind, you might want to go for a sit-on-table band saw to save space. Alternatively, you can consider going for a benchtop model if you want something that's huge enough but doesn't take up too much space. Lastly, if space isn't an issue, consider going for a full-size machine (typically weigh hundreds of pounds).
You can't underestimate the usefulness of an LED light especially when complex cuts are involved. And because that's pretty much what your bandsaw will be doing, we'd greatly recommend going for one with a built-in work light.
Yet another useful factor to consider in your bandsaw mill is the type of wheels it runs on. Saws made with cast aluminum wheels tend to be cheaper to buy. However, as you might be aware, aluminum is quite light in weight and this provides less inertia thereby reducing the effectiveness of the entire machine. On the contrary, heavy-duty band saws come with cast iron internal wheels which are revered for their ability to provide steady speeds. So, if you're looking for a rugged machine, we'd recommend going for one with cast iron wheels.
Bandsaw Types
They come in different shapes, colors, and sizes. Whichever way you look at them, these saws offer you the freedom to exercise your creative skills. In fact, they give you the confidence needed to approach any bandsaw woodworking skills with the confidence of a professional. However, depending on the type of material you're planning to work on, here are some common types of band saws to consider.
The portable band saw is also commonly referred to as the handheld band saw. Just as its name suggests, this one works best for people who are always on the move. For instance, it can be used to handle curved lines, irregular shapes, and even straight edge cuts. The main unique thing about portable saws is that they tend to be small in size. For that reason, they also tend to struggle with huge cutting stocks. That notwithstanding, the machine is a must-have especially if you constantly face the challenge of having to cut materials that aren't accessible to your workshop. Yet another rarely mentioned benefit of the portable band saw is that thanks to its size, it's possible to move it around large materials. That way, you can work your way around the object which wouldn't be possible when using a stationary saw.
Stationary band saws are huge and heavy and, therefore, best suited for in-office use. You can either go for a horizontal or vertical variety. A horizontal stationary band saw is recommended for cutting long materials. Basically, the material is held stationary and the band saw blade swings to make the cut. Once the cutting job is complete, the saw automatically turns off for added safety. The vertical stationary band saw differs from the vertical one due to its blade position. Unlike other saws, the vertical one doesn't move at all. One has to move the object through the blades. On a positive note, this saw type is renowned for its superb cutting capacity and the ability to cut complicated shapes.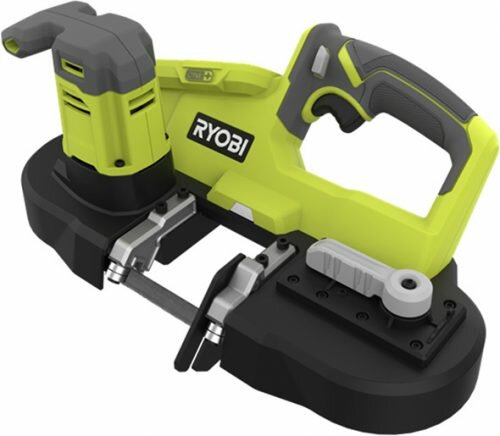 The main advantage of a corded band saw is that it overcomes the limitations of a power cord. In other words, cordless band saws are preferred by many thanks to their portability and flexibility. They particularly come in handy when one is faced with out-station tasks in places where power may not be readily available. Small qualms with these saw types are that they need to be recharged from time to time. Also, a cordless saw with a weak battery would be a bit of a bother to manage. That said, going cordless eliminates a tripping hazard and also gives you more freedom to exercise your creativity.
Brands
Milwaukee, Grizzly, Delta, Laguna, Ellis, Dewalt.
Blade Type
What is the best blade type to settle for? You might want to ask. Well, the answer here depends on the kind of work you'd want to do. So, you should always keep in mind that there's no one-size-fits-all blade.
The most important thing to always remember when shopping for blades for wood cutting is that the number of teeth matters a lot. If you want to achieve extremely smooth and gentle cuts, the best idea is to go for a blade with many teeth per inch. On the other hand, if you're not worried too much about smoothness and instead prefer fast cutting speeds, going for a blade with fewer teeth per inch would be a noble thing to do. A quick guide at this point would be that a 2 to 3 TPI qualifies as a coarse tooth blade. At the same time, an 18 to 32 TPI unit qualifies as a fine-toothed blade. So, you can always choose anything that falls in between these two extremes depending on your preferences.
Metal cutting requires a bit more torque and patience. For that reason, it would be a good idea to go for a blade that's powerful and capable of withstanding those demands. As a general rule, you should only settle for a blade with between 2 and 10 teeth per inch. The fewer the teeth, the better the performance of the blade is likely to be especially when exposed to thick materials. To give you an even closer perspective, steel is the toughest type of metal on retail. So, if dealing with such a material you're better off settling for a slow but powerful blade. On the other hand, if dealing with aluminum, you can always settle for anything with up to 25% more cutting speed than what you'd use for steel. So, while a 3tpi blade would get the job of cutting a piece of steel done, it may not be the best fit for aluminum which is lighter. In that case, you would need to go for a 6tpi or even 8 TPI blade. Some extremely light but delicate metals can even be handled with 18 TPI or 32 TPI blades. So, at the end of the day, the material you're planning to work on should always determine the kind of blade you go for.
Blades
It's extremely important to match the blade type to the kind of material you're sawing or resawing. So, even though there are general purpose blades readily available, it makes sense to identify the one best suited to your situation. The most important thing to remember is that blades come in different sizes and here are a few good examples to think about.

If your saw is a 5-inch one, this would be the best pick for it. That's long enough to cut through thick wooden pieces.
If your typical stock of wood comprises 2x4s, the 12-inch blade would be your best pick. Generally the 12-inch bandsaw blade variety isn't quite common, nonetheless, it does an incredible piece of work if paired up with the right bandsaw.
14-inch size is recommended for general purpose band saws and is, therefore, the most common type available. This is a must-have blade size especially if you want to be prepared for a wide variety of projects which may pop up.
Recommended for bandsaw resawing tasks, this blade does an incredible job when used on a 70.5-inch band saw. That said, you may need to adjust the bandsaw riser guides for the machine to cut straight.
There aren't a lot of blade options for 62-inch saws and, therefore, if you're lucky to find these you'll be all set to tackle all those 3D projects that might be bugging you. Also recommended for taming 1-inch hardwood pieces into bows.
The 80-inch blade size is a great option when versatility and longevity are of the essence.
Therefore, a 93 1/2 is a must-have for anyone who deals with a wide variety of tasks at the workshop.
Bandsaw Accessories
To get the most out of your bandsaw, you need to invest in a few accessories. These may include (but not limited to) urethane bands, adhesives, micro-adjuster, bearings and so forth.
One good way to push your blade's performance to the limits is by using a coolant. This can help reduce the heat which is typically caused by friction between the moving parts. In addition, a good coolant is one capable of removing chips and by extension preventing blade teeth from getting damaged.
On a normal day, a bandsaw machine faces all manner of tasks.Can you, for instance, imagine what happens to your blade when you accidentally bump on some nails when you're resawing some lumber? Ultimately, your saw's efficiency reduces over time due to this wear and tear and that's why it's important to invest in a blade sharpener. Depending on the extent of the problem you can choose between mechanical and manual sharpeners. Of course, mechanical sharpeners tend to be a bit pricey. However, if you have got quite a few dull blades lying around, it makes sense to invest in a sharpener.
Bandsaw vs. Scroll Saw
Choosing between two specialty saws like band saws and scroll saws isn't always easy. What do these two do? Well, think of the scroll saw as a versatile tool which gives you the capability to use a foot pedal. Therefore, the scroll saw is generally recommended for making small and intricate cuts. Think of small sculptures, jigsaw puzzles and the like. Bandsaws are different from scroll saws in the sense that they aren't really good at making intricate cut patterns. You're better off avoiding them if you're looking to make some really unique cuts. However, if you're planning to make simple and irregular cuts, the band saw is a safe place to start. Otherwise, these two saw types are so closely related you might easily confuse one for another.
How to Use
Have you ever been intimidated by a bandsaw? The good news is that you don't have to be a seasoned expert to start making intricate curves. Here are some key steps you need to take at all times. The first step you need to take is to familiarize with the machine and its respective parts. Basically, the saw comprises either two or three wheels along with a spinning blade which does the cutting. Usually, there's a motor located inside the machine which initiates the rotation. Once you're comfortable operating the machine, you can simply go ahead and attempt some basic tasks with it. And there's more. You can start by cutting on the outer edge of the line. While at it, keep in mind the fact that these saws normally cut leaving saw marks behind. For that reason, you should allow extra material so you have an allowance for smoothing the edge. That said, understanding how to follow the edge line requires practice. The best thing is to always leave some space between the saw kerf and the edge of the line.
Size and Noise
Noise can be a big issue especially for those who live in apartments. For that reason, it makes perfect sense to settle for a machine that operates quietly. In most cases, though, the larger the machine, the noisier it tends to be. Most tiny and portable units aren't really problematic to operate. That said, it is always important to keep an eye on how your machine operates. Some of the noisy vibrations might be due to poorly running wheels, wobbly blades and ill-fitting belts. So, be getting the relevant accessories changed and running routine checks on your machine's condition, you're not just improving your audio experience but also enhancing the overall performance of the bandsaw.
Care and Maintenance
Even though band saws are designed to last for long, caring for the machine can help eliminate any chances of a malfunction. Also, a well taken care of machine can give you an easier time when creating some award-winning crafts. A band saw, just like any other gadget with moving parts may require a few bandsaw parts changed from time to time. For instance, you may need to upgrade your saw guides from time to time. It's also not uncommon to see people complaining about the band saw stabilizer not working. In some cases, it's the band saw tires and wheel that need to be replaced. Fortunately, a majority of these parts can be found from bandsaw suppliers and online. Once you get the machine working, it's always a good idea to remove its cover from time to time. That alone provides you with an opportunity to inspect the bearings and also make sure they're rotating freely. Are the bearings stiff and kind of rigid? Well, in that case, you simply need to lubricate them by applying some vegetable oil on them. Once that's done, be sure to check and confirm if the batteries of the bandsaw are in good working order. You know it's time to get them replaced the moment you notice any significant signs of wear. Also, as you run the checks, be sure to remove any particles that may be trapped within the system. A simple compressor blow will easily get them removed.

Maintaining the blades – You can always purchase a new blade if you notice that the present one is a little too old and worn out. The moment you notice a few broken teeth is when you should order for a replacement.
Blade tension – Always release the blade tension the moment you're done working. This is because the blade tends to stretch on its own during cutting and also heats up in the process. The moment you leave it to cool down also means that it shrinks and this can cause cracking.
Safety Tips
Ever heard tales of people who made some crazy blunders in the workshop and ended up injuring themselves? Band saws can be a safety hazard especially if you're not keen enough to follow a few simple rules. Here's a quick look at a few must-follow safety tips.

Before operating your saw, be sure to keep the upper guide at the lowest level possible but without bringing it in contact with the wood. This ensures the blade remains covered at all time and that there's no room for accidental slips.
Make sure your blade guard properly covers the blade. Leaving the blade exposed is quite dangerous.
If you have a wide blade, don't overstretch its limits by forcing it on a super tight radius. This would lead to a premature wear of the guide.
Stay safe by always keeping your hands a distance away from the cut line.
Warranty
Warranty terms may vary from one manufacturer and machine to another. On average, though, the best bandsaw machine warranty for budget buyers is 3 years. Some companies give 2 years of warranty. We'd recommend 2 years as the least ideal period to settle for just so you're sure that any manufacturer defects are well taken care of.
FAQ
I have been struggling to make straight cuts using my band saw, what should I do to improve?
Consider investing in a bandsaw fence. Alternatively, you can get a resaw guide which provides you with the stability you need to make consistent cuts. Also, it's always a good idea to start out with short lengths so you can focus on honing your skills.
How can I choose the best band saw blade?
It all depends on the kind of materials you're planning to work on. For instance, carbon band blades are recommended for cutting through plastic, bronze, carbon, fiberglass, mild steel, and aluminum. On the other hand, bi-metal blades are recommended for stainless steel and alloy steels as well.