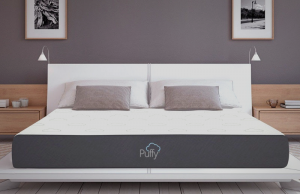 Losing sleep over a bad mattress?
You wouldn't be alone. We spend around a third of our lives asleep, but most of us don't pay much attention to the beds we're lying in. In fact, most mattresses need replacement after just seven years.
How long has it been since you replaced yours?
If you're like many of us, you know your mattress needs an upgrade. You just haven't gotten around to finding a new one. There have never been more ways to buy a bed, and figuring out which one is right for you can be a real trial! That's why we're providing this Puffy mattress review.
Puffy is an up-and-coming independent mattress maker that provides all their products online. That makes ordering easy for anyone who doesn't have the time to come into a retail store. Delivery is simple, and a generous refund policy makes buying easy.
Wondering about buying a mattress before you try it? Here's an in-depth look at Puffy mattresses to help you decide.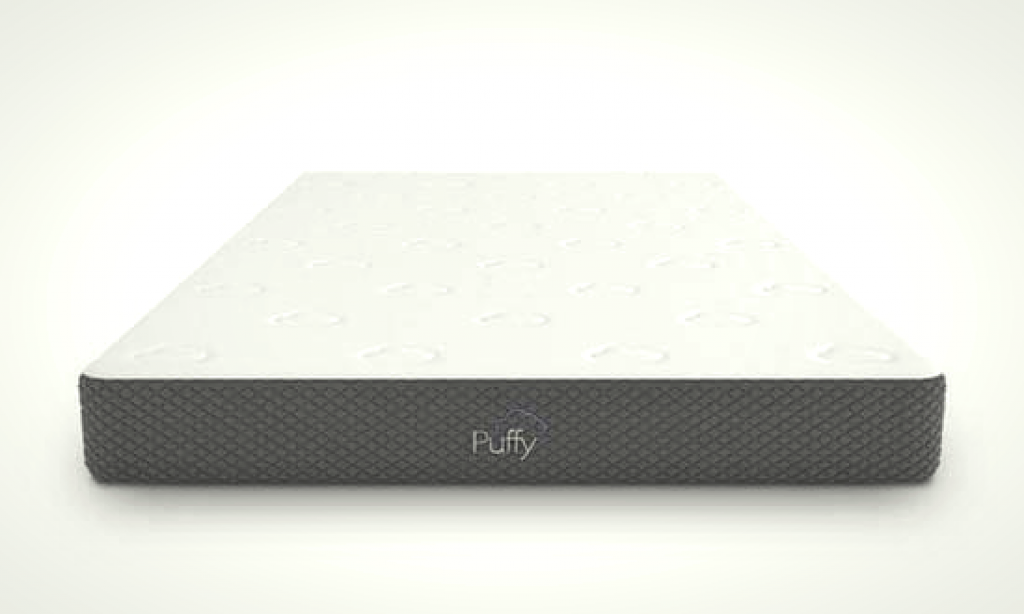 Unlike some mattress companies, Puffy isn't quite a household name. That doesn't mean they're not making some great mattresses, however. In fact, the Puffy mattress is designed to decrease joint and back pain using technology based on actual sleep research. The goal is healthier, more refreshing sleep, and for many of us, Puffy is the answer.
This all-foam mattress is designed to adapt to any type of sleeping position. That means you'll get the benefits of the Cooling Cloud foam and firm inner support layer even if you sleep on your stomach or sprawled across the bed. This layer is meant to mold to the body, decreasing the risk of pain in joints and soft tissue. It's breathable, so you won't find yourself getting too hot during the night.
Puffy also makes its mattresses to work with all kinds of sleepers in many shapes and sizes. That might not sound like much, but the world of mattress design can be a complex one. Heavier people often experience a mattress as being softer and less supportive than their lighter counterparts. Smaller sleepers might think a mattress that other people find comfortable is actually hard and unyielding.
Concerned about the effects of synthetic mattress foam on your health and the environment?
No one likes to think that their bed could be secretly dangerous. This is why Puffy relies on foams that have been certified by CertiPUR-US. This third-party organization makes certain that materials contain no heavy metals or other dangerous materials, and that they won't produce toxic emissions as they age. That makes purchasing it the safer choice for a lot of us.
Imagine having your custom mattress delivered right to your door, with no need to spend the afternoon in a furniture store. Ordering online from Puffy is a lot more convenient than buying a bed the old way. Plus, this kind of mattress is designed to work with any type of bed frame, no matter what you're sleeping on now.
That's right!
We can use Puffy mattresses with box springs, platform beds, slat frames, adjustable beds and more. In a pinch, you can even sleep comfortably with your mattress on the floor!
Features:
All-foam construction with no springs or coils
Cooling Cloud comfort foam layer to relieve pressure points and joint strain
Firm support layer for better alignment of the spine
Built to work with all kinds of body types
Designed for multiple sleeping positions
Breathable foam to help maintain a neutral temperature while sleeping
CertiPUR-US certification for foams
Works on all types of sleeping surfaces
Is Puffy the right new mattress for you?
If you're interested in a mattress that provides pressure relief and support without too much motion transfer, it might be. The all-foam construction of this mattress allows it to provide both support and softness without too much weight. In fact, their specialized design means these mattresses weigh less than ordinary foam beds, and even a little less than the average innerspring mattress.
Puffy mattresses are made in the United States, rather than overseas. This allows for faster shipping. On average, you'll see your mattress arrive on your doorstep in about a week. It ships in a box that's small enough for taller people to carry, and it expands readily after you unpack it. The mattress comes with a lifetime warranty on both materials and workmanship, so it's easy to replace if something goes wrong.
Every Puffy mattress also comes with a trial period of more than three months. During that time period, if you decide the product isn't right for you, Puffy will give you a refund and help you donate the mattress to a local charity. If you're not sure about your decision, the company allows you to literally sleep on it!
Like other all-foam mattresses, this product does offer less support for heavier people. If you're a larger sleeper, you might find that the mattress seems a little on the soft side. You may also sink a bit if you sit on the edge of the bed since foam mattresses don't usually offer side support. In general, however, the Puffy is comfortable for people of all sizes.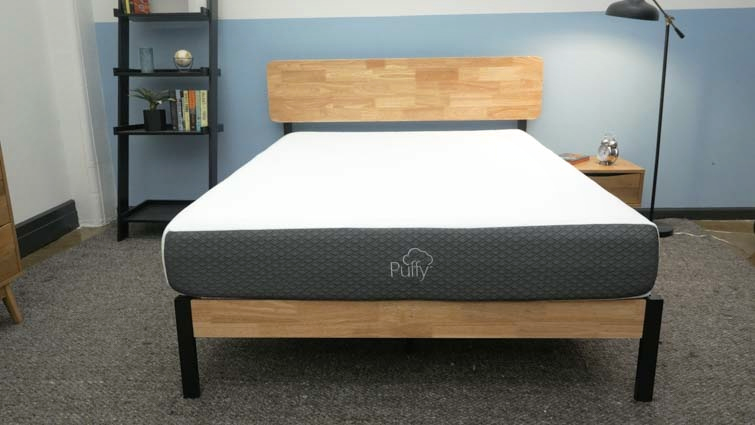 If you already have a bed frame at home, this mattress will work with it. The Puffy mattress has been designed for many different kinds of frame, or none at all. If you'd like to buy a frame to go with your new mattress, however, Puffy can help with that. The company offers both a folding steel foundation and an adjustable base with charging ports along with its cloud-like mattress.
We'll be honest: the Puffy mattress isn't for everybody. If you're a larger person who wants a really firm mattress with side support, this bed might not make you happy. Its thick, body-molding foam can be incompatible with sheet sets designed for thinner mattresses, and it won't offer quite as much bounce as an innerspring mattress. There's also only one model on the market: no thinner or customizable options exist.
Fortunately, most users can agree that this mattress doesn't need a lot of complicated extras. It offers simple comfort and a lot of convenience at a moderate price. Deep down, you know it's true: if you've been hoping for a soft bed with a lot of support, the Puffy mattress could make your night.
PROS:
Free door-to-door shipping
Made in the United States
101 Night Sleep Trial
Lifetime warranty
Foundation and adjustable base available
Relatively lightweight construction
CONS:
Lack of edge support
Heavier users may sink
No customization
Puffy - Ready to Experience the Most Comfortable Mattress?
Yotube Video Review: Puffy - Ready to Experience the Most Comfortable Mattress?
How Is Puffy Made?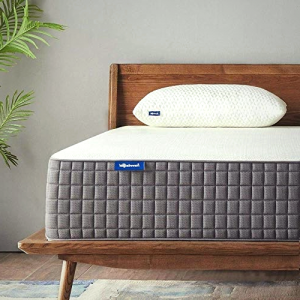 On the surface, your Puffy mattress might look a lot like any other foam mattress. It's a multi-layer design using two different kinds of foam so that you can experience both support and comfort. This technique lets you sink gently down when you lie on the bed, finally supported by the bottom layer. This design is part of why foam mattresses do not need to be turned, just rotated every once in a while.
Like other foam products, a Puffy uses separate pieces of foam, each with different properties. They are attached together using adhesives, then wrapped in fire-resistant fabric for safety purposes. After that, the mattress gets a more finished cover and is ready for packing and shipping.
What makes it so special?
There's more to a mattress than just the basic format, though. This story goes back more than four years, when the owners of Puffy set out to make the perfect mattress. They formulated their own materials, creating their patent-pending Comfort Cooling Cloud foam. A range of test products was created over the years, and each was put through a series of sleep trials to find out which designs were the safest, most durable and most comfortable. Only after all that was the Puffy mattress created.
Materials
Your Puffy foam mattress is hiding some interesting design features, but what's most important is what's been left out. Puffy starts with foam materials that have been certified by an independent organization called CertiPUR-US. Any material with this certification will contain no formaldehyde, regulated phthalates, ozone-depleting chemicals or heavy metals like lead.
What does that mean in particular?
This kind of foam is also free of flame retardants in the TCEP, TDCPP and PBDE groupings, all of which can be toxic.
Each Puffy mattress is made in the United States using environmentally friendly techniques. It starts with a seven-inch piece of non-latex polyurethane foam. With a density of 1.5 pounds per cubic foot, this foam is strong enough to provide plenty of support but soft enough not to create pressure points.
Puffy actually relies on a firmer supportive layer than many foam mattresses, preventing that feeling of sinking down to the floor. This firm-set foam layer is what lets you use it on a box spring, the floor or a platform.
Once the base layer has been produced, a piece of two-inch gel-infused visco-polyurethane foam is then joined to the top. The gel uses Puffy's Cooling Cloud technology to prevent overheating and discomfort while you sleep. It makes the lighter memory foam layer more comfortable while it prevents joint aches and sore spots. The whole mattress is also covered in soft, breathable, four-way stretch fabric with a special dimpled look and Puffy cloud logo. This cover zips off for easy cleaning.
Construction
You might wonder just how your mattress is put together. It might not seem like a big deal to some, but mattress construction can affect the health of your environment as well as how you sleep.
A mattress that's made using toxic materials can slowly degrade the air quality, making it harder to breathe and sleep easily. A poorly-built mattress might develop hollows or begin to de-laminate. Puffy uses only the highest quality materials and construction techniques to produce a mattress that will last for many years, guaranteed!
It starts with a reaction between substances called polyols and compounds called isocyanates. These are mixed together with a substance that makes them react to one another, then beaten to a froth. That foamy substance is then poured into a mold. It's allowed to cool, heated once more, and left to cure for up to several days.
This produces a block of foam, which can then be cut to size and stacked with other foam. Puffy's foams include no latex and are molded using a specialized variable pressure foaming technique.
The actual mattresses are made using pieces of foam that have been laminated together to form a solid unit. A piece of firm polyurethane foam is laid down, then sprayed with an eco-friendly adhesive. The gel-infused top layer is applied neatly on top. Once the adhesives have dried and the two pieces of foam have been joined, the mattress is trimmed and the cover is applied. Then, it waits to be compressed for shipping.
Sounds good, isn't it?
This kind of mattress can't be compressed for a long period of time. Foam materials, particularly the kind of high-end foams that Puffy relies on, can degrade if it's kept under pressure too long. No one wants to open up a package containing a flat mattress! That's why Puffy waits until you place your order to create, compress and package each piece. The mattress that arrives at your door has been compressed for less than a week, and it's ready for sleeping in just a short time.
Puffy Firmness Level
Ever argued about how supportive your mattress was?
If you and your partner are of different weights or builds, you might both have been right! Foam mattresses such as the Puffy actually have different levels of firmness depending on how heavy a person is. Many other foam products compress quickly under a heavy person and don't bounce back well. Puffy mattresses are designed to provide support for all body types, but you still might experience its support differently.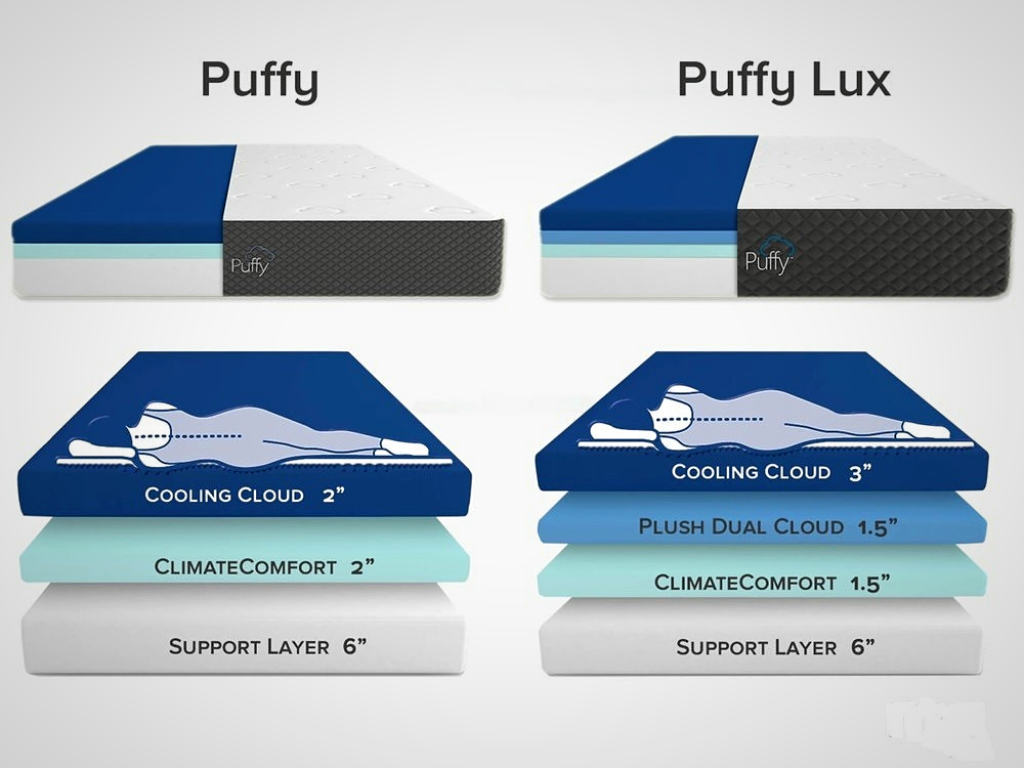 For smaller or slimmer people, Puffy tend to be medium-firm in texture. They offer enough softness to prevent numb spots or body aches, with plenty of support for your spine.

For those of us of the heavier persuasion, the Puffy mattress feels a little softer. It's more of a medium-soft mattress that lets you sink a little further before the support kicks in. The feeling is more cloud-like, as the memory foam gently molds to your body.

What else is important?

Remember that foam mattresses like the Puffy can feel different depending on the ambient temperature.

The foam top layer responds to heat, like the heat produced by your body, and becomes softer. That means your mattress could feel a bit softer on a hot summer day, or firmer if your bedroom is a little bit colder. This kind of variation is completely normal: if your mattress doesn't feel the same from day to day, there's nothing wrong with it.
Size and Design
There may not be a lot of selection when it comes to style or color for these mattresses, but you don't need to worry about size.
Puffy mattresses come in the most common standard sizes for beds in the United States: twin, full, queen and king. They're also available in extra-long twin and California king sizes for taller sleepers. You'll easily find the right size to fit your existing bed frame or adjustable foundation.
The best part here?
All mattresses are 10 inches thick and made to work with most deep-pocket sheet sets. They also feature a soft, washable cover with a gently dimpled surface and embossed puffy cloud logo. The unique design allows you to use the mattress on just about any kind of support, no matter what bed frame you already have. As long as the foundation is even and strong enough to hold the mattress without any sinkage, you can use it with a Puffy foam mattress.
Layers
Does it matter whether your mattress has layered structure?
After all, memory foam's yielding comfort makes it seem like a whole block of this material would be heavenly. That's not really the case, though. The truth is that foam performs differently in large pieces than in smaller ones. A big block of soft foam might seem stifling. A mattress made only of very firm foam could feel like lying on a block of wood!
Layering this kind of material allows you to get the advantages of multiple different foam densities, cradling the body with one and supporting it with a solid underlayer. If you have the chance to buy a layered foam mattress, you'll find that it always performs better than a simple block of foam. The Puffy mattress takes advantage of the benefits of layering with a firm base and a soft, cradling upper layer.
If you want a bed that will comfort and hold you all night, layers are the key!
Puffy Mattress - The Most Comfortable Mattress
Yotube Video Review: Puffy Mattress - The Most Comfortable Mattress
If you liked this article, you'll also be interested in:
Support
Whenever we talk about mattresses, we dedicate a lot of time to how well they
hold up your spine and joints
.
Just how important is firmness as a feature?
If you're going to spend any amount of time on your mattress, support could be vital. A soft, unsupported bed feels like a pillow: comfortable for the first few minutes, but gradually less pleasant. It doesn't take very long for a really soft bed to start creating pressure points.
That's because its plush surface yields too much to your weight and body heat. Your body feels compressed against the surface of the mattress. Muscle and joint pain eventually start to appear. Think about it for a moment: an unsupportive bed is a lot like a hammock. It doesn't take long to start sagging and making you feel stiff.
The same thing goes for old mattresses that have lost their ability to hold you up while you sleep. When you see a deep hollow in your bed, that's a sign that it's not providing the same level of structure. Puffy has designed its mattress to provide plenty of support, even while feeling soft and squishable. That's part of what makes it so special.
How is Motion Transfer and Sinkage?
Most of us have awakened in the middle of the night because our bed partner is tossing and turning. This kind of feeling is referred to as "motion transfer" in the mattress industry. Simply put, it means the degree to which you can feel movement made on another part of the mattress. Foam mattresses like the Puffy tend to have less motion transfer than innerspring mattresses or water beds.
Be honest: you don't love waking up when your partner turns over, isn't it?
These mattresses are particularly free of motion transfer since the gel-infused foam in the top layer helps mold to your body instead of shaking or jiggling. Weight and temperature make a difference, of course: warmer temperatures and heavier users will cause the bed to feel softer. That increases the degree of motion transfer, so you might end up feeling a little bit more movement.
To be honest, weight and temperature also affect the degree of sinkage in this mattress. All foam mattresses experience at least a little sinkage, since they don't have the same bounce-back as an innerspring, and they're not as unyielding as a cotton futon. Puffy's firm base layer decreases the amount of it, even sitting on the edge of the bed. Once again, however, a warmer temperature or a heavier person means a bigger effect.
Sleep Health
If you want a
healthy body
, you need to get enough good quality sleep. Unfortunately, most of us are getting too little sleep, and what we do get is of poor quality.
Ever wake up with an aching back, sore neck, or just a feeling of exhaustion?
There's good news. Puffy mattresses are designed to promote longer and healthier sleep. The combination of adaptive Cooling Cloud foam and quality support could make your nights like sleeping on a cloud nine.
The founders encourage healthier sleep through a number of different mechanisms. First, it cushions joints, reducing painful pressure points that come from lying too long in one position. Second, it helps improve blood flow, even after a long night's sleep. That keeps remote parts of your body oxygenated and more comfortable.
This mattress also provides higher breathability than the average memory foam mattress. That means no hot spots or night sweating, and fewer uncomfortable wake-ups. You'll awake feeling refreshed and ready for your day.
Any Smell?
Avoiding buying a new mattress in order not to deal with that specific odor?
Lots of people avoid mattresses made with foam because of their reputation for unpleasant odors. This is particularly common when the mattress is newly-opened. Puffy mattresses have reduced this problem by using more environmentally-friendly processes. While they do off-gas for a short period after unboxing, this tends to dissipate once the mattress finishes taking shape.
Sleepers who are especially smell-sensitive might want to let the mattress breathe for up to 12 hours, but most people won't notice an odor at all.
That lack of smell means something good. The nasty odors of newly-made plastic and foams aren't just unpleasant; they're also toxic. They include formaldehyde and all kinds of other chemicals that can damage your health. The company avoids these materials, using only substances that won't contribute to VOC emissions in your home. It's the safer, healthier choice.
Sleeping Positions
Most of us have our own ways of sleeping. Unfortunately, those aren't always compatible with the way our mattresses are designed. Puffy mattresses work to ensure that you'll be comfortable sleeping on them, no matter how you want to do it. Whether you're a side-sleeper who's prone to aching hips when you wake or a stomach-sleeper who's tired of back pain, you'll enjoy the comfort that comes with sleeping on the mattress.
Admit it: there's nothing worse than waking up tired.
The spine-alignment support in this mattress means that it has even been rated best for back and side sleepers, who often experience discomfort on ordinary mattresses. Its unique support foam is firmer than that used in most other foam mattresses, preventing that "sinking" feeling. Getting a better night's sleep on a Puffy mattress – in any position – could give you more energy and make you feel healthier all over.
Maintenance
Do you want to learn how to take care of your mattress?
It might sound silly, but properly maintaining your mattress can go a long way to helping you get a good night's sleep. Plus, it'll help your sleeping surface last longer. Let's take a look at what's required to keep a Puffy mattress in good condition.
It's a fact: your mattress needs support if it's going to support you.
While Puffy mattresses have been designed to work on all kinds of foundations, they do still need some support for proper comfort. That means using a box spring if you have a conventional bed frame, or choosing slat frames with narrow spaces between the boards. Your chosen support should be even and firm, with no dips or significant gaps.
Don't flip your memory foam mattress: rotate it! Laminated foam mattresses like the Puffy should never be flipped over since the foams that make them up have been designed to compress in very specific ways. Instead of turning your mattress, rotate it regularly. Spinning your mattress a half turn two to four times a year will help distribute your weight over its surface, preventing permanent body hollows.
Even the best mattress needs occasional cleaning. Over time, allergens and skin oils can build up. To keep your mattress clean, wash your Puffy mattress cover gently once every two to three weeks. It's also a good idea to vacuum the surface of the bed occasionally to remove any dust.
Price
How much would you pay for a good night's sleep?
Be honest: when you're tired, it's probably a lot. While a good mattress is a major investment for many of us, it's important to remember how little you'll pay over the lifetime of your bed. After all, a quality mattress that lasts longer will cost you less than a cheaper one that needs replacement. Picture waking up in the morning, pain-free and refreshed!
We've all had days when we would have paid a fortune just to feel a little less tired, but the best news is that the Puffy company offers a very moderate price tag. It's true: the upfront cost is definitely higher than that of a cheap futon. At the discounted price of $625 for a twin and $950 for a queen, however, it's not that hard to afford.
Plus, the Puffy mattress's lifetime guarantee ensures that you'll hang on to this bed for years to come. Over time, the monthly cost of your mattress comes out to be less than the average streaming media subscription. You and your wallet will rest easy!
Shipping
Just how does your mattress get to your door? Will you spend hours waiting for a specialized delivery window?
No one likes dealing with uncertain or confusing deliveries, but we've all had to deal with them. There's no need to be concerned, however!
The company makes a point of shipping its mattresses as conveniently as possible. As soon as you place your order, the mattress is formed, trimmed, compressed and packed into a box less than two feet by four feet. Then it's sent to your home via FedEx. The whole process takes less than a week in most cases, and you receive the box just like an ordinary package.
All but the very largest Puffy mattresses are under 100 pounds, so they can generally be carried by one or two people. It's the easiest way to get a new mattress!
Warranty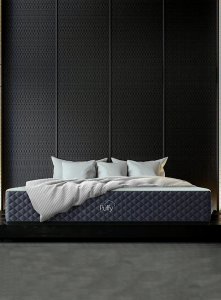 What if something goes wrong with your comfortable new mattress? What if you could get it fixed without much fuss?
The company works hard to make sure that every mattress is high quality, without manufacturing defects. Sometimes things can still go wrong, however. That's where the lifetime warranty can help.
You can expect to own your Puffy mattress for a long time. If you discover a defect in materials or workmanship within the first decade, you can expect to get a replacement free of charge. After the first ten years, Puffy will either replace or repair the mattress, depending on the nature of the problem. You'll pay no shipping as long as a defect can be confirmed.
After the first ten years of ownership, you also have the option to choose the "quick sleep" option. Instead of sending your mattress for repair or replacement, you can choose to receive a brand new mattress at half the original price. You keep your existing mattress and get a new one at a major discount!
To qualify for this lifetime warranty, you have to be the original owner of the mattress. Secondhand products cannot be warrantied. You also need to use your mattress on an appropriate surface and treat it carefully. An abused mattress or one with a normal body imprint won't come under the lifetime guarantee.
101 Night Sleep Trial
Ordering mattresses online can be pretty scary. After all, there's no way to try your mattress out before you buy. That's why Puffy offers a trial period of 101 nights. If you have trouble with your mattress during this time period, or you simply don't like it, you can get a refund.
Puffy is confident that you'll find sleeping on their mattress to be a comfortable and restful experience. It's likely to be the best sleep of your life! If you don't agree, however, it's simple to get your money back. All you need to do is contact the company to let them know.
Whey will help you arrange to donate the unwanted mattress to an appropriate charity, helping less fortunate people get a good night's sleep. Then you'll receive a refund for what you paid to get your Puffy mattress.
How about the other regions?
If you ordered the mattress delivered to Hawaii, Alaska or Canada, the refund will include only the price of the mattress. Shipping fees to these locations cannot be refunded. This policy is also limited to one return per year, per household. Just don't return all your mattresses at once!
The best way to ensure you'll get the benefits of the 101 Night Sleep Trial is to buy directly from Puffy online. Resellers may offer different pricing or different exchange policies. If you bought a Puffy through another authorized channel, get in touch with the seller to find out if the 101 Night policy will be honored.
FAQ
Does the mattress really fit in a box that small?
The unique nature of foam means that it can be compressed very firmly, then vacuum-sealed for transport. After unpacking, it might take a little while for your Puffy mattress to return to its original shape, but you'll be surprised by how much it can expand!
What's the best way to unpack a Puffy mattress?
It's best to open the mattress in a well-ventilated room, like a porch or a bedroom with windows open. There may be some "new mattress smell" when you first take your Puffy out of the bag. It will go away quickly and is not harmful.
Can How do you return a mattress?
The truth is: you don't! Instead of dealing with return shipping, Puffy will arrange to refund you for your mattress while you donate it to a local charity. There's no need to deal with stuffing your mattress back in the box.
Do you need a box spring to use this mattress?
Some mattress manufacturers state that using their mattresses without a box spring or other authorized support will void the warranty. That's not true with this mattress, though. This product has been designed for use on almost any surface, whether it's a box spring or just the floor.
Is a body-shaped hollow normal in a Puffy mattress?
After you use your mattress for a while, it might develop a gentle dip in the place where you sleep the most. This happens as the gel-infused foam layer molds to your body.
Over time, it develops a memory of your shape. This is normal as long as the hollow isn't too deep. If you see a deep hollow in a new mattress, or if the impression of your body is deeper than about 1.5 inches, you might need a replacement. Puffy's lifetime warranty can help you make sure your new bed is in perfect condition.