When it comes to buying a Self-Balancing Electric Scooter, there are plenty of options because these devices come with different features and are available at varying prices. They have become popular as a viable option for short travel and leisure activity around the world.
They are environment-friendly and are designed to offer great user protection. To help you choose the best and most appropriate Self Balancing Electric Scooter here is a comprehensive review of the top 6 scooters with their pros and cons.
No matter which device you choose among the following, you are assured of getting the full value for your money.
HOVERZON Self Balancing Hoverboard Overview
Features:
Price: $399.00 with free shipping
Style: S
Dimensions: 9.9 x 10.4 x 25.4 inches
Weight: 27.75 pounds
Available Colors: Garnet, black, blue, gold, pink, and white
Features: fireproof exterior casing, multilayer battery protection, 2 speed modes, solid gear stabilization, smart battery management system.
PROS:
It is suitable for both beginners and experienced riders because it has multiple riding modes. The practice mode enables the user to go at slower speeds as they get used to the controls.
It has UL 2272 Certification which ensures the safety of its rechargeable batteries, and this reduces the chances of this hoverboard exploding or catching fire. Users can ride without having to worry about their safety.
The exterior casing of this Self Balancing Electric Scooter is sturdy and fireproof to keep the user safe in case the battery malfunctions or overheats.
The gear stabilization feature of this scooter offers more responsive control that keeps you level and is easy to maneuver. This feature is especially useful for new users.
CONS:
New users take a bit of time to get used to the controls until they learn how to maneuver the hoverboard.
This self-balancing electric scooter does not work very well on rough surfaces.
back to menu ↑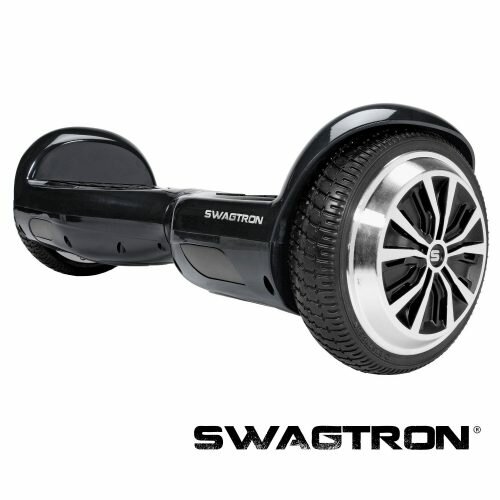 Swagtron T1 Hands Free Two Wheel Self Balancing Electric Scooter Overview
Features:
Price: $399.99 with free shipping
Safety standards: UL 2272 certified
Speed: 2-8 mph
Color: Black
Package Height: 10 x 11.25 x 26 inches
Shipping Weight: 28.6 pounds
Range: 7-12 miles
Features: non-slip footpads, aluminum wheels with rubber tires, LED headlights, battery indicators, and lightweight shell.
PROS:
This Self Balancing Electric Scooter has non-slip footpads that increase the stabilization of the gadget and make it easy to use even for riders who have no experience.
Takes approximately 2-3 hours to charge, and the battery has a long life.
It is a great mobility device as it can cover a stretch of up to 12 miles.
The board is very responsive, and its control actions are predictable, so beginners can easily learn using the Learning mode. They can also keep safe provided they follow the instructions on the manual.
CONS:
The board could easily break if one exceeds the maximum weight limit (about 220 lbs) so it cannot be used by people who weigh above average.
back to menu ↑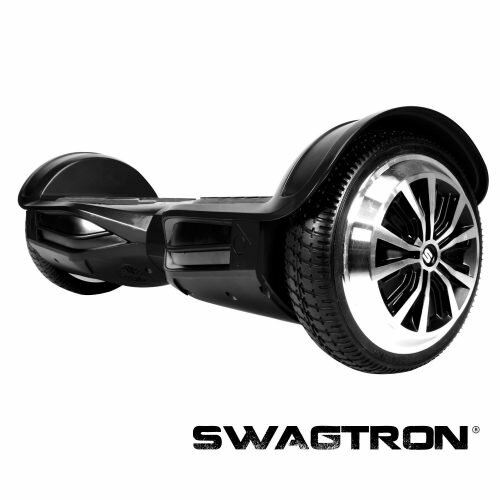 Swagtron T3 – UL2272 Certified Hands Free Two Wheel Self Balancing Electric Scooter with Bluetooth Speakers Overview
Features:
Price: $499.99 with free shipping
Dimensions: 14 x 13 x 28 inches
Shipping Weight: 30.8 pounds
Speed: 8 mph
Range: 7-12 miles
Color: Black
Warranty: 1 year limited warranty covered by manufacturer
Features: built-in Bluetooth speaker, multiple riding modes, color-coded LED lights, 5-level battery indicator, open wheel well system, and non-slip foot pads.
PROS:
The scooter has a durable shell which makes the product long lasting and hard to scratch even with extended use.
The smartphone app on this Self Balancing Electric Scooter enables the user to track route history and monitor the battery status through their mobile devices.
Users of this Self Balancing Electric Scooter can either ride in the standard mode or in the learning mode which teaches first-time users how to ride. The modes have different speed limits so users can choose what suits them.
UL 2272 certification ensures that the product is safe and users do not have to worry about hoverboard fires.
The built-in speakers of this Self Balancing Electric Scooter enable users to listen to music as they ride, which adds fun to the experience.
LED headlights, Rubber bumpers, Battery indicators, and an incombustible light-weight body make this product stylish and enjoyable to use.
Smart battery management system monitors and protects from malfunctions such as overvoltage, overcurrent, short circuit, and overcharging, thus ensuring the safety of the user.
CONS:
This Self Balancing Electric Scooter is costly as compared to other products in the market but it offers good value for money considering the safety precautions and added features.
Although the manufacturers of this Self Balancing Electric Scooter have put on a disclaimer, new users can easily access the Pro riding mode, and this exposes them to accidents and injuries.
If you liked this article, you'll also be interested in:
back to menu ↑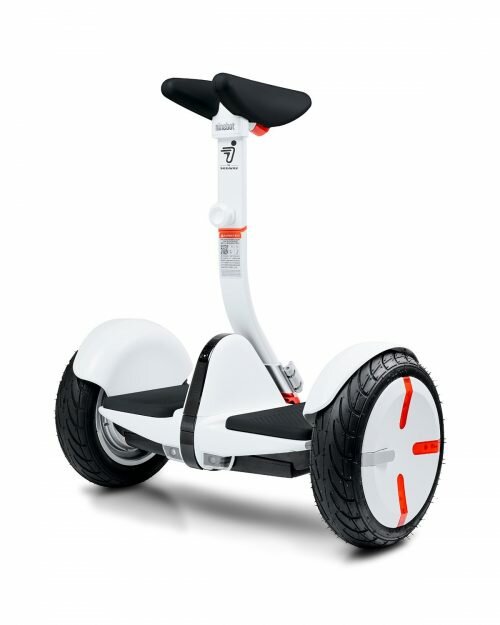 Segway miniPRO Smart Self Balancing Personal Transporter with Mobile App Control Overview
Features:
Price: $798.00 with free shipping
Dimensions: 20 x 21.4 x 10.3 inches
Shipping Weight: 38.4 pounds
Available colors: Black, white
Weight limit: 220 lbs
Engine power: 1600 watts
Speed: 10 mph
Range: 14 miles
Features: anti-theft security alarm, Bluetooth phone app, customizable LED lights, padded knee bar, magnesium alloy frame, 10.5 inches pneumatic air filled tires with shock absorption capability, and dual motor engine.
PROS:
This Self Balancing Electric Scooter has been manufactured using carbon fiber and specialized alloy construction which makes the product lightweight yet durable and weather resistant.
It has LED lights that are visible up to 15 feet away, and this reduces the risk of accidents and collisions.
The scooter has a height-adjustable knee bar that can be used to steer and it improves the maneuverability of the product. The knee bar is removable for transportation and storage.
The level of customization for this Self Balancing Electric Scooter is high because one can set the anti-theft alarm, change the colors on the headlights, and run diagnostics if the scooter is not functioning properly.
To further enhance the safety of the rider, it comes with a user's manual of the safety measures they can take.
CONS:
The Self Balancing Electric Scooter cannot handle the weight taken by other similar products.
It cannot accommodate steep inclines, and this limits its usability on rough terrains.
This self-balancing electric scooter is quite heavy, and some users have difficulty transporting it from place to place.
back to menu ↑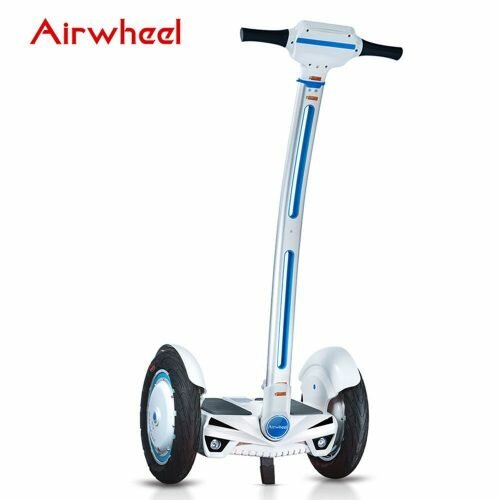 Airwheel – Electric scooter – S3 – 520WH – Bluetooth Speaker Overview
Features:
Price: $1,049.00 with free shipping
Range: 15-65 km
Features: Dual Bluetooth speakers, dual protection boards, LED lights, and replaceable screen.
PROS:
This Self Balancing Electric Scooter comes with free items such as the handlebar bag, leg protector, and free kickstand.
The streamlined design, and the light ring display of this self-balancing electric scooter makes it look sleek and stylish.
The product is nature-friendly, and this makes it suitable for people who are conscious about environmental conservation measures.
Dual Bluetooth speakers in this scooter come with Hi-Fi Sound Quality enabling users to enjoy music as they ride.
The pedals of this scooter have raised rubber grips which enhance the riding performance making the product safe to use even in wet weather.
It has Dual Protection Boards and Dual Intelligent Balancing Chips that further enhances the safety of the user.
CONS:
The Self Balancing Electric Scooter tends to be slower than other models.
It is not the best scooter to use on bumpy surfaces because it slows down significantly on hitting uneven areas.
It emits beeps when you ride above 9mph, and this is bothersome not only to the user but also to other people.
back to menu ↑


Airwheel S5 Electric Two Wheels Bike Scooter SUV Overview
Features:
Price: $1,450.00 with free shipping
Range: 30 miles
Features: silicon bumper strip, LED display panel with a 4-inch screen, foldable control shaft.
PROS:
This Self Balancing Electric Scooter is durable. The bumper strip attached at the back of the handlebar protects the scooter from scratches when parking it against the wall.
It has a screen from which the user can access information such as temperature, speed, mileage, and battery level among others.
The Self Balancing Electric Scooter is made of aviation aluminum alloy, making it lighter and shockproof. It is easy to transport this scooter from one place to the other.
It has good sound quality, making your ride even more enjoyable.
It is streamlined design and spacecraft attitude control structure offer more comfort to the rider.
CONS:
This Self Balancing Electric Scooter is much more costly as compared to other models in the market.
The scooter puts users at risk of accidents and collision, especially when riding above ten mph.
Tips on How to Choose the Best Self Balancing Electric Scooter
Put your safety above all other considerations
In the past, Self Balancing Electric Scooters have been blamed for accidents and injuries among the users. Some of these accidents occur when users mishandle the product or fail to follow the manufacturer's instructions. However, others arise out of the way in which the scooter is designed. With this in mind, it is important that you purchase a product has met all the safety standards, and whose features increase the stability of the device.
Consider the intended use of the scooter
Some people use Self Balancing Electric Scooter for fun, while for others it is a means of transport over short distances. Different scooters vary in their ability to cover a long range. Those intending to use it for transport need to choose ones that can cover a longer distance without having to recharge the battery.
Check the appearance of the scooter
This factor is mostly determined by the manufacturer. Some scooters are available in black and white only while others offer more than the basic colors. Some of the modern ones are also sleek, and this makes them an attractive option especially for young people.
Balance all criteria with the price
Any product that you purchase should be worth the money you are giving. With that in mind, you shouldn't pay more for a product that has similar features with a lower priced item in the market, and this brings in the need for comparison when shopping. Some brands tend to offer just a few additional features and then double the price, so you need to be careful and plan according to your budget.
Your body type is another important factor to consider when purchasing a self-balancing electric scooter. Electric users can be used by both children and adults alike, but they have weight limitations. This factor may not come into play if you are buying the scooter for your kid but if it is for adult use, ensure that it has the adequate weight capacity.
Exceeding the weight limit will not only put you at risk, but it will also cause breakage and reduce the durability of your scooter.
Size does matter when you are buying an electric scooter especially if it is intended for use by children under 14 years. The size also determines how much space will be left between the scooter and the ground. If you prefer a high riding scooter, get one with a large wheel size. Smaller scooters are also lighter and easy to transport.
Consider the battery quality
Low-quality batteries cover a short range and could even cause your injury when they suddenly run out when the scooter is in motion. At times they may also burst into flames or trigger an explosion. To avoid such dangers, buy a self-balancing scooter whose battery is of good quality and has a high capacity.
Sources:
Competition
Among the six reviewed self-balancing electric scooters, Swagtron T1 (UL 2272 Certified Hands-Free Two Wheel Self Balancing Scooter) emerges as the best. It has several advantages and features that put it at the top of the list. Some of these added features include the open-wheel system and the inbuilt speakers.
The product is stylish enough to appeal to the youthful generation but is also preferred by elder people whose main concern is the functionality of the product. Whether you intend to use it for fun or as a travel aid, this scooter will suit your needs and guarantee your safety. It sends the standards for other similar products especially because of the manufacturer's focus on enhancing the user experience as has been confirmed by positive user reviews.
As with any other technological invention, this Self Balancing Electric Scooter has its disadvantages, but they look so minimal as compared with all the benefits it has to offer.