Looking to buy a full-size bed? With so many options to choose from, how can you possibly choose the right one for you?
Here, we feature the best full-size bed brands and models, as well as information on each item.
As you read along, you should be able to find the right product you need that is worth your time and money.
So, check out this review and buying guide on a full-size bed to help you make a practical decision on the item to buy.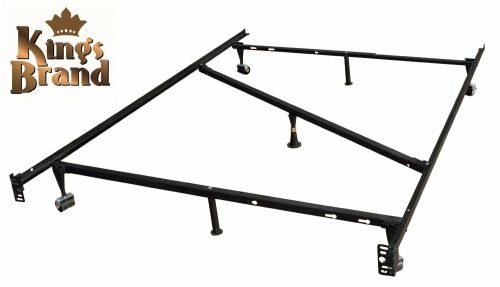 Features:
Heavy duty metal bed frame with 7 legs that you can adjust easily
Stress-free to move around as there are wheels incorporated
Well-built and durable
Bed frame made of solid steel metal
Optimum support for your full-size bed mattress and headboard
King's Brand 7-Leg Heavy Duty Adjustable Metal Bed Frame compatible with queen, twin, twin XL, full XL and full-size bed
Does not work with a king-size bed
back to menu ↑
back to menu ↑
back to menu ↑
back to menu ↑
back to menu ↑
back to menu ↑
back to menu ↑
back to menu ↑
back to menu ↑
How to Choose the Best Full-Size Bed?
So, you are probably wondering – how can you select the perfect full-size bed that meets your needs and standard? Well, it helps to understand that there are different bed sizes available in the market. While this may cause you some confusion when it comes to the right one to buy, the most important thing to think about is the comfort and support level that the bed offers.
Are you looking for a bed just for yourself, a child, or for you and your partner? In this case, the size must be taken into consideration.
What Bed Sizes Are Available?
As mentioned earlier, you should be able to find a number of bed sizes to choose from. The following are details about each.
Twin
Measuring 39 x 75 inches, a twin bed is perfect for an adult sleeper or a child. However, it is not spacious enough to work for two people since there will not be ample space to move. Furthermore, you may opt for a twin bed if your guest bedroom, daybed or bunk bed are small.
Twin XL
A little longer than the twin bed, the twin XL has an additional 5 inches length to accommodate taller adults or teens. The length is similar to that of a king or queen bed, but it is narrower in width.
Full-Size Bed
At 54 x 75 inches in width and length, there should be a good space for 2 adults to sleep on a full-size bed. While others may prefer a wider space such as what is available from a queen or king bed, a full bed should suffice if floor space is a bit of an issue.
Queen Bed
With 6 inches more space in terms of width and 5 inches longer than a full-size bed, the queen bed is great for a spacious master bedroom. It is perfect for 2 adults, or even for just one person who wants plenty of space to stretch while sleeping.
King and California King
A king bed is 16 inches wider than a queen bed, so it is a common choice for couples who want more sleeping space. You can even share the bed with your children and maybe a pet or two. On the other hand, California king is for taller people as it comes with 84 inches in length to extend your legs and feel comfortable as you sleep.
How to Choose a Bed?
Now that you learn more about the different sizes of bed, you will need to find out how exactly you can choose the right bed for your needs. Initially, you need to test out a bed before you buy it. Whether you opt for a full-size bed or a King bed, testing it out at the store will give you a better feel at the comfort level that the product offers.
Also, you need to think about the floor space in your bedroom. Do you have a large room, or is it too cramped already to fit in a big bed? A full-size bed may be fine for an average-sized room, particularly if you are sharing the bed with a partner.
Most importantly, determine your budget. The amount you are willing to spend will have a serious impact on your purchasing decision. So, compare several products, learn about their pros and cons, and you should eventually come up with the right choice that matches your standard and budget.
FAQs
Sources: