Makita XDT111 3.0 Ah 18V LXT Lithium-Ion Cordless Impact Driver Kit
Known for its outstanding ability to combine power with speed and reliability, the XDT111 from Makita is a sure bet for anyone who would like to fast-track their driving and fastening tasks. With a reputation for being super-light and versatile, this model comes loaded with a number of heavy-hitting features that make it suitable for a DIY lifestyle. Its advanced Li-ion battery technology gives it extended life meaning that you won't need to take unnecessary breaks in between work sessions for a recharge.
Variable speed e.g. 0 to 3,500 IPM and 0 to 2,900 RPM, making it suitable for various fastening applications
Weighs a paltry 3.3 pounds with the battery included and this reduces hand fatigue
Housed within metal gear for improved, on-the-job stability
Makita XDT111 18V Impact Driver User Manual
View this manual
Read all safety warnings and all instructions. Failure to follow the warnings and instructions may result in electric shock, fire and/or serious injury.
Summary:
Founded in 1915, Makita is a Japanese power tools manufacturer with a stunning track-record. So, when you need to find an impact driver, it'd really be a good idea to consider looking out for what this company has in store for you. That said, not all of their products are perfect. Therefore, it would be an even better idea to carry out independent research in order to have a rough idea of what is in store for you. In this Makita Impact Driver XDT111 review, we will take you through all the tiny details about a popular impact driver that promises to turn your DIY life around. Most importantly, we'll zoom in to the features on offer and examine how these can impact your work. So, we would like to invite you to read this Makita 18V Impact Driver review so you can determine if this is the best power impact driver to buy or not.
| | | | |
| --- | --- | --- | --- |
| Hex Shank | 1/4″ | Battery | 18V LXT® Lithium-Ion |
| No Load Speed | 0 – 2,900 RPM | Overall Length | 5-3/8″ |
| Impacts Per Minute | 0 – 3,500 IPM | Net Weight (with battery) | 2.8 lbs. |
| Maximum Torque | 1,460 in.lbs./165N•m | Power Type | Cordless |
| Voltage | 18 volts | Wattage | 54 watts |
Armed with an 18V 3AH Li-ion battery, the XDT111 delivers an incredible 1460 pound worth of torque. No doubt, this is one of the most powerful DIY impact drivers on retail currently. So, whether you're looking to change your car's wheels or even fasten screws in hardwood material, this is the right machine to bank on. You only need to find the appropriate drill bit for the job and you'll be good to go. A closer look at this machine's motor reveals that it's a 4-pole 4-brush unit. If you've been interacting with these kinds of electronics for quite some time, chances are that you have a rough idea how effective this motor can be. In fact, the company confidently states that this unit is highly energy-efficient despite being capable of delivering an outstanding 26% additional speed at the spindle. Depending on your specific needs, you can buy this cordless impact driver in one of its three variants. For instance, you can choose to buy it as an impact driver only. Alternatively, you can go for a variant that comes with a versatile holder. This one usually comes fully-loaded with a 38-piece set of drill bits. What's more? If you're looking for even more flexibility, you can upgrade to a 70-piece drill bit. So, in that case, you'll only need to pick the best impact driver bit set for any task you might be having – and that would effectively help make your life easier.
Yet another outstanding aspect of this machine is that it allows you to operate at flexible speeds. All you need to do is play around with a push button – more or less like switching gears when driving a car. So, yes, this machine is quite easy to operate. Considering all the features and capabilities it comes with, one would expect the Makita XDT111 to be pretty expensive. That, however, isn't the case – and although it isn't dirt cheap, you definitely get good value for money with this impact driver.

Features
The machine is 5 3/8 long meaning it's quite compact and easy to store/transport
Loaded with dual LED lights allowing you to operate seamlessly even in dark rooms
Comes with rubberized grip for an enhanced user and handling experience
Boasts proprietary XPT technology for advanced protection from dust and water even when one is working in harsh job site conditions
Protected by Star Protection computer controls which prevent against over-heating, over-discharging or overloading thereby extending drill life and ensuring a hassle-free operation
Battery comes with built-in chip and fan technology thereby optimizing its life and facilitating for faster loading and recharging with minimal downtime involved
The Design
---
Thanks to its ergonomic design, this power tool stands tall as a machine that's both user-friendly and highly-efficient as well. For starters, despite being sophisticated and carrying a bunch of wonderful features, it still weighs below the industry average. Of course, that's a big plus especially for those who spend long hours handling difficult tasks like installing drywall. To make sure you don't have to stomach intense vibrations as the powerful driver does it job, the manufacturer has introduced a rubberized, soft grip handle. This handle does a pretty good job of absorbing shock and preventing the tool from slipping from your hand even when operated in unusual positions. Overall, this impact driver comes out as one that's easy for anyone to operate. You don't need to be a guru to understand how this works either. In fact, the minute you receive it – the rest of the process is pretty much straight-forward.
Power and Performance
---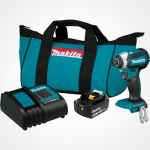 The XDT111 stands out with its ability to combine power with versatility. As we've already noted, it packs up a whopping 1460 pounds worth of power while delivering 2,900RPM and 3,500IMP – that is flexible enough and budget-friendly. It's only fair to categorize this as both a powerful and energy efficient piece of creation. It doesn't compromise on performance – you only need to give it a challenging task and a few seconds to devour it.
Pro Tip
Never compromise on the quality of the driver tips. The tip might wear out fast and before you know it, prematurely jump off from the fastener thereby damaging your project.
---
Jon
Safety Features
---
Safety is clearly a top priority for the Makita team and that's evident with the XDT111 unit. Not only is it advanced in technology, but clearly has gone ahead and introduced a number of features to protect you – at all times. First off, this system boasts patented Star Protection computer controls which do a great job of extending battery life. This protects you from any accidents or incidents that might occur due to overheating, overloading and over-discharging. On top of that, the fact that this unit offers variable speed operability makes it a sure-bet especially when one is looking for a power tool that can easily adapt to a wide range of materials.
PROS:
Makita is a reliable brand
Incredible power to performance ratio
Drill versatility makes this a highly flexible drill bit
Incredibly user-friendly and generally easy to maintain
Great battery life
Minimal operational downtime
CONS:
Handle feels a little cramped
Only comes with 1 battery, no free spare battery
Things we liked about it
One thing we really like about this unit is that it has
little to no downtime
. Its fast-charging battery, beefed up by the Rapid Optimum Charger technology makes sure you get from zero charge for full charge in as few as 30 minutes. That means you can get more work done with less charge time – equaling more productivity. We also like the fact that this top impact driver is protected by a
3-year limited warranty
. That alone goes a long way to confirm that this company is fully confident in the kind of products they have to offer. So, if you receive a faulty one, you can always ping them for a replacement. If you're looking for additional flexibility, this
machine
comes with a
Star Symbol compatible battery
which works with all other Makita devices that run on 18V Lithium-ion batteries.
Things we didn't like
Small qualms with the, otherwise perfect, machine would be that it doesn't come with a free spare battery unlike some of its competitors. Keeping in mind the fact that Lithium Ion batteries are pretty pricey, we happen to think that the good guys at Makita would have added even more value to this deal by offering a free additional battery. Besides that, the machine's handle feels a little cramped especially for individuals will large palms. Adding an extra 1/4 inch chunkiness to the grip would solve this problem.
General User Experience
---
We can't help but also note that this unit offers above-average user-experience. Not only is it ergonomically designed and easy-to-transport (thanks to the fact that it comes with a free transport casing), this machine is a plug-and-play unit. The fact that it is powered by a 4-pole, 4-brush motor makes it incredibly easy to operate on most surfaces. In addition, it has dual LED lights which make it extremely easy to illuminate the work area. On top of all that, there's a one-touch 1/4 inch hex chuck in place for enhanced convenience. To crown it all up, the XDT111 comes with an all-metal gear housing for enhanced durability and better experience even in tough working conditions.
Makita 18V Compact Lithium Ion Cordless Impact Driver XDT11
Yotube Video Review: Makita 18V Compact Lithium Ion Cordless Impact Driver XDT11
If you liked this article, you'll also be interested in:
FAQ
Does this impact driver come with a warranty?
The unit is protected by a 3-year warranty from Makita. In addition, there's a 30-day money back guarantee in place – so if you're not satisfied with this unit, you can always request for a refund.
Can it run on older batteries?
Yes, this machine can run on older Makita 18V Lithium-Ion compatible batteries.
What's the best bit set for Makita XDT111?
The best bit set for this is the T-01725 bit set from Makita. This set of best known for offering a full range of solutions for driving, drilling, and fastening.
Conclusion
---
Whether you're a DIY enthusiast or technician, it's important to invest in a tool that gives you extra power without compromising on safety. As we've seen in this Makita 18V Impact Driver review, the XDT111 stands out with its sophisticated features that make it incredibly powerful and reliable.
Backed by raving reviews and riding on the good track-record of the Japanese-based manufacturer, this power tool is definitely something worth your time and money.