Makita LS1040 User Manual
View this manual
Read all safety warnings and all instructions. Failure to follow the warnings and instructions may result in electric shock, fire and/or serious injury.
Summary:
Makita is probably one of the most trusted names in the world of industrial power tools manufacture. Indeed, the company has built a name for itself as a leader in delivering cutting-edge innovations by marrying innovation with the need to respond to changing market needs. That notwithstanding, not everything that comes with the name Makita on it is perfect. That's why it's always a good idea to dig deeper and find out what each product actually offers. In this case, we'll be carrying out a Makita LS1040 review. We'll run through the machine's features in order to point out certain bits you may find helpful when taking on any job. Hopefully, this rundown will help you make an informed choice so you can take your on-job performance to a whole new level.
| | | | |
| --- | --- | --- | --- |
| Blade Diameter | 10″ | Dimensions (LxWxH) | 20-7/8″ x 18-3/4″ x 21″ |
| Arbor | 5/8″ | Net Weight | 27.3 lbs. |
| Max. Cutting Capacity (miter 90°) | 2-3/4″ x 5-1/8″ | Max. Cutting Capacity (miter 45°, L/R) | 1-3/8″ x 3-5/8″ |
| No Load Speed | 4,600 RPM | Power Type | Corded |
| AMPS | 15 | Voltage | 120V |
The LS1040 comes with a boatload of value and quality and goes for a pretty reasonable price. It's no wonder this unit is often ranked top among the best 10-inch miter saw reviews. The machine ticks all the right boxes – from power to accuracy to motor power and blade performance, this tool can be relied upon, any day and any time. For starters, it motor packs 15amp worth of power and this drives the blade at a sizzling 4,600 RPMs. As you can see, that's more than enough power to help you tame any complex project whether at a commercial or domestic level. Despite being a monster, this machine is incredibly easy to assemble and use. Note: A majority of saws that compete for a market slot with the LS1040 require you to have a dose of previous experience. That's, however, not the case here. All you need to do to get this unit up and running is read the user manual (which comes with every machine bought btw). The miter base is well-designed although we think they could have done a much better job of calibrating it. That said, the accuracy is pretty good. So, clearly, performance isn't really an issue as much you're using this compact saw as required. And to top it all off, the Makita LS1040 comes with a free dust collection bag. And although the bag's capacity is underwhelming, it still serves the purpose – though, you have to keep emptying it every so often.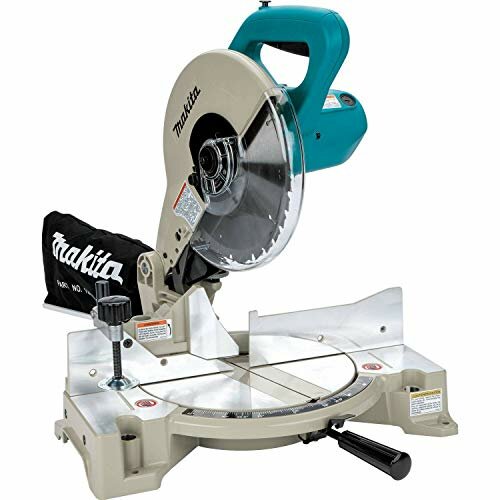 Features
A well-thought-out, machined, aluminum base for durability and enhanced performance
Flexible pivoting arm allowing one to play around with the double bevel compound and make creative cuts
At dimensions of 21x18x15 inches and 33pound weight, this unit is suitable for anyone who'd like to operate from on-the-go
With a voltage of 120V, 15AMP motor and 4600RPM potential, this unit combines energy efficiency with superb performance
Highly accurate blade thanks to a well-designed fence, miter adjustment settings and an accurate bevel
Large bevel scales that are easy to read, therefore, adding to the user experience attributes of this saw
The Design
---
As a classic pull-down miter saw, one would expect the Makita LS1040 to compromise on accuracy (as is always the case with non-sliding saws compared to sliding ones). That, however, isn't the case here and we attribute that to the well-designed layout of this machine.
Its robust aluminum body is designed to allow for stability when the saw is in action. Remember, any blade movement, especially at 4,600 rpm, can easily cause a poorly built saw to waiver and this can significantly affect the quality of the cuts made. Once again, that's not the case with this machine and that's because the good engineers of Makita designed this one to be rigid. At the same time, this saw remains flexible enough to allow for a flexible cutting experience when needed. The fact that this unit comes with a solid body might make it sound like a bulky machine until you take a look at its weight. Indeed, at 25 pounds of weight, this saw is just light enough to carry with you to your workstation, any day. On top of that, the fact that it's compact means you don't need lots of space to keep it safe.
Precision and Performance
---
Most saws give up the ghost when subjected to tough working conditions – and this is where professionals raise questions about the quality of motors used by manufacturers these days. As a budget drop miter saw, this unit runs on 240 volts, 1650 watts motor which clearly supplies it with loads of power. Generating a whopping 4,600 rpm, this motor powers the bevel to slice through wood fast and without causing a fuss. What's more, this miter saw offers a maximum cutting depth of 95mm (or 3.7 inches). That's just enough to sustain you through outdoor woodworking tasks, indoor finishing as well as light construction projects. As far as the width of the cut is concerned, this saw delivers an incredible 90.5mm (equivalent to 3.5 inches) which once again is adequate for most regular jobs. Add that to the fact that this miter saw can be set to multiple angles leftwards and rightwards and you have one of the most flexible units a quality-conscious buyer can find.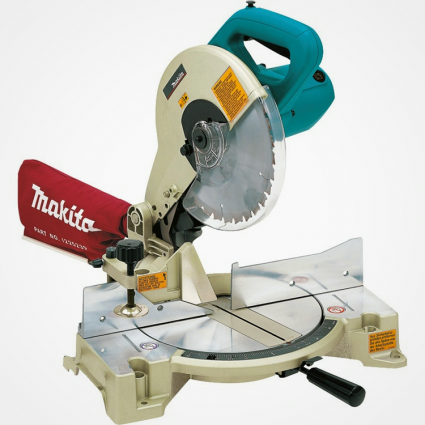 Pro Tip
Owing to the small size of this machine's dust collection bag, we'd recommend checking its content every so often so you can empty it before it fills up.
---
Jon
Safety Features
---
One of the notable features of this machine is that it comes with a transparent blade guard which protects you from saw dust, thereby leaving you to focus on making precise cuts. There's also a dust collection bag in place, to ensure that most of the dust is collected safely. Regarding safety, we'd rank this as an OK device as there are no fancy or impressive safety features in place.
Makita LS1040 vs Dewalt DW713
---
The battle between these two non-slide miter saws is so closely fought that it's difficult to determine who the ultimate winner is. That said, a closer look at the features offered by each one of them reveals that the Makita LS1040 enjoys a slight advantage owing to the fact that it provides a large cutting capacity. In addition, the LS1040 comes with a 40T carbide tipped blade which is pretty sharp and accurate. Both saws come with 15Amp motors although the Dewalt DW713 delivers 5,000rpm which is 400rpms more than what the LS1040 offers. It's also worth keeping in mind that the two competitors come with machined bases for enhanced cutting accuracy. That said, the DW713 from Dewalt comes at a friendlier price tag although that also means the machine offers fewer features as compared to what the LS1040 delivers. So, if you're looking to save your bucks, the DW713 would be the best bet but if you're looking for good value for money, go for the Miter LS1040.
PROS:
Powerful enough for average projects
Ergonomic handle – fits like a glove
High quality, aluminum base
Very light and highly portable
Incredible cutting accuracy
CONS:
No laser beams for guided cutting
Less powerful compared to larger models
Things we liked about it
The Makita LS1040 may be small in size but it certainly isn't an underdog as far as performance is concerned. Its ability to deliver loads of cutting power and slice through wood and plastic makes it a reliable unit for all manner of DIY and professional tasks. In addition, this drop miter saw is user-friendly and that means you don't need any prior experience with these machines to handle it.
Things we didn't like
If you're looking for an extraordinarily powerful machine, the 4600rpm capacity of this saw one may not wow you. You may, therefore, need to invest in a bigger (and most likely heavier) miter saw. Besides that, its power cable is only 2 meters long and we think that a longer cable would have made this miter saw even better.
General User Experience
---
Generally, this saw tends to attract lots of positive reviews from DIYers and hobbyists. It's not really popular among professionals. That's not because it doesn't live up to expectations but that it doesn't offer as much power as some of the units within its price range do. However, if you're looking for stability, consistency, and ease-of-use, this unit is, for sure, capable of holding its own. Likewise, this would be a great saw for electricians and plumbers who may need to make occasional cuts of plastic or wood during jobs that demand perfection. In a nutshell, the Makita LS1040 is highly portable and stress-free to operate giving you more time to focus more on what matters the most to you – the quality of workmanship.
If you liked this article, you'll also be interested in:
How we tested
Circ saws are an important tool in the box of many construction jobs. They have become popularized over the last thirty years, so we decided to test them out to see if we can find the best ones out there. We compared the Makita LS1040 and the Dewald DW713 and put them both to the test. They are both miler saws that are non-slide, so there have been many opinions surrounding them. We've decided to pick a winner once and for all. In our test, we analyzed performance, affordability, comfort, and durability.
We realized that the two machines had different ripping times. However, a couple of seconds does not make a huge difference, so we let this slide. The two machines also come at different price points, so if you are on a strict budget, this may be an important factor for you.
Next, we tested the comfort. This is arguably the most important aspect for construction workers. Many of the triggers were well positioned. Others may have tired up a hand when using for long hours of time. This test is necessary for those that need to use the machine for work all day.
Lastly, the construction quality is something that should be noticeable as well. Durability can sometimes be a difficult test, but it shows which tools are more vulnerable and have the possibility of breaking after a short time of use.
FAQ
Can the Makita LS1040 cut 4x4 or 2x6 pieces of wood?
Yes, this unit can easily tame 4×4 lumbers. However, to have a better experience when dealing with that kind of load, it's recommended to have the saw anchored using a wood clamp.
Is it possible to bevel past 45 degrees with this?
Although it's not possible to do so to the left, the right side of it offers up to 52 degrees of beveling. So, yes, you can level up to 52 degrees with this.
Does this come with a laser guide?
Unfortunately, this miter saw doesn't come with a built-in laser guide. You may, therefore, need to buy one for it.
Conclusion
---
Makita remains one of the most trusted brands in the production of power tools and we think this machine lives up to that reputation. Indeed, we can conclude this Makita LS1040 review by categorizing the saw as a go-to, light-weight, and brilliant product.
If you're looking for a miter saw that combines power with accuracy, you can't go wrong with this functional unit.