Investing in the best recumbent bike is a wonderful way to take your health to the next level in the comfort of your home. It is a great alternative for anyone who wants to either warm up the body for further workout routines, or for a solid workout in itself.
Best of all, you can park the bike in front of your computer or TV and control your own entertainment while getting your cardio on. One of the most difficult tasks, though, is finding a brand and model that includes the ideal features at the right price level. There is a lot to consider.
But the good news is that when buying a recumbent bike, you will see that there is something for everyone and you're guaranteed to find one that fits within your budget range. To help you find the right match, we have listed what we feel are the best choices on the market currently.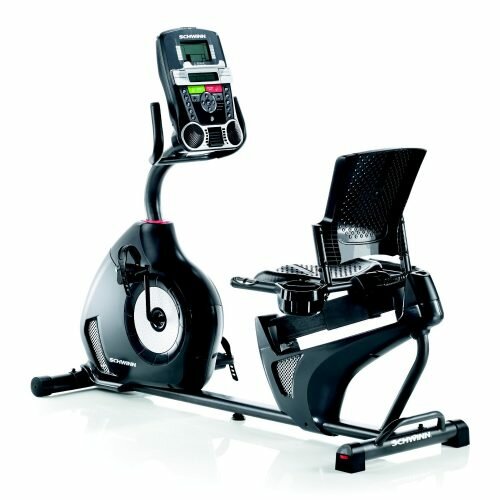 The model 230 from Schwinn is a well constructed recumbent bike that gives fitness enthusiasts a variety of exercise plans. Schwinn has 20 levels of resistance, 22 built-in programs and data-cum-progress tracking technology to keep you challenged while providing you with a plethora of possibilities. Moreover, it has a large spacious seat and an LCD display that can track up to 13 data points.
Features:
Has a heart rate monitor that is located in the handles for easy tracking of heart rate for exercisers.
Built with an adjustable seat to provide adequate space for people of all body types.
Provides 20 different resistance levels giving the user a wide array of options in terms routines and exercise programs.
Protected by a multi-tiered warranty cover that provides for early malfunctions and defective parts replacement. The frame is also covered by 10 years.
PROS:
Hi-tech enabled and capable of accommodating various electronic devices.
Has vented seat that is ergonomically designed to ease pressure on people with lower back pain.
Durable frame which is easy to assemble.
CONS:
Its back cushion is non-adjustable.
back to menu ↑
This bike is best known for being sturdy and well priced. It has a low-cost and basic setup and doesn't have a ton of whistles and bells besides a heart-rate monitor which is located in the handgrips.
One thing that stands out about this recumbent bike is that it has a durable yet user-friendly design. Exerpeutic Extended Capacity Recumbent Bike 900XL With Pulse can accommodate up to 300lbs even though it only weighs 63 lbs.
Has extended leg stabilizers and a low center of gravity; features that are much needed to keep the bike in place even during your most intense workouts.
Features:
Precisely balanced V-belt drive, flywheel alongside an efficient torque cranking system for quiet and smooth operation.
Offers 8 levels of magnetic resistance allowing for a wide array of workout intensity, LCD display, and scan feature.
Equipped with foot straps which are meant to hold your feet in place so they don't slip out while you're pedaling away.
PROS:
Offers 3-year warranty on frame and 90-day warranty on parts
Easy to assemble, thanks to a step-by-step assembly guide
Built to maximize comfort and motivation through its oversized cushion, backrest, and LCD
CONS:
The attached step-by-step guide does not do a great job in explaining how to assemble the tension cable
Exerpeutic 900Xl Extended Capacity Recumbent Bike with Pulse
Yotube Video Review: Exerpeutic 900Xl Extended Capacity Recumbent Bike with Pulse
back to menu ↑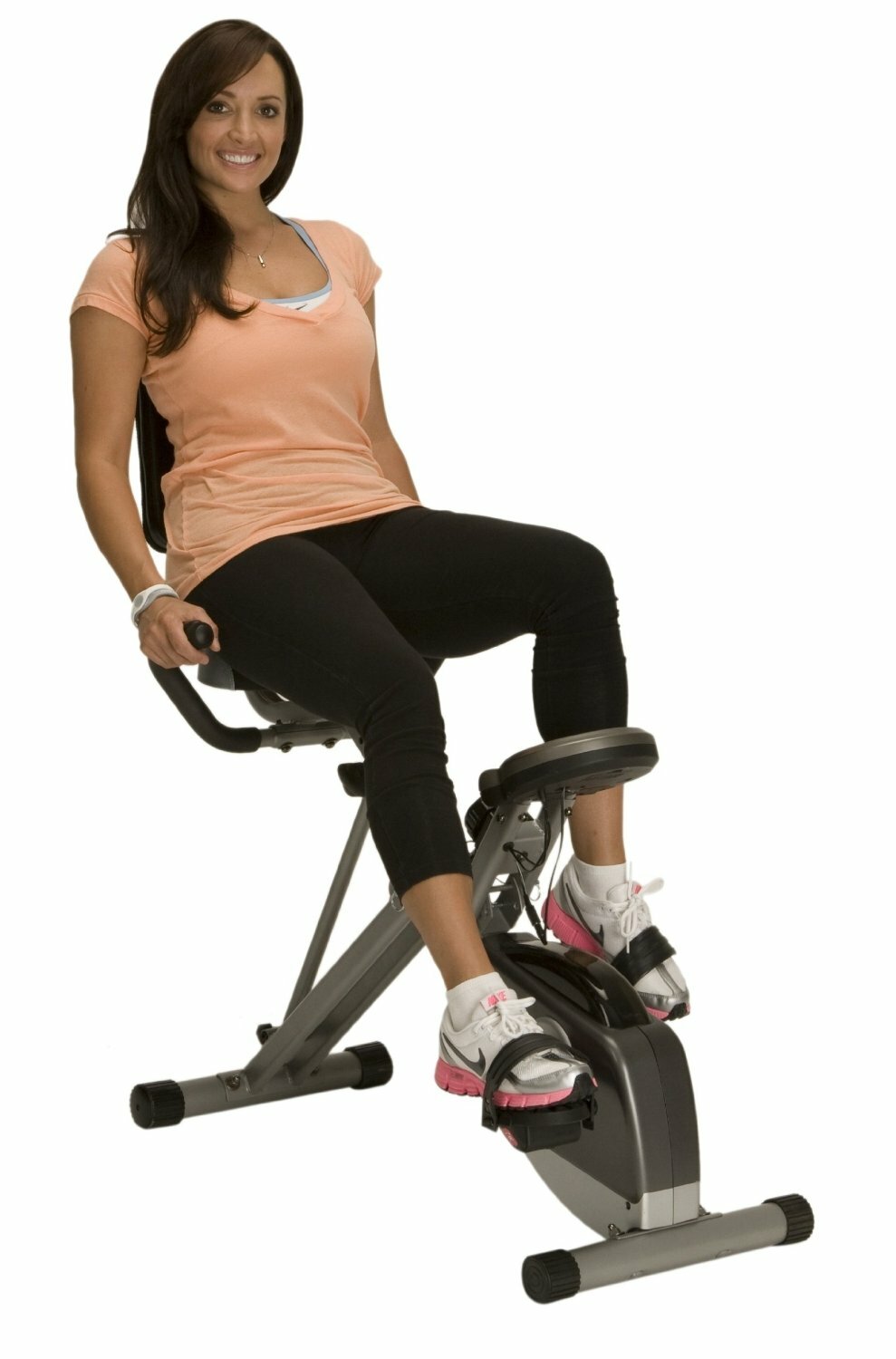 Exerpeutic 400XL is not only compact but also portable and easy to assemble. It has a V-belt double drive transmission system and precisely balanced flywheel which makes for a smooth and quiet workout.
Besides that, the bike is enhanced with a magnetic tension control system that can be adjusted for a maximum of 8 levels of resistance. Note that it has a semi-recumbent design that makes it easier for fitness enthusiasts weighing 300 lbs or fewer.
Features:
The bike weighs just above 39 lbs and it is foldable into halves for easy storage.
It is equipped with an LCD display, which is easy to read as it displays multiple important data points on an interface that is easy for the eye.
The backrest and seat cushions are large and comfy and hence suitable for individuals of various body sizes.
It comes with a hand pulse monitor which measures your heart rate in real time and displaying the results on a monitor.
PROS:
Sturdy as it's built with sturdy leg stabilizers.
Easy to use and assemble.
Durable as it is made from durable materials.
CONS:
Its minimalistic size makes this model unsuitable for tall people above 6"0'.
Exerpeutic 400XL Folding Semi Recumbent Bike
Yotube Video Review: Exerpeutic 400XL Folding Semi Recumbent Bike
back to menu ↑
Popularly known as the Marcy Mag Cycle, this recumbent bike would be an excellent exercise tool for anyone looking to lose weight, improve fitness level and tone up. It offers all kinds of benefits of a regular street bicycle alongside the added advantage that its pedals are intelligently located slightly below the seat level.
Essentially, that means that during exercise your legs will be extended towards the front rather than beneath your body – and that way, less stress is placed on your ankles, knees and back.
Features:
Has an oversized console which allows for easy monitoring of your speed, time and distance covered – and also the number of calories burned.
It comes with an adjustable seat, allowing for flexible pedal distance, which makes it suitable for both short and tall users (from 5 feet to well over 6 feet).
It has an 8-level magnetic resistance allowing for extremely quiet and smooth training sessions with easy transitioning across different resistance levels.
Designed with a gap between the arm rests to allow easy access even for larger built individuals. In addition, if more room is needed, the arms rests can be left off.
PROS:
Firmly padded features like seats and armrests which are also ergonomically angled to provide comfortable workout positions.
Easy to assemble.
Durable and backed by 2 years limited warranty.
CONS:
Lacks a heart rate monitor.
back to menu ↑
Schwinn 270 is, without a doubt, one of the best recumbent bikes on the market. It is suitable for anyone whether a novice or a fitness guru. The machine is loaded with great features and 29 programmed workouts plus the ability to download more items to make your exercise routine more fulfilling.
In addition, it has an adjustable seat to allow for various postures. This seat has a ventilated back designed to allow for free flow of air while the individual is pedaling.
Features:
A friendly design and compact fit weighing 86.6 lbs and occupying a space of 27.7 inches width, 49.9 inches height, and 64 inches length.
Equipped with modern technology features like in-console speakers with MP3 or iPod player port, Bluetooth, USB data transfer and direct connection to MyFitnessPal.
Has a three-speed cooling fan, transport wheels for easy mobility and media shelf for a convenient workout experience.
Equipped with a heart rate monitor which is strategically placed on handlebar grips. This machine is also telemetry enabled for chest-strap capability.
PROS:
Assembling this bike is easy, all thanks to a step-by-step guideline that explains it all.
Built by a reputable manufacturer with a clean track-record since 1895.
Has an awesome console plus 29 programmed workouts.
CONS:
Despite providing chest strap capability, this accessory is not provided with the machine and one has to buy it separately.
If you liked this article, you'll also be interested in:
back to menu ↑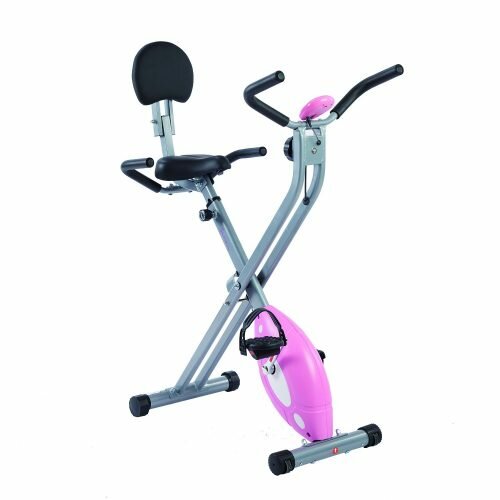 This Sunny recumbent bike model is a popular and highly rated folding bike that comes at a great price. One of the most outstanding features of this bike is in its high-tech display aspects and its ability to change sizes to accommodate most weights and body types using the adjustable seat feature of the bike.
Features:
Comes with an adjustable resistance system allowing you to easily change the difficulty of your workout.
Has easy folding and stop-away capabilities for easy storage and uses a belt drive for a quiet and smooth ride.
Features pedals with a non-slip surface and straps to keep your feet from slipping off.
Comes with a basic console for tracking and transport wheels for easy moving.
PROS:
It's quiet so it can be used at any time.
Constructed from high-quality materials making it more durable.
Easy to assemble as it comes mostly assembled.
CONS:
As compared to most recumbent bikes, the seat of this bike does not provide superior comfort but can always be enhanced with an extra seat cushioning.
back to menu ↑
This entry-level recumbent bike from the Stamina brand is a solid machine with one of the lowest price tags around. It features an easy to use LCD monitor that helps you track calories burned, time, speed and distance covered.
Stamina Magnetic Resistance Recumbent 1350 Bike also has an easy to mount design with a comfortable padded seat to distribute your body weight evenly and comfortably.
Features:
Includes an adjustable, heavy-weighted flywheel resistance and belt-drive train so you can easily pedal at the resistance level of your choice.
Offers a 90-day warranty on parts and 1-year warranty on frame, leveling stabilizer caps and oversized, weighted pedals.
Features 8 resistance levels to help you reach the optimal heart rate for fat burning.
It's surprisingly quiet, easy to assemble and with a comfortable, padded upholstered vinyl seat with various handrails and seat positions.
PROS:
Perfect for small spaces all thanks to its weight, size and the fact that it rolls for easy storage.
Easy to use, simple to move and very compact too.
Offers calorie burning cardiovascular movement and muscle building resistance.
CONS:
Lacks programmed workout routines which is a popular feature among most recumbent bike users.
back to menu ↑
Velocity CHB-R2101 is a recumbent bike with all the features you need to start exercising. The bike is featured with a comfortable seat and arm rest which is almost as comfortable as a good sofa. It's also equipped with padded pedals, adjustable straps and a console that allows you to control the resistance level and for tracking purposes.
Features:
Eight manual resistance settings with an outer magnetic control for consistent resistance.
Two-way flywheel that offers a smooth ride, built in transport wheels for easy transport and storage as well as efficient pulse readers in the handlebars.
90-day warranty on the monitor, five-year warranty on the frame and 30-day warranty on all other parts.
Measures 53" by 24" by 38"- compact enough to fit even in a small space.
PROS:
Has a console that is easy to read and use.
Works quietly hence you can listen to music or watch your favorite TV program while exercising.
Great design and the seats can comfortably accommodate people of different sizes.
CONS:
Difficult to assemble for most people since there is no guide on how to assemble but only a diagram of the bike.
back to menu ↑
This is a very compact and lightweight recumbent bike offering comfort and quality build at an affordable price. It features eight resistance levels that can be easily adjusted via a tension knob.
ProGear 190 Compact Recumbent Bike is also fitted with an LCD window display to keep track of your work progress, a heart pulse sensor to keep track of your heart rate and three-piece, high-torque cranking device to give you a smooth ride.
Features:
Oversized pedals with a strap and textured surface to provide your feet firm grip while your pedal.
Large and adjustable seat ranging from 5'2 inches to 6'2 inches, backrest and can carry up to 275 lbs.
Has v-ribbed belt which provides a quiet smooth ride throughout the workout.
Semi-reclined seat with side-positioned handlebars to provide a customized and comfortable workout.
PROS:
Easy to fold and put away.
Provides a low impact workout which is a lot easier on joints.
The resistance levels are well labeled to make it easier to set the level you want.
CONS:
Unfortunately, the bike is not designed for standing on the pedals.
ProGear 190 Compact Space Saver Recumbent Bike with Heart PulseSensors
Yotube Video Review: ProGear 190 Compact Space Saver Recumbent Bike with Heart PulseSensors
back to menu ↑
This is one of the best options for a person searching for a high-quality recumbent exercise bike at a friendly price. Phoenix Magnetic Recumbent Exercise Bike has quite a large electric monitor that displays calories burned, speed, time and distance and an adjustable frame capable of accommodating users of all heights.
Features:
Offers 8-resistance levels to choose from and a magnetic resistance design for a quiet workout.
Features a modern seating design that allows the user to stay in a relaxed and semi-horizontal position.
Includes pedals with secure foot straps as well as 90-day warranty on parts and one year warranty on frame.
Measuring 58" by 24" by 38" the bike has a compact design.
PROS:
Very durable and sturdy due to its tough tubular steel frame.
Very quiet even at high resistance levels and speeds.
Easy to assemble and lightweight.
CONS:
It lacks the wide array of great features found on some higher-end recumbent bikes models.
| Product Name | Image | Programs | Overall Rating | Details |
| --- | --- | --- | --- | --- |
| Schwinn 230 Recumbent Bike | | 22 | 10 | Check price |
| Exerpeutic Extended Capacity Recumbent Bike 900XL With Pulse | | 8 | 9 | Check price |
| Exerpeutic Folding Recumbent Bike 400XL | | 8 | 9.5 | Check price |
| Marcy ME-709 Recumbent Bike | | 14 | 9 | Check price |
| Schwinn Recumbent Bike 270 | | 29 | 9.5 | Check price |
| Sunny Health & Fitness Folding Recumbent Bike | | 8 | 8 | Check price |
| Stamina Magnetic Resistance Recumbent 1350 Bike | | - | 8 | Check price |
| Velocity Exercise Recumbent Exercise Bike (CHB-R2101) | | 8 | 8.5 | Check price |
| ProGear 190 Compact Recumbent Bike | | 8 | 8 | Check price |
| Phoenix Magnetic Recumbent Exercise Bike (99608) | | 8 | 7.5 | Check price |
How To Choose the Best Recumbent Bike
One aspect to consider when choosing the best recumbent bike is the wheel size. In most scenarios you'll find bikes 20" or 700c rear wheels and 16" or 20" front wheels. Bikes with this type of wheel size offer better gearing and are very efficient.
Another aspect to consider is the seat since comfort is key if you want to enjoy the ride. And since seats of these bikes come in various shapes and sizes, choosing a bike with a seat that fits you well is advisable. The seat can either be adjustable, cushioned or made from slung material or hardpan base.
The other thing to keep in mind is the wheelbase which can either be short or long. Bikes with short wheelbase tend to have a responsive steering and are lightweight and are the most preferred. The size of the bike is also very important and should be determined by the storage space available. A bike that folds easily is a better option but if you don't have problems with storage space, size is not a determinant factor.
Sources
RecumbentExerciseBikeGuide.net
Competition — Which One Is the Best Among All
Looking at the features, pros and cons of these 10 recumbent bikes, there is no doubt that Schwinn 230 is the best recumbent bike.
This is because it is equipped with modern technology features such as in-console speakers with iPod player port, direct connection to MyFitnessPal, MP3 player, Bluetooth and USB data transfer. Another unique feature that makes it the best is the 29 programmed workouts that prevent boredom.