So you're looking for the perfect twin size beds huh?
Well, pull up a chair, relax, maybe even grab a drink because you've come to the right place. Here, we will touch on all you need to know to get the best twin size beds as well as some of the leading products that will suit your needs flawlessly.
What Are Twin Size Beds?
With all the different bed sizes available in the slumber market, how on earth are we supposed to keep up? I mean, even the names are a bit confusing. Aren't twin size beds supposed to be those two little beds you join together to fit both your kids in? Well, actually, that's not the case.
Popularly referred to as twin size beds, single beds are the most common and universal choice for either children's rooms or those rarely used guest rooms. Even most hotels prefer this choice since they comfortably fit one. Twin size beds typically measure 39 Inches wide by 75 Inches long.
This makes them really narrow and able to fit in the smallest of rooms. The applications for twin size beds are practically endless. Whether its bunk beds for your home nursery, school dorms, ships, you name it. No bed is more popular than the ever trending twin bed.
Before you go out shopping for just any old twin size beds, there're a couple of things you need to consider. Are you shopping for your children? Will adults be able to use it? How about doubling up, will you be able to turn it into a bunk bed?
We'll answer these and more questions later on. But for those who are kind of in a hurry, here's a great list of the most highly rated twin size beds that everyone is just dying to have.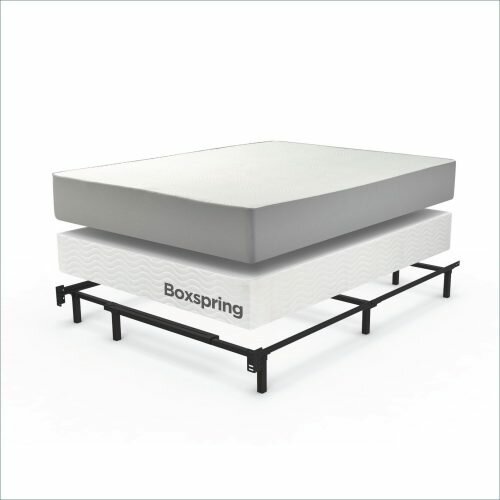 Zinus never seem to amaze with their simplistic and classical ingenuity. The Compack 6-leg bed frame is perfect for anyone looking for twin size beds. Since your safety and that of your family comes first, these twin size beds include some pretty unique technology to achieve this.
PROS:
Intelligently recessed legs for safety (No more hitting your toes on the bed legs)
Easy to set up Base
Designed for optimum support and more durability
Visionary design
CONS:
Although it's a no tools needed assembly, a screwdriver can definitely make things go faster
back to menu ↑
This sturdy black, matte powdered coated steel frame is fully engineered to bear the weight of much heavier mattresses thanks to the double rail center support bars. With this innovation, you can say goodbye to sagging mattresses forever.
The great thing about the Hercules Universal Heavy Duty is that it is the only bed you will ever need in your life. Thanks to 7 rug rollers that feature locking wheels, you can now adjust the bed to fit Queen, Twin/XL, Full XL, King and even California King mattress sizes, thank you, Hercules, what more could we ask for?
Features:
Solid steel construction for more support
New and improved packaging
2-1/2 inch double rail center support
Easy to assemble and attach to headboard
PROS:
Additional stability with a 2-inch center bar
Locking Wheels prevent bed from moving in place
Can fit almost every mattress in the world
One of the easiest assembling methods
Aesthetically pleasing and stylish design
Easy motion for cleaning under the bed
CONS:
The Hercules is very heavy and bulky
back to menu ↑
That's right, people, with the 9-inch high Sleep Master Smart Box Spring by Zinus, you can now sleep like a newborn babe. This beast offers you support and convenience like never before.
In addition, it is made from steel for more durability while still offering the functionality and practicality of a traditional box spring. Sleep master manufacturers include all tools necessary for assembly. This makes it very easy to put together, just a quick glance at the instructions and you're ready to go (well, sleep that is).
Features:
Convenient, compact packaging
All tools included facilitating easy assembly
5 year worry-free warranty
Versatile sizes
PROS:
High portability factor
Very easy to put together
Beautiful and classy metal casing that's wrapped in fabric
Not costly to purchase
CONS:
Wrongful assembly stresses the frame
back to menu ↑
Talk about the ideal solution to not-so-permanent accommodations. The Milliard lightweight cot includes a comfy mattress and is perfect for unexpected sleepovers, camping, road trips, reunions and even dorm rooms.
But how the heck do they make the cot so maneuverable?
Simple, the Milliard fold away easily and neatly for storage. But wait, there's more, not only is this bad boy the king of twin size beds at an amazing 74″ by 31″, but it also promises astoundingly high levels of comfort thanks to Italian craftsmanship.
PROS:
Superior quality preferred by luxury hotels and schools
Extremely lightweight (27 pounds)
Easy to transport due to folding technology
No tools required assembly
CONS:
Support wheels might give in after extended periods of use depending on transportation frequency
back to menu ↑
One of the most popular and well-rounded twin size beds you could ever ask for. By eliminating the need for a box spring, the Handy Living wood slat twin size beds are gaining some serious traction in both children and adult markets. See, as opposed to other surfaces, wooden slats give more curves and allow you to snuggle into your best sleeping position.
PROS:
Perfect platform for standard twin size beds mattresses
Wood Slats for accurate sleeping ergonomics
Sturdy frame that holds up to 300 pounds
No box spring required
CONS:
All in all, this twin bed is great for whatever purpose you want to use it for; however, you will require tools to open it.
If you liked this article, you'll also be interested in:
back to menu ↑
When it comes to the ease of assembly, Zinus seems to always know what to do. With their easy to assemble smart base, the Zinus 14 Inch Easy To Assemble SmartBase Mattress Foundation does not require a box spring or a traditional frame. Sleepers worldwide can now enjoy sturdy and overly strong support for springs.
PROS:
No need for a box spring
Perfect for small spaces thanks to a compact design
100% level support due to multiple points of contact to the floor
Durable, sturdy steel structure
CONS:
The smart base mattress is easy to assemble for most, but all the number of individual components might be a bit overwhelming.
back to menu ↑
Think you're a big guy? Really how much do you weigh? You know what, it doesn't even matter, because, with the King's 7-leg Heavy duty, you get the ultimate strength and durability. The steel metal frame ensures that nothing sways, squeaks or bends no matter how many pounds you put on top.
To top it all up, the Kings Brand Adjustable Heavy Metal Bed Frame can be adjusted to carry Queen, Full, XL, Twin and Twin XL. That's the ultimate bed right there, heck, why not even buy it for yourself and say it's for the kids.
PROS:
Easy assembly, no tools required
Maximum stability thanks to 7 legs
Wheels for easier mobility
Ultimate quality, durability, strength, and structure
CONS:
The screw to rail arms is not as sturdy depending on the frequency of motion
back to menu ↑
For those going for a simplistic yet classic look on their twin size beds, nothing fits the bill more than the DHP Bombay metal bed. It incorporates some gorgeous traditional scrollwork curves around the posts and is available in a pure white finish that complements a plethora of room decors out there.
PROS:
Fits all standard twin size mattresses
Metal slats for support and durability
Eligible for free replacement parts
No box spring required
CONS:
Not tightening the screws tightly could cause a squeak in the frame
back to menu ↑
This one's for all those people out there who see into the future. Zinus 14 Inch SmartBase Mattress Foundation also serves as a smart base mattress foundation that totally eliminates the need for box spring.
In addition to being quiet and noise-free, the twin size beds offer optimum under-bed Storage space. Zinus incorporates plastic caps on each and every one of their twin size beds to protect your floors from scraping.
PROS:
Carries up to 2,400 pounds thanks to a strong foundation
More storage space underneath
No tools required in assembling
No box spring required
CONS:
This is among one of the heaviest twin size beds and mattress platforms you will ever find
back to menu ↑
Are you looking to kill three birds with one of the most innovative twin size beds available?
Well, your three birds are style, class and functionality, all achieved in one nifty package from Prairie collection. Prairie Collection Twin Storage Bed Country Pine finish has a vintage, timeworn charm with an antique pewter finish that is a favorite for kids and teenagers. For functionality, these twin size beds have 3 spacious drawers with wooden fiber bottoms.
PROS:
Abundant storage space
Beautiful, antique design
Easy to assemble
CONS:
Due to materials used for assembly components, the bed is heavier than most of its counterparts
How to Choose the Best Twin Size Beds for You?
Did you know that the average person spends a third of their lives sleeping?
That's a lot of time right there. This means that you have to be as comfortable as possible to enjoy a good night's sleep as well as treat your body like a temple. Twin size beds are among the most popular choice for many all over corners of the planet.
However, they come in a wide array of styles, designs, brands and even dimensions. So how do you know which bed is right for you? Here's how to choose the best twin size beds for your family.
Always take this factor into account, otherwise, you will be left with too much bed and not enough room. This is especially true if you're going to have more than one piece of furniture in the room. If you have more than one kid or people sleeping in the room, more beds with smaller dimensions might be more appropriate.
If you are shopping in the store and browsing through the exhibits, make sure you take full advantage of this situation. Hop into as many twin size beds as possible and get a healthier feel of what to expect. That's the quickest way to find something you like.
One common mistake that most people make when buying twin size beds is to ignore potential expansion. It's always wiser to purchase a bed that allows for expansion through a myriad of sizes. Most of the beds above are made to evolve and adapt to all your future needs.
Although twin size beds come in smaller dimensions, they offer some of the longest services a bed can manage. By choosing durable twin size beds, your kids can grow up in them from a young age all the way till they become adults.
| Product Name | Image | Overall Rating | Details |
| --- | --- | --- | --- |
| Zinus Compack 6-Leg Support Bed Frame, for Box Spring & Mattress Set | | 10 | Check price |
| Hercules Universal Heavy Duty Adjustable Metal Bed Frame (Black) | | 8 | Check price |
| Sleep Master Smart Box Spring | | 9 | Check price |
| Milliard Lightweight 74″ by 31 Folding Cot with Mattress | | 9 | Check price |
| Handy Living Wood Slat Bed Frame | | 8.5 | Check price |
| Zinus 14 Inch Easy To Assemble Smart Base Mattress Foundation/Platform Bed | | 9.5 | Check price |
| King's Brand Heavy Duty 7-leg Adjustable all size Metal Bed Frame | | 7 | Check price |
| DHP Bombay Metal Bed | | 8.5 | Check price |
| Zinus 14 Inch SmartBase Mattress Foundation/Platform Bed Frame | | 9.5 | Check price |
| Prairie Collection Twin Storage Bed Country Pine Finish | | 9 | Check price |
Depending on what features you are looking for, you can select from any of the following types of twin size beds.
Metal Bed Frame
Offers maximum simplicity as well as portability. Metal frame twin size beds are very cheap to buy and provide directions for easy assembly. They are lighter and more durable than their wooden counterparts.
Wooden Bed Frame
Although constructed in a manner similar to the metal frame, wooden frame twin size beds have additional slats that run horizontally across the bottom. Typically, wooden frame twin size beds are made from materials like oak and pine, thus allowing more options for décor. However, the twin size beds are heavy to move, but they require very little maintenance.
Adjustable Bed Frame
Talk about convenience. Adjustable frame twin size beds have motorized frames to raise or lower the head and feet of the bed. If you have any trouble lying flat, then adjustable twin size beds come highly recommended.
Divan Twin Size Beds
Simply put, divan beds are those twin size beds with storage drawers built in underneath. This makes them perfect for children's rooms since they can store their clothes, toys and other stuff. In addition, the solid mattress base provides extra support with an interchangeable headboard to account for personal tastes and preferences.
Wherever you go, nothing beats a great night's sleep, especially after a hard day at work (or play). Having a poor quality mattress or the wrong type of twin size beds can cause your major discomfort and sleepless nights. Nobody wants to wake up with bags under their eyes, cranky and pissed after a horrible night.
Get your very own twins size beds today and say hello to a new utopian dreamland. My advice, go for the Hercules Universal heavy Adjustable Metal Bed Frame. It provides versatility, functionality and durability like never before.
Sources: