Of the few top-notch cleaning tools brands on the market today, Ryobi pressure washer models have earned the reputation of being strong, reliable and sturdy.
And although these units are known to be a little more expensive than the rest, it turns out that they come with a good number of superior features that justify the cost. So how exactly do you go about finding the best of them all? Here is a head-to-head comparison of the three top models from Ryobi.
Ryobi Electric Pressure Washer 1700 psi (RY14122)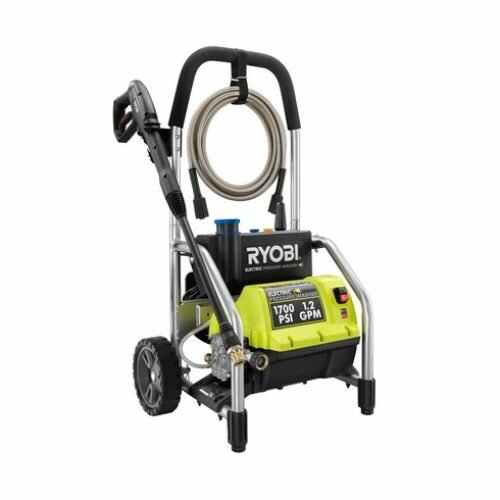 Overview
The RY14122 is fortified with a powerful 13 amp electric motor that has a potential to deliver a maximum of 1700 psi. This is enough pressure to leave your decks and windows sparkling clean. But besides that, this machine is enhanced with a durable and compact roll-cage frame which is designed to handle all the pressure released. And that's not to forget the on-board detergent tank which offers effective cleaning by eliminating the need to drag a hose and bucket throughout the area that is being cleaned. A bonus turbo powered nozzle is also provided to handle all the tough jobs where an ordinary 15-inch nozzle or soap nozzle may not deliver maximum cleaning results.
Backed by 3-year long limited warranty cover. The product is well designed and capable of delivering great results for years to come.
Comes with a host of additional attachments and nozzles that are quick to connect.
Its hose, a 25 ft non-marring high-pressure accessory, is reliable enough to leave no stone unturned in every cleaning job.
It has a maintenance-free aluminum pump for easy upkeep.
And the icing on the cake is that this powerful washer comes with a 30-day risk-free guarantee.
The RYOBI 1700 PSI Pressure Washer is engineered to handle even your toughest jobs. With a powerful 13 Amp Electric Motor, this RYOBI Pressure Washer delivers 1700 PSI of force for quick cleaning of ...
This is a stellar performer, easy to assemble and very sturdy, stable and only moderately noisy. 500 reviews give it almost 5 stars and no wonder, it exceeds my expectations in performance. I pressure washed part of driveway, wooden shutter and lawnmower, cleaned all three without detergent although has ample detergent tank strategically placed with large capacity. It is easily stored with small footprint, easy to clean, hose and cord easily mounted on unit, quality parts and no leakage anywhere.No, it won't take the chrome off a bumper hitch, but the cost of one that does is prohibitive plus maintenance and storage space. This unit will clean almost anything an average homeowner needs to clean with a small investment. If I have a big job, I'll rent a monster to do it without a huge investment.
September 12, 2014
RYOBI ELECTRIC 1700 psi PRESSURE WASHERI bought this a few weeks ago for the light jobs around the house so I wouldn't have to drag out my gas 2400 psi washer. This RYOBI pressure washer is amazing. It is light weight, weighing in around 30 pounds. It is mounted on a metal two wheel cart which prevents the washer from tipping and is very easy to transport. It is stupid easy to hook up and get ready to use. All you do is hook your garden hose to the front connection and the high pressure hose to the back of the washer and plug it in. Once you turn the unit on it will only run when you squeeze the trigger. This is a great concept compared to my gas washer which has the engine running constantly and is noisy. The RYOBI washer is powerful and quiet.This washer has a GFI on the cord for safety. There are three quick change nozzles mounted on board and a soap tank also. I have used this to clean our vehicles, cement patios, house siding, and lawn mowers. If this thing works on my wooden deck as well as it has already on other items, my gas pressure washer is going to be for sale! The more I use my RYOBI pressure washer the more I love it. I should have bought this a long time ago. It is the EDITOR'S CHOICE in HOME HANDYMAN magazine. This award was what made me choose this unit over many others. Home Depot stocks for for about $159.Thank you!
April 3, 2015
Judging from the photos and specifications, this the same unit as the Blackmax 80712. Pros: 1) Metal frame (not plastic that is bulky and held with rust-prone screws) 2) metal connectors (not plastic that strips) 3) low center of gravity 4) Three useful heads (oscillating spot, wide and narrow) 5) uses standard pressure hose and tips. Cons: 1) (minor) awkward electrical cord storage beneath the bandle.I paid $160 plus tax at HomeDepot for this. It comes with a 3 year warranty but you can add a $25 two year replacement warranty. Only time will tell if it will be reliable. I previously had a B&D plastic unit that gave up the pump after 10 years; I tried to fix it but the numerous screws holding the plastic frame together had rusted away, and the replacement pumpt was half the cost of a new unit. I could have gotten a gas unit at 2000 psi for $200 but I don't need overkill. This time, I made sure that the accessories are standard to gas washers and the fixtures are metal - not plastic that strip and leak over a year.I'll remember to use "pump protector" solution to keep the pump lubricated and unfrozen in the off season.
October 29, 2014
PROS:
4 times more powerful than a garden hose.
Strongly built to offer many years of service.
Convenient to use thanks to onboard storage and tank.
CONS:
This may not be your best bet for cleaning a weathered wood deck. It is a light duty machine; best suited for cleaning cars and dirty bikes.
back to menu ↑
Ryobi Electric Pressure Washer 2000 psi (RY141900)
Overview
Engineered for tough jobs thanks to its 13 amp electric motor and futuristic pressure technology, the RY141900 pressure washer is one of the most sough-after models. It delivers a whopping 2,000 psi worth of pressure in one blow making it suitable for tough household jobs. But how does it handle all this pressure? Well, it is solidly built with a durable roll cage frame which holds it firmly together. Best of all, it comes with a removable detergent tank making it easy to apply soap and clean it up. Yet another feature that makes this one of the most outstanding brands is a sturdy metal spray wand which is built with a coupler that is easy to connect/ change when necessary.
Comes with an additional Turbo Nozzle that has a potential to deliver over 50% more cleaning power.
This product is adequately backed by a 3-year limited warranty guaranteeing you of the best value for money.
Has a 25 feet long non-marring pressure hose that performs incredibly well on all outdoor tasks.
Apart from the additional Turbo nozzle, 2 other nozzles are provided namely 15 degrees and soap nozzle
30 days money back guarantee.
The Ryobi 2000-PSI Pressure Washer is engineered to handle even your toughest jobs. With a powerful 13-Amp Electric Motor and Pressure Technology, this Pressure Washer can deliver 2000-PSI of force ...
This unit has decent power for an electric unit and the detergent injector seems to work well. It's "homeowner quality", meaning I don't think it would do well with regular, heavy use. One of the spot welds on the frame already popped.The most ridiculous feature, however, is the "convenient hose reel". You would think that means when you are finished using it, you can simply crank the pressure hose back on the reel. Not so. You have to unscrew the hose from the wand, unscrew it from the machine, clip it on the reel on roll it up. When you want to use it again, unclip, unroll the entire hose and screw to the machine and wand. Very inconvenient.I have an idea how this silly feature may have come about. Marketing people may have decided that buyers wanted the convenience of a roll-up hose. Engineering may have told them the rotating high-pressure fitting would either leak or price it out of the mass consumer market. Compromise: a reel that looks good on the packaging, but doesn't actually function the way people would expect a hose reel to function.
September 2, 2015
Bought this 2000 PSI electric pressure washer to clean my algae-covered, composite decking stairs, landing and the leaf stains on my concrete driveway. The unit worked well - but is not as powerful as my old gas-powered system that it is replacing. This is much more convenient than a gas unit though, because there is no small engine maintenance required and the pump only runs when the trigger is engaged. It is so much quieter than combustion; you could use it indoors if you had such a need. The power nozzle is a very nice feature. It is a tight stream, higher-pressure pattern that rotates. Very effective. The 15-degree nozzle is a nice compromise selection too. I cannot speak to the longevity of this rig, but the first three hours went very well. It did not tear up the composite decking, even at close proximity, but cleaned the algae and paint drops quickly and efficiently. 3-year warranty is nice too. As the other reviewer noted, the reel is not as useful as it looks, but does make a nice place to store the hose. Speaking of hose, it is a small-diameter, metal braided design and is very easy to kink and damage, so be careful. 25' is long enough to do a set of stairs and a small landing, but nothing more. You can purchase additional lengths of hose if you need it.
November 7, 2015
I've only used this for a few hours so far but it works pretty good. Not the most powerful but worked well for what I needed it to do.As others stated the hose reel is silly. It's just for storing the hose as you can't keep it hooked up, and it is actually easier just to coil it up and hang it from the handle with a velcro strap when not in use. The tight wind has also rendered the hose pretty much useless as it now wants to coil up and it easily gets tangled up and kinked. The hose is getting replaced the the reel is getting removed.
January 17, 2016
PROS:
Powerful and suitable for moderately tough jobs.
Has a great engine that does not malfunction easily.
Its incredible design makes it easy to store.
CONS:
You have to unscrew the hose from the wand, the machine and then clip it on the reel on to roll it up. Quite cumbersome.
back to menu ↑
Ryobi Electric Pressure Washer 1.2-gpm 1600 psi (RY141600)
Overview
One thing that stands out about Ryobi RY141600 is its compactness and lightweight. The relatively simple machine weighs a paltry 20 pounds measuring 15 inch by 14 inch by 13 inch only. As such it is extremely easy to store and even move around. Despite its small size, it is still a powerful machine. It actually comes with a powerful 13 amp electric motor that delivers an incredible 1600 psi worth of pressure.
Comes with a rugged roll-cage frame that is designed to protect the motor housing and stay upright.
This Ryobi pressure washer has an on-board detergent tank that eliminates the need to drag a hose and bucket on every move. This tank is also easy to clean.
Equipped with onboard accessory storage and an additional Turbo Nozzle with 50% more cleaning power.
Backed by a 3-year limited warranty and 30 days risk-free guarantee.
Has a total of 3 nozzles i.e. turbo, soap and 15 degrees for cleaning different surfaces.
This is a factory reconditioned product. Reconditioned generally means that the product has been returned to the manufacturer, who brings the product back to like new condition. Some products may ...
Sorry Amazon, I would have bought this from you but Home Depot had new units for less when you add in freight. Please stock new units. For a hundred bucks it's pretty impressive pressure. Especially with the turbo spray tip that's included. I had a gas powered 2500 psi pressure washer before it blew up, and even though that washer was much more powerful, it's not as handy, portable, clean, and quiet as this unit. The complete stop feature is great. Thats when you release the trigger and the pump stops. Quiet for you and your neighbors. Just like any cordless tool, when it's easy to use, you'll use it more. And I'll use this more since its so simple to hook up and transport. Another good point with this pressure washer with 1600 psi is its adequate for most clean up tasks without harming the surfaces you're cleaning. It also comes with a 15 degree spray tip too thats a quick disconnect, so you can buy other spray tips to add to your arsenal. Lets see...What should I clean next !!
September 15, 2015
I've only used this briefly but I'm confident that my opinion will not change. As far as I can tell you can only get this at Home Depot for $109. I've wanted something like this forever. It is powerful, compact, easy to use, affordable. This would be a must for a class A motorhome. I don't have to go to the car wash anymore for power washing. You can't use bleach or solvents in it. We cleaned our lawnmower with the turbo spray and saw metal we haven't seen since we bought it. I wouldn't waste my money on a reconditioned unit. The nozzle system is a fail-proof system so that you have 3 options: turbo spray, soap spray, rinse spray.
September 25, 2015
Totally unbelievable the way this little thing works. I bought it just to see how effective it was and am more than satisfied with it. I cleaned the patio furniture in 1/3 the time I normally took and it was remarkably cleaner than when I hand scrubbed it. The shutters came cleaner than they have been since new. Shutters that need painting can be stripped with the turbo tip and will save me numerous hours with the wire brush and drill. It isn't something I would advise to try cleaning the whole exterior with but is more than adequate for localized clean up of dirty eaves, garage floors, mildewed bricks, ETC.
February 18, 2016
PROS:
Easy to assemble, set-up instructions are clear and to the point.
Has a great engine which produces adjustable pressure
Well built to offer great service for many years
CONS:
Prolonged use may tax the wrist adding a few more convenience features would certainly be a good idea.
How to Choose the Best Ryobi Pressure Washer
In order to select the right machine, you first need to decide on the kind of work you're going to need it for. If you are planning to clean very dirty surfaces then you will need a machine with over 2000 psi potential. If you are planning to clean a car, dirt bike or walls, then a medium pressure (psi) machine of between 1300psi and 1700psi may just be the right bet.
Another factor to consider is the motor. You will find this described in watts or amps – suggesting the energy provided. For example anything in the range of 14 amp and 12 amp is considered adequate for basic household cleaning. However, there are higher powered motors which consume more energy but those ones are best suited for heavy commercial usage.
Another aspect is that hoses come in a variety of lengths and connection types. The most common diameter is 1/4 inch for household use and 3/8 inch for professional contractors. In terms of hose material, you want to go for polyurethane material although plastic ones are the most common out-of-the-box options.
Competition – Which One Is The Best And Why?
All the three Ryobi pressure washer units reviewed have their merits and demerits. However, considering their strong points vs weak points it is rather easy to notice that Ryobi Electric Pressure Washer 2000 psi (RY141900) is significantly superior than the rest. It has more power and its pressure levels are suitable both for simple and semi-complex tasks. Ryobi Electric Pressure Washer 1.2-gpm 1600 psi (RY141600) comes in at number two while Ryobi Electric Pressure Washer 1700 psi (RY14122) ranks in number three.
Sources: