A leaf blower is such a handy tool in the life of a yard owner. However, finding one that is easy-to-use, durable, environment-friendly and effective is not always an easy task. There are so many brands and models on the market and only a few fit the bill. One of the top units popularly traded is the Hitachi Leaf Blower (Model: RB24EAP). This is a gas-powered blower that is marketed as light yet capable of delivering a powerful 23.9 cc motor power – but how true are those claims? Here's an unbiased review to help you get an inside scoop of the product's true value.
Hitachi RB24EAP — Overview of Features and Functions
The Hitachi RB24EAP is a hand-held leaf blower that features 23.9cc, 1.13 horsepower. It has an air capacity of 441 CFM and velocity of 170 MPH a combination that is fit to deliver excellent debris movement. Besides that, the two-stroke blower is enhanced with a purge primer, an auto-return stop switch and a two finger throttle lever for easier operation.
Completely lightweight and balanced, this Hitachi gasoline powered machine is responsive and adaptive to different working conditions. It has a PureFire low emission engine that is designed to minimize fumes to the environment, making it safe and environment-friendly.
You can use it to remove dried up twigs and leaves, cleaning your driveways, sprucing up your sidewalks and lawns thanks to its incredible 170 miles per hour airspeed. If you take a closer look at it, you will also discover that its design and sleek appearance are optimized for saving space.
From a reputable reviewer's perspective, this machine passes the test of comfort and convenience. Its thoughtful design and advanced engine work effectively to reduce stress on the arms and wrists. Of course, that's good news to anyone looking to clean a large area.
Covered by Hitachi's industry leading 7-year Consumer warranty, the RB24EAP hand held blower is one of the lightest (8.6 lbs) and most powerful (at 441 CFM) blowers in its class. Available to both ...
Available:
In stock
This is a quality machine - and is the same as the Tanaka, a brand used by many pro gardeners and landscape maintenance persons. I've had McCulloch, Ryobi and a Sears Craftsman (that I returned after the first use). This machine is lighter, runs much quieter, and has quite a bit more power than any of the others. It isn't really in the same league. This one runs flawlessly, has a ton of power, and a quality feel.Be aware of the mph ratings on some of these yard blowers. They get those ratings by including a worthless little tiny nozzle. That's how the Craftsman got its impressive ratings. But the thing had very poor real-world performance. This Hitachi doesn't come with gimmicky nozzles. You get ONE nozzle, that you always leave on, and that one works very well. For normal yard cleanup where you can't justify one of the expensive backpack units, this one has plenty of grunt.I originally wanted a blower-vac. No longer. The vac units all get mediocre reviews at best. The Sears blower I had for week was a poor performer, and the vac feature was useless. If you're like me and think you need the vac, re-think it. You probably don't need that worthless feature, and besides, it is a pain on most of these to convert from blower to vacuum. I suggest that you will be much happier with a quality blower-only.Some of the newer machines have a trigger lock so that you don't always have to hold the trigger. Unless you have a huge yard and are going to use the blower for an hour nonstop, that's another feature that you don't need. In this case it would be nice to have, but don't base your buying decision on it.I think this one is a great choice.Read more ›
September 13, 2011
I agree with all of the excellent reviews. I would add just one tip: This blower is equivalent to the Tanaka TRB24EAP. The only differences are the the extra "T" in the model number, color, the name on the label, AND where you can get it serviced under that great 7-year warranty. They are even priced the same on Amazon as of this review.Tip: Take a few minutes to search the HitachiPowerTools.com and Tanaka-USA.com web sites to see which make has the most convenient certified repair shops for you.I managed to break the fuel pipe while moving things around in the shed in a hurry (my fault). I'm in a major metropolitan area with several small engine repair shops within a short drive, but the nearest certified Hitachi repair shop is an hour away. In contrast, the nearest Tanaka repair shop is 5 minutes away (there seem to be more Tanaka dealers in general). I'm going to pay for the repair out-of-pocket rather than driving 2 hours round trip or taking the time to mail the thing back to the factory for service.
April 19, 2011
Lightweight, a little loud, but really throws a huge volume of air! It's much better performance than the leaf vac/blower combo I replaced. Plus the blower tube stays on the blower, my old one would always fall off.I bought this blower in Sept 2011 and got 3 solid summers out of it with no issues at all. 4th summer was a different story, as I started to experience stalling issues. It would start back up then stall again. I looked at the fuel lines and found the black tube was starting to perforate right where it connects to the carb; and the pink / clear looking line from the primer bulb was disintegrating inside the plastic fuel tank. Looks like ethanol in the fuel was eating away at these parts.I bought some exact replacement parts this summer from ereplacementparts dot com. Black fuel line p/n 6698716 and the pink (or clear looking) fuel pipe p/n 669-8401. Granted I wish I didn't need to do any of this in the first place but it was an easy repair and cost less than $10. In the future I will avoid getting gas with ethanol in it, use a good fuel stabilizer, and take out the fuel and burn any leftover fuel in the carb before winter storage here in Michigan.
July 19, 2015
Technical Characteristics
Engine 
The leaf blower is powered by a two-stroke engine with a max power of 1.13 HP. The system is designed for 23.9 cc displacement with an air volume of 441 CFM and velocity of 170 MPH. Its fuel tank capacity is an incredible 17.6 ounces feeding on a gas to oil ratio of 50:1.
*441 CFM
This feature is important in enhancing air quality levels and providing efficient trash movement.
*2 Stroke
The main advantage of a 2 stroke engine is that it is cheaper to run, it is gas-powered and still light enough to carry around. Thus, this leaf blower is able to remain "small yet awesome".
Emission
The RB24EAP uses a revolutionary purifier low-emission built-in equipment to keep the environment clean. It is therefore not a surprise that the leaf blower is categorized as a Tier 3 machine in line with the stringent environment safety regulations of EPA and CARB regulatory bodies worldwide.
Fuel
The engine strictly uses the branded 89 octane unleaded gasoline combined with genuine two-cycle oil. Alternatively, if the oil is not available, one can replace with any anti-oxidant added quality oil expressly labeled for air-cooled 2-cycle engine use. The manufacturer recommends mixing fuel and oil in a separate clean container before filling the fuel tank.
Design
RB24EAP features a well-balanced design for comfortable usage and easy operation. It has a large 2-finger throttle lever, which is conveniently positioned to reduce strain on your fingers. Interestingly, despite carrying all this technology with it, the device weighs a paltry 8.6 lbs meaning no special form of transport is needed to get it where it is needed. You just carry it with you.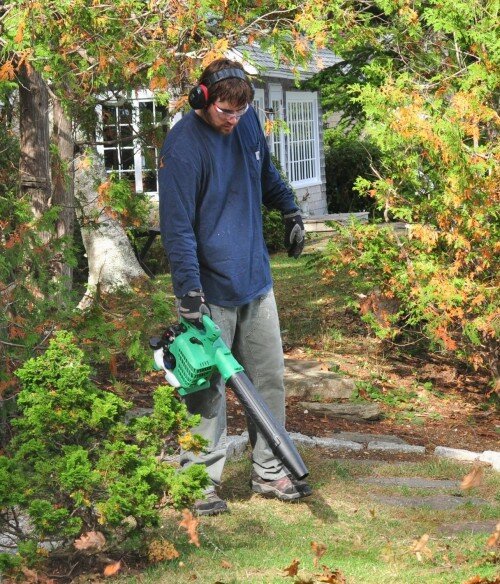 PROS:
Lightweight and easy to use
Energy efficient
Strong body for maximum durability
Simple yet sturdy design which is easy to handle and store
Its engine is incredibly powerful yet minimalistic
The manufacturer has a clean track record
The machine meets stringent environment conservation standards
The manufacturer provides a detailed manual for assembly and operation of the machine
Reliable warranty cover (7 years consumer use warranty, 2 years of commercialized use warranty and 1-year rental use warranty)
CONS:
As the machine is durable and cheaper to run on gas, it is expensive to buy as compared to electric ones.
Conclusion
Only a handful of leaf blowers can cope with damp leaves without blocking, and are also easy to operate. Going by this criterion, the Hitachi Leaf Blower RB24EAP stands out from the pack thanks to its budget-friendliness, portability, and flexibility. This machine does its job with minimal qualms.
Sources: