The same way we protect our phones by enclosing them in cases, a mattress topper can be a good way to protect your mattress against everyday wear and tear. It's a small price to pay particularly given the risk of allergens, liquids, spills and bed bugs, which can easily harm us. But as important as this mattress protector is, you don't want to be duped into buying something that's not up to standards. You want to invest in a topper that is comfortable, soft and non-itchy. Besides that, you want something that feels natural and one that is resistant to pests that are increasingly becoming prevalent throughout the country. Above all, you want something that's durable and easy to clean.
Striking the right balance when it comes to buying a mattress pad is easier said than done. As such, before you venture out to shop for one, it is imperative you familiarize with a couple of factors that are worth taking into account. And because the job of going from shop to shop comparing different products is not easy, we have made the job much easier for you by listing down ten of the best mattress toppers on the market. In order to come up with this list we considered quite a few factors among them:
Type of fabric content used to make the cover
Whether the fabric content is treated with fabric protection to make it anti-microbial, water repellant and/or stain resistant
Durability of the topper including details on number of threads used per square inch of fabric
Type of fill used e.g. polyester fill or gel fiber fill
We also factored user feedback based on different mattress pad reviews posted on the web. Here now is our list of top ten mattress topper models.
Queen Size Visco Elastic Bed Topper 4 Pound Density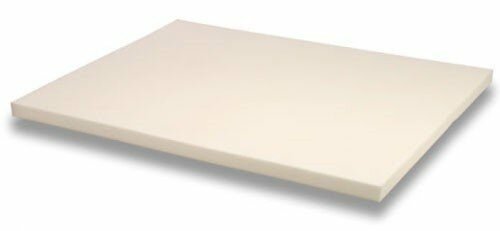 One good thing about Queen Size Visco Elastic Bed Topper 4 Pound Density is that it is designed to reduce pressure points by converting your ordinary mattress into a memory foam type. One noticeable thing about this particular model is that it is quite thick as it takes up 3 inches of thickness. Besides that it is loaded with a four-pound density of foam which is formulated to align to your special body contours so you can sleep comfortably irrespective of the prevailing temperature level. But that's not all, this particular product is compliant with most (if not all) of USA standards. It has been taken through third-party testing and has even relevant certification.
On the flipside, though, it has an odor which may turn off some people. This is, however, not a big issue particularly if you are willing to wait for a few more days so the topper can fully "recover" from vacuum compression.
PURGreen certification which means this product is not only manufactured in the USA but also in accordance with CSPC and EPA standards.
Compressed with vacuum sealed for safe shipping. One, therefore, should be prepared to unpack it and leave it to decompress over a period of 96 hours in warm weather.
It is designed to eliminate pressure points that can cause one to toss and turn looking for a better sleeping position.
It is built with a four-pound density and the popular gel-like feel.
Designed for use with sagging mattresses of whatever kind be they latex, spring or old memory foam mattresses.
Free from Polybrominated Biphenyl Ether, Chlorofluorocarbons, heavy metals, prohibited phthalates, formaldehyde and other unsafe materials.
Enter your model number above to make sure this fits.; Instantly makes any mattress more restful, comfortable and supportive in sagging areas of mattress; 3-Inch of extra supportive 4-Pounds memory ...
Available:
In stock
I'm a very cautious buyer - I spent around 2 weeks researching brands and different mattress toppers as I was on a college student's budget. This is what I found:Densities of Toppers2 lb/ft density - For side sleepers, you'd want firmer toppers so lower densities are better3-4 lb/ft density - For back sleepers, you'd want softer toppers so you can sink. If you want a softer sleep, a 3 pound density is fine. If you want a fitful slumber of mutant marshmallows enveloping you, go for the 4 pound.Thickness of Toppers2" - It all depends on weight. If you're a tiny Asian woman or one of those tall and really skinny guys who weigh like 130-ish pounds, 2 inches is fine.3" - If you're like a college student who weighs around 160-ish, this is for you.4" - For people who are muscular or particularly enjoy cake.Brand Comparisons:Amazon won't let people post links but there's a site called SleepLikeTheDead that shows really good brand comparisons. Do a bit of Googling and you'll find it.Miscellaneous InformationEven though the topper seems to be like an inch short of the mattress you're putting it on, it really doesn't make a difference. I thought it would look obvious that the topper was shorter than the mattress but it wasn't.Also, you have to let it expand before you use it or else it won't be able to expand to its maximum size. Some do weeks, others do a couple of days, but I let mine expand for like 5 hours and I measured it with a ruler and it got to its 3" thickness so I decided it was ready.The last site shows great reviews of the topper.Read more ›
November 3, 2012
I am so very disappointed in this product.Although it is very very comfortable, it is disintegrating and I haven't even had it six months. After about two months , I started to notice long cracks in the middle of it. Now at just over five months, the area under my torso is falling apart into chunks. I am a very quiet sleeper so it's not like I am tearing it apart tossing and turning. I bought a second one for a guest bed. It's been slept on less than 10 times and already has deep cracks running half the length of it. These toppers are not cheap and I expected much better longevity. Definitely cannot recommend.
April 24, 2015
Added comment: It appears that someone from the manufacturer goes to every single negative review of this topper and adds a comment about their website for the warranty, and then marks the review as not helpful. If you look down the list of negative reviews, you will see that there is at least one "not helpful" mark on each review. What are the odds of that? Seriously, this is a huge breach of consumer trust and I believe amazon should be putting a stop to it. Unfortunately, there is no place to report this abuse, only those comments that are specifically abusive.I am deeply disappointed in this mattress topper. I research my purchases carefully, and rely on reviews that people give products to help me determine what to buy. It's one of the best ways to minimize buying junk when you are making an online purchase. Despite the fact that I read many of the reviews, I still wound up with a junk pad. It was very cushy and comfortable on the bed, so I have no complaints about that. However, after sleeping on it nightly for a little more than 3 months, the pad started developing deep cracks. I contacted the manufacturer, but they were *extremely* slow in responding [took them over a week to email me]. I contacted amazon about the problem, and they were very good about dealing with it, and gave me a return shipping tag to return it to them. They suggested that once my account is credited, I could then purchase another topper. However, after removing the topper from my bed, the cracks enlarged and went right through the pad. This convinced me there was no way I would buy another one of these toppers made by this company. In fact, it made me wonder about buying another topper at all, as many reviewers said they had this issue, even with other manufacturers. I have a 2" pad that I have had for several years that has no issues, so I think I will just make do. If you are looking for a mattress topper, I would suggest buying something that has a rock-solid warranty.
June 24, 2015
PROS:
It is a cheaper alternative for memory foam mattresses
More organic and less toxic and hence safe for people with allergies
It takes only a few days to expand and reach its maximum size
Supplied by a company that has a good reputation on the market
Backed by 3-year warranty
CONS:
May develop cracks due to improper usage and poor maintenance
Comes with an odor which fortunately disappears over time; however some still find this a bit of a bother
back to menu ↑
Lucid Linenspa 2-Inch Memory Foam Mattress Topper
Despite this Lucid Linenspa product being a 2-inch topper, it stands out from the pack all thanks to its efficiency and durability. First, it is designed in such a way that your fitted sheet will still be tight over both your mattress and the topper. This is achieved by making the topper 1-inch shorter on all four sides more than any standard-mattress. When you sleep on this, it gradually conforms to the contours of your body thereby easing pressure points and relieving shoulder and back pain. Besides that, it promises to treat back pain and reduce the urge to toss and turn as you naturally look for a better sleeping position. Yes it is thinner than most other toppers, but one thing is clear – it offers the same level of comfort like some of the industry leading varieties. Most importantly, this topper optimizes air flow to ensure smooth flow of cool air to enhance your comfort. So does it meet the set standards?
Lucid 2 inch is made using CertiPUR-US certified foam which has been tested and certified by an independent laboratory as meeting the recommended physical performance and environmental stewardship.
It is carefully constructed to ensure it is free from ozone depleters, phthalates, heavy metals (like mercury and lead), CFCs, PBDEs, formaldehyde and low emission VOCs.
It utilizes open cell technology that makes it easy for the foam to form an impression against your body contours.
It is purposely designed to be 1-inch shorter on all sides and this ensures your sheets can still fit over your original mattress and topper.
It is protected by a 3-year warranty cover which although not as long as we'd want is adequate for any quality conscious buyer.
Its factory-like odor dissipates within 48 hours after removal from the packaging
2-inch premium memory foam mattress topper backed by a 3-year warranty; Ventilated to increase air flow for a soothing sleeping temperature; LUCID memory foam formula offers superior comfort and ...
Available:
In stock
My wife and I knew we wanted a topper to go with our new guest bed , but we weren't sure which size to with. My wife suggested the 2" and I'm glad she did as it is very comfortable and at a good price. As other have stated the topper is very thin when you roll it out as it should be. Give it 48 hours and it will balloon to the 2" mark. See before and after photos attached. The memory foam on the topper is the type where you can press your hand down and remove it seeing your imprint for a few seconds.
December 20, 2014
I got this pad because of the great price but didn't expect it to be better then all the others I've tried. This one is thicker than I thought and fits my queen bed really well. It did have a smell when I first opened it but after following the directions and letting it air out for 48 hours the smell was gone. My husband hates mattress pads because they make him sleep hot, but I haven't heard any complaining about this one and I slept really well. This pad made my old saggy bed feel new again. My favorite thing about this pad is the firmness it holds while contouring your body. (I wish they made a camping pad like this, then I might actually go camping). I don't see this pad ever going flat, it's really dense. I do wish it had a cover but I think you can buy one with a cover. This is the best pad I have had so far and plan on looking into their memory foam pillows and mattresses!
May 24, 2012
I've been looking for a memory foam topper for about 2 weeks. I was very skeptical to buy online because there are so many different brands with mixed reviews. I finally decided to go with this one because the price is nice but not too good to be true. Also, I like the ventilation holes. Ordered it with Amazon prime and received it earlier today. I opened it up on my bed due to many reviews that says that it can be a task to move once it's open. It does have a chemical smell but I left it on my bed without bedding for about 2 hours to air out a bit and it expanded 100% in that time. After I put the bedding on I could barely smell it.Unfortunately, this topper doesn't come with a cover but I did order the Lucid Mattress Protector, which fits great over the topper and mattress.As for level of comfort... Let's just say I haven't gotten out of the bed since I put the bedding on lol. I would say it's about medium firm it's really comfortable and exactly what I needed to soften up my really firm organic cotton mattress. Great buy 🙂
June 2, 2015
PROS:
Adequate ventilation for ideal temperature during sleep
It is cheaper than most other brands of its similar value
Thick, stable and comfy
Durable and well padded
Designed for easy use against any bed, mattress or type of bed sheets
CONS:
It has a weird smell which is quite strong when you just remove it from the packaging. This odor disappears after a few days. You may want to leave it in the open for a few days prior to using it on your bed.
back to menu ↑
Lucid 2.5 Inch Memory Foam Mattress Topper With Gel Foam
This twin-xl topper is designed to be soft, doughy and consistent so that it quickly conforms to your weight and body pressure. It contains a ventilated gel-infused memory foam that captures and distributes heat thereby allowing for free flow of air thus helping regulate sleeping temperature. Lucid 2.5 inch topper further claims to help relieve back, shoulder and neck pain by easing pressure points. If that is true, then one can also expect it to further help align the spine by supporting the natural alignments of your body, particularly around shoulder region.
Another attractive fact about this ventilated mattress pad is that its cover is specially enhanced with permitted elements that make it resistant to dust mites and allergens. Most importantly, Lucid 2.5 addresses a common problem with memory foam mattresses – heat retention. Its manufacturers have brilliantly incorporated gel infusion as a way to conduct heat away from your body (instead of insulating it as it is the case with most mattresses) in addition to a series of ventilation cutouts.
The topper comes with a high-quality bamboo cover that is expertly fashioned and made with an excellent finish. This cover has two sides, including one that is textured to grip the mattress and the other (soft side) that faces the body.
Utilizes open cell construction technology which is known to yield longer lasting, resilient foam.
Contains 2.5 inches of gel-infused memory foam which is just enough to bring life to any mattress type.
It is designed to transmit heat away from the user and distributing it to allow for free flow of air and regulate sleeping temperature.
Comes with a removable bamboo cover which complements the unique design of the topper.
Backed by a 3-year long warranty meaning you can use it without worrying about any unpleasant surprises especially during the first few years.

This 2.5" thick gel-infused memory foam mattress topper will bring new life to any mattress. The ventilated gel-infused memory foam captures and distributes heat, allows air flow, and helps regluate ...
Available:
In stock
Knowing what type of foam topper to purchase is difficult. With few industry standards, sparse regulations, and the wide array of offerings on the market, how does one select a particular memory foam topper? There are several ways to describe the various memory foams; thickness and density are but two measures. Yet many intangibles are important considerations including cut, shape, finish, etc. Paying a high price does not necessarily guarantee a good product, but generally higher quality foam costs more. So, how do these attributes apply to the LinenSpa Gel Infused Ventilated Memory Foam Mattress Topper with the removable Bamboo Cover?First, the LinenSpa offering is 2.5", 3lb density foam. As such it is a reasonable compromise between thickness and support. Importantly, the foam addresses some of the concerns associated with memory foams, namely heat retention. The LinenSpa foam is a more modern offering incorporating gel infusion to conduct heat away from the body (rather than insulate) as well as ventilation cutouts.The foam arrived safely and it was well protected in a double box. It was encased in a sealed plastic and was easily removed from the protective wrapping. A prominent note describing removal instructions was especially appreciated. After removing the mattress from the plastic, we were immediately impressed by the overall quality of the Bamboo cover. It was apparent that the cover was expertly fashioned, had an excellent finish, and shipping it with the topper already inside was a nice touch (no struggling, stuffing, or manipulating the topper into a cover was required). Additionally, the cover has two sides; one that is textured to help grip the mattress and prevent movement, and the other softer side which faces the user.Read more ›
August 21, 2012
If you are reading this review you are considering buying a mattress topper. I did the same thing. I read so many reviews of so many different brands and styles. I have a good bed that's only a year old but I find it's too hard, so I almost went out and bought a new one, a pillowtop. Then someone mentioned a mattress topper. Had no idea what they were. As I read reviews I figured this would be a cheaper solution to my "too hard" bed. I read so many reviews I found myself even more confused as what I should buy. I ended up with this one and could not be happier. I read reviews where people were complaining about the horrible odor. Yes there is a slight smell/odor to it when you take it out of the package, but it goes away. Do as the instructions tell you which is let it air out for a couple of days and it'll be gone. I let mine air out for 24 hours and 99% of was gone. I did smell a little the first night I slept on it but it was so slight. I should have let it air out for two days like instructed. But 100% of the odor is gone within 48 hours. I am so happy with how I sleep now that I have it. So many reviews talk about how hot they are which is why I went with this one which has the gel in it. I've slept on it about 5 nights and I don't feel anything other than extreme comfort. Put it on the bed, put your mattress pad over it and you're done. On a scale of 1-10 I'd give this a 10.. It does what it's designed to do, make your bed softer and more comfortable. There is nothing about this purchase that I wish was different. I'm glad I bought it. You'll read other reviews about this one and people will have all sorts of complaints and praise. You will make yourself crazy reading review after review about mattress toppers. There is no need to spend alot of money on one.Read more ›
August 20, 2012
I LOVE this topper! I own a $5000 all Latex name brand mattress going on 5 years. (20 yr warranty) I originally bought it instead of a well known memory foam mattress because of heat problems w that mattress especially in a hot climate. It was heaven for about a year, then downhill since. Cant use warranty due to the milk and cookies spill from a midnight snack. . .my bad. FYI . .Stained mattresses become toxic waste and warranties no longer apply! Also body depression over 1" and HOT! So. . . By accident I discovered that my mattress must be source of sweating and aching back. I began the search for something to resolve issue, short of purchasing new mattress. I read review for several "cool gel" mattresses and price shopped before buying this one. I skeptically awaited. It arrived promptly, we unrolled and laid out for 48 hrs as directed. Smell was never an issue because I didnt think it was bad to begin with and it was totally gone after 48 hrs. King size is heavy and it took 2 people to put on the Bamboo cover and place on bed.After first night's sleep I was totally in shock! NO BACK ACHE AND NO SWEATING! 1 month later I am still loving it and getting good night's sleep!I have been praising to everyone! Video review helped and is spot on! If you don't like it, then ypur only solution is a new mattress. . .IMHO.
September 5, 2012
PROS:
Comes with a free bamboo cover
Built to regulate sleeping temperature
Regains normal size in 48 hours after unpacking
Offers a softer sleeping platform alongside a number of health benefits
It is easy to use and well priced
CONS:
Has flattened edges which many of its users find sloppy. Other than that we couldn't find any other worthwhile complaint about it.
back to menu ↑
Sleep Joy ViscO2 2-Inch Memory Foam Topper
Like any other top-of-the-range mattress topper, ViscO2 2 inch claims to be breathable and of high-quality. It uses open-cell technology which is further enhanced with plant-based ingredients to create a high-performance material that provides cradling comfort and a touch of luxury. Besides that, the material is incredibly breathable as it is well ventilated to provide better flow of air even when the user is deeply covered during the night.
This works by transmitting heat from your body through a series of holes that have been intentionally created on it alongside advanced foam technology that does not trap heat in. Its 3 lb worth of memory foam is well tucked inside strengthened walls which in turn gives it long-life and enhances its recovery after a user walks out of the bed. In fact, this topper is so well built that the manufacturer provides 5-year warranty instead of the standard 3-year warranty.
Clearly, the manufacturer is confident with whatever they have to offer and the technology behind it. Remember, depending on the size of your current mattress you can choose from 5 different size varieties namely: California king size, King size, Queen size, Full size, and Twin size.
It utilizes the popular open-cell construction which provides increased airflow and support. This also enhances breathability and effectively tackles the problem of heat retention.
The fact that it is a memory foam mattress means that it aligns with your body contours and ease pressure points and reduce joint pain. Further, by conforming to your body contours it promotes spinal alignment and solves problems such as lower back ache.
It is fully Made in the USA in accordance with the strict rules and regulations of health and environment protection bodies.
Unlike other mattresses, foam odor is fully removed during production of this mattress topper thereby eliminating the need to leave the mattress to air out before use.
Backed by a 5-year long manufacturer warranty.
Improve your overall comfort and sleep quality with the Sleep Joy ViscO2 Memory Foam Mattress Topper. Sleep Joy ViscO2 Memory Foam is the first breathable, open-cell memory foam that is enhanced with ...
I love my very hard mattress which keeps my back in decent shape but lately I have been noticing painful pressure points on my hips which make me toss and turn all night. After looking for a pillow top (there is none on my mattress) I turned to Amazon for reviews, read the reviews here and decided on this mattress top. Thank all of you who placed reviews here! I am delighted with my choice. No more pressure points. Very little tossing and turning. No bad foam rubber odor. Very, very comfortable. This pad will not turn a worn out old mattress into a new one, but if you have a good supportive mattress that is just a bit uncomfortable, this is a really good thing.UPDATE: April 27, 2011. This pad is just as good as it was when new. It is not showing any wear after three years of use.
August 25, 2008
We had previously purchased three of these memory foam toppers for all the beds in our home but one, in 2011 & we were thrilled with each one of them. Recently we bought an RV & wanted one for that RV queen bed so we ordered another one. It arrived & we opened the box, put it on the bed that we had borrowed the topper from for the RV & saw immediately that it was no where the same weight & consistency as the other three. We contacted Amazon who replaced this new purchase with another quickly. GREAT service from Amazon !! This second arrived & sadly it was the same weight as the first one received.We did a little investigation & found that the shipping weight on the boxes was shown as 11 lbs & 12 lbs on the second & the shipping weight on the topper site of Amazon showed 16 pounds shipping weight for a queen. We double checked the weight of this newest topper by holding it & not holding it while on the bathroom scale & found the shipping weight of 12 lbs to be correct. We had opened the box to check it out but the topper was still in the box.So it is our guess that the supplier has cheapened this product & neglected to tell the seller, Amazon ??Both of our toppers shipped from GA so we have no idea what the other shipping centers might be shipping.Please be aware of these toppers that are shipping now, as they ain't what they used to be, and the pricing had been increased !!4/4/2012 UPDATEWhen my wife & I went to pack up the first of two toppers sent to us by Amazon, for return to Amazon, & we were thinking that this would be a real chore getting this topper back into the box it came in. SURPRISE - it was no problem at all to fold & then rool the topper back up & put it into the box with room to spare !Read more ›
April 3, 2012
I just checked. Like some of the other reviewers stated, the mattress they shipped was NOT the one described. The shipping weight from UPS was 13lb rather than the stated 19lb (or amazon's own estimate of 16lb). It's definitely not "memory" nor dense and it's hard to distinguish it from cheap foam pads that you can get elsewhere for much cheaper.I tried to contact Amazon and that was where it got really bizarre. First the Amazon rep [...] assured me that I got the correct order and the manufacturer may have changed the product. She offered to send a replacement, which I didn't want to waste the time on if it's only going to be the same cheap lighter foam pad. Then she changed her mind and insists what I got must have been a lemon and what Amazon has in stock is definitely the higher quality original topper. I referred her to all the recent reviews and just waneted to make sure that I will not be wasting time squeezing all the memory foam back into the box (To which she succinctly responded "I'm certain you will be able to stuff it back")& ship it off etc in exchange only for the same low quality product.I've never ever experienced this level of customer service from Amazon. My family has various Prime accounts for years. I thought it was only the manufacturer playing the bait & switch but it has become apparent to me that Amazon is well aware of it but unfortunately decided to play into it. A customer service associate later called me back (Chloe M.), while she did apologize, she spent the entire time checking on my order history and then sent me to call the manufacturer instead.Bottom line: Be very careful when ordering this mattress. I got it when it was $50 for Queen size yet I will be returning it.Read more ›
June 21, 2012
PROS:
Well constructed and suitable for long-term use
Regulates temperature when you sleep on it
Easy to clean and maintain (spot cleaning recommended)
Comfortable
Can be used immediately after it regains full size after unpacking as there is no bad foam smell
CONS:
It does not come with a cover, one has to buy it separately.
back to menu ↑
Red Nomad 3 Inch Visco Elastic Topper
Red Nomad Visco Elastic Memory Foam Mattress Pad Bed Topper  is deliberately made narrower than your mattress so that it can accommodate snug placement of your fitted sheet. But that's not all, this three-inch foam easily converts an ordinary mattress into a memory foam mattress. And because it is designed to reduce pressure points by conforming to your body contours, it maximizes on the user's comfort which might mean less tossing and turning during the night. Beyond all the marketing hype and glamour, this topper has been subjected to independent monitoring by CertiPUR-US and it has been confirmed to be free of phthalates, ozone depleters, flame retardants and formaldehyde.
Moreover, this product utilizes special CoolFlowTM technology to regulate temperature and improve airflow throughout the night. One of the most outstanding features that come with it is its polymer design that opens the cell structure, dissipates heat and minimizes stiffness. To finish the whole thing off, you have a special bamboo cover that is washable, breathable and comfortable to use as well.
The topper arrives enclosed in anti-dust mite and hypoallergenic zip off packaging. Once you unpack it you will have to allow it 24 hours to fully expand.
Its memory foam has been developed with chiropractic patients in mind as it basically provides ample support to your body through all your pressure points.
It carries the Certi-PUR-US certification which fully confirms that it has been tested for durability, performance, and low emissions and deemed fit for the market.
The manufacturer has done their best to reduce on foam odor. So when you receive this you will not have to wait for too long just for it to get some fresh air. In fact, the odor disappears in as few as 5 hours after unpacking.
This mattress topper relies heavily on memory foam support to achieve its key objectives. In a nutshell, it conforms to your body shape and structure to offer support and ease pressure which essentially provides a perfect sleeping opportunity.

Nothing tops our three-inch memory foam mattress topper, bringing you increased comfort and more restful sleep. Designed to reduce pressure points while sleeping on any mattress, even sagging ones, ...
Available:
In stock
First Impressions: After opening and letting it inflate I was impressed with the feel of the topper. Definitely feels like what you'd expect from memory foam. There weren't any directions packaged with it but from reading reviews for similar products I let it air out for a day.After sleeping on it for a couple weeks: Hella comfy. Softer than I would have expected (by quite a lot) but it's the perfect compliment to my "just a little bit too firm" DynastyMattress memory foam mattress (also purchased from Amazon). I can't stress enough how soft this is. I wouldn't expect this to provide any extra support to a bed, it's really just a better replacement to a pillow top mattress pad. I absolutely love it and find myself hitting snooze too much on my alarm because I am just too comfortable in bed.Cons: Note that none of these made the product unpleasant, just posting so future buyers aren't surprised. Some smell. I aired it out with the windows open and a fan going for 24 hours and I still smell it if I bury my face in the sheets. I may air it out again if the smell doesn't go away in the next week or so. There are some heat retention issues. I love my blankets but had to switch to just sheets and a comforter because the extra fleece blanket made the bed just a little too warm.
December 30, 2015
I did a lot of research before buying. I'm 5"10, 180lbs give or take, mostly give. Hot sleeper with some arthritis. I'm using this on an older but nice futon mattress. Prior to this I was using a Mallard Memory Foam Topper,. I've had it for years and it was time for a new one. It was a good topper-my only problems with Mallard were Smell and it was heavy or difficult to move, change the sheets. The things that make the Red Nomad the best buy are: 1) No Smell. That is a big one if you've never bought a memory foam topper before. Memory Foam Toppers can smell, they may need a week to air out before you can even use it As I understand products made in China are more likely to have the smell. I have problems with allergies. If smell was going to bother me, it would have done it now. No smell. That is Huge. 2) Made in the USA, besides quality, it's about American Jobs. Nuff said. 3) It weighs 11-12 lbs. When I read that in the specifications I was concerned. I thought quality would be an issue. Quality is great. At 11-12 lbs the Red Nomad is so much easier to move. It does not come with a cover but I haven't needed one. I just use a regular sheet. I am a hot sleeper and have not felt warm. The photo is how it looked when it arrived. I think it was about 14x 22 inches rolled up. and 4) Price-it is the best priced topper I could find. I'm not neglecting the fact that it is very comfortable. I'd classify the Red Nomad is medium to firm (ish) I sleep well on an old futon mattress with the Red Nomad on top. Aches and pains have faded away, my wallet still has some money in it and my house doesn't smell like memory foam mattress topper. So maybe you haven't heard of Red Nomad or seen the name in all the reviews but it is a Great Memory foam topper.ProsQuality and ComfortNo SmellMade in the USAWeight-11-12 lbs, easy to moveDurability
January 8, 2016
Great Product. I have a herniated disc in my lower back and I of course have used several different mattress toppers over the years for that extra level of cushion. None of them really compare to the comfort and stability that I experienced with this product. The price is spot-on and I would recommend this to anyone. My back has felt better lately and this topper helped so much!
June 18, 2013
PROS:
One of the most popular toppers
Generally effective at softening firm mattresses
Somewhat less likely than memory foam mattresses to have foam odor
Few reports of bothersome heat retention
Relatively light in weight
CONS:
Fluffing is often needed to maintain its loftiness
Dry cleaning is often required
back to menu ↑
All Season Down Alternative King Topper
If you are looking for something that is protected inside a high-quality cover and with little or no odor then the All Season Down Alternative King Mattress Topper could be your best bet. It is designed in a baffle box stitch pattern which has been reinforced with double-needle stitching to ensure long-life and overall stability when it is placed on a bed. It is hypoallergenic in nature meaning it is adequate to protect your bed from dust mites, pests, and any other harmful agents.
On the other hand, it is safe for the environment. Its foam is not as smelly as you would expect and the factory that manufacturers it is on record for observing the highest standards of environment safety requirements. Deep inside, it is layered with microfiber which apart from providing more comfort works by transmitting heat away from the body to ensure adequate temperature regulation throughout the night.
While some critics think otherwise, it is safe to say that this topper can significantly bypass the problem of heat retention which is so common in most memory foam products. A combination of polyester cover and microfiber fill along with baffle box design with smooth piped edging is purposely meant to improve the quality of one's sleep. In a nutshell, although this product can be used on any bed with any mattress, the best results are achieved when it is used on a mattress sofa or inflatable airbed.
Contains 2 inches of fluffy fill which is ideal for any bed when it comes to adding that much-needed soft layer of softness.
It is available in King (78x80x2), Queen (60x80x2), fill (54x75x2) and Twin (39x75x2) sizes. This means you can find one that perfectly suits your bed irrespective of its size or shape.
Unlike other mattress topper brands this one comes fully protected inside a cover that is stitched in place. Again the stitching is done is such a way that even as the topper ages, the filling doesn't flatten out and so the bed remains comfortable even in the long run.
It is machine washable, bed bug resistant, stain resistant and water resistant. That by default makes it generally easy to care for and maintain. Moreover, unlike memory foam toppers this one does not lose its memory meaning you can continue using it for up to 10 years without it losing its original comfort.
Its make and design leave it suitable for all seasons be it summer, autumn, winter or spring.
Treat yourself to this luxurious mattress topper with two inches of fluffy fill, this thick bed covering provides comfortable support and an extra layer of softness for a soothing night's sleep. ...
Available:
In stock
I bought this to place on top of a very firm sprint mattress. The firm mattress was hurting my hip bones (side-sleeper) and back and we were using a memory foam topper before but it got too soft. I've been sleeping on this for about two weeks now and like it a lot! It is fluffy, but your butt doesn't sink like when I was using the 3-inch memory foam topper. I like the support of my firm mattress and this topper makes it perfect. I would highly recommend this topper for anyone who likes firm mattresses but don't like the feeling of bones on concrete. This acts as a good buffer.
May 3, 2012
I have a worn out mattress. This topper was just what I needed to make it comfortable again. My first night using the new topper I slept straight through 7.5 hrs, first time in months. The plush feeling reminds me of the luxury pillow top beds at Palazzo Vegas. You wont find a better topper in this price range. You would have to spend 2-3 times as much. I am well pleased so far.(Update: one week) This topper is an absolute dream! I paired it with new Egyptian cotton sheets and its like having a new bed. Sleeping much better now. My cat likes it too.(Update: 3 months) Finally took it to a laundry mat to wash in the big extractor. The center sections had gone flat. It came out even thicker but not as soft. Once it dried I plumped it back up and put it on the bed. The fill is thick again but definitely less soft and down-like. Now it's more like regular fill material. It held up in the wash very well, no tears or rips. Wash cold/gentle cycle. Do not machine dry.
December 29, 2013
I bought this for our queen-size bed.At first it was great, and while we had some pilling as other reviewers have mentioned, it really wasn't that bad.The problem is that the stuffing tends to clump and move around unevenly in the stitched squares.At this point we have two people-shaped forms in the topper, where it is almost down to just the double fabric, and everywhere else there is the stuffing bunching up.I have started to do some quilting on the worst areas, so that the stuffing stays in place and cannot move.I think if the stuffing was stitched with smaller squares, it really would hold the shape better.tldr: It is very soft, and definitely makes the mattress softer, but the stuffing inside moves around too much.Update: we now have had this for about 9 months or so. I have had it, this is being thrown out and I just ordered a different one with more stitching across bc then I know the filling won't wander and move around.After washing it is totally lumpy and I have been pushing and poking it so that it is more even. to no avail. and once you start sleeping on it, you push the filler away from where you sleep, so you end up in a hole with a huge mountain of filler on each side. The only way they could fix that is to have more stitched lines across, but they are not changing that, are they?MONEY TOTALLY WASTED! AWFUL!!!!
November 26, 2012
PROS:
Generally effective at softening firm mattresses
Cheaper than most other competing brands
Little or no foam odor, it's also free of allergy causing agents
Fairly warm during winter and cool during summer
Often durable and long lasting
CONS:
May be damaged by frequent machine washing and drying.
back to menu ↑
Slab Memory Foam 1-Inch Full Topper
The 1-inch Slab Memory Foam Mattress Topper fetches high marks from reviewers for its support and comfort. Many liken sleeping on this cushy topper to "sleeping on a cloud". The Slab memory foam topper also fetches high marks for its pain and stiffness relief benefits. Remember, it is made from antibacterial, hypoallergenic foam which is enhanced with natural antimicrobial elements.
However, like all other toppers that are made using memory foam, this has a chemical odor when new – but most people report that this smell is minimal and it usually disappears if the topper if left to air out for around 24 hours. Although the manufacturer recommends taking it out of the box and leaving it to unroll of 48 hours, many owners say that it completely expands in as few as 10 hours.
One impressive thing about this is that it keeps its shape and support for long. It is well constructed and there are minimal (if any) chances of compression, tearing or other durability issues. On the flip-side, though, there are some owners who say that some chunks may tear out accidentally – especially the corner pieces. That, however, does not affect the mattress topper performance. It is worth noting that the manufacturer provides a 3-year warranty cover for this product.
Made from viscoelastic memory foam which is antibacterial and hypoallergenic.
It quickly unrolls after unpacking and its chemical odor dissipates in a couple of hours.
Although it does not come with a cover an optional one can be bought from the same seller for a small additional price.
It retains body heat to some degree but its open cell technology ensures proper regulation of temperature hence providing added warmth during winter and better conditions during summer nights.
Designed to provide the user with chiropractic benefits through use of a special memory foam that adjusts to the body's contours thereby reducing unnecessary tossing and turning.
Our 1-Inch Memory Foam mattress topper reduces pressure points while reducing tossing and turning while you sleep. The responsive, temperature sensitive memory foam adjusts to your body's shape and ...
Available:
In stock
This mattress topper has certainly improved my sleeping experience. I wake up more comfortable than before, and it's helped my back. I am satisfied with what it's done so far, especially for the price it's selling for. It's not quite amazing as the memory foam the major brands sell, but it wouldn't be fair to just say it's simply foam. I think an accurate description would be somewhere in between the two, but slight leaning towards the foam end. There are definitely far better mattress toppers out there, but if you're looking for something cheap that does an average job, then look no further. If you want to wake up feeling like you're on a cloud, run - and don't come back.
September 24, 2010
Obviously you will not get the best memory foam for the price. The product does not seem like memory foam, more like those foams you place between those window air conditioners to keep air out. I let it air out as written on description and flatten out fine. You can still smell a light odor but most of these products are like this. You can barely smell it after you air it out unless you put your nose right on it.I ordered a Full Size, didn't exactly measure the foam itself but width wise is short about 1 inch on each side on my mattress. Comfort-wise, it helps a little. You won't get that feeling where your body is actually falling in or anything, think of laying on a sponge.For title of foam they should have left out the memory part. Again you get what you paid for.I did order another memory topper prior to this order containing gel for $83(Sleep Master 2-Inch Gel Memory Foam Topper) but returned it soon as opened. Had urine type stain in middle, and the whole topper was sticky, oily, and have small blue particles falling apart. I'm just mentioning this to warn anyone not to purchase toppers with "GEL".To get an idea, I or you should purchase 3 of these foams and stack them onto one bed to get a soft memory feeling.But then you'll be spending $75. The product is pretty thin layered, seems less than a inch.I purchased this product because of the price being so low and having higher expectations. I had a topper used for 4 years, purchased at walmart for $35 and was thinking this product could be similar but I got what I paid for. Too bad I can't find this same product at walmart anymore.For the price, it's not bad. But I won't purchase this product again.
December 20, 2014
This thing did not fit properly on my bed. It was okay length wise but wide wise it fell about 1 inch short, so there's about 1/2 inch on each side of my bed that does not have the foam. I let it air out for about 30 hours instructions say 4 to 24 hours or up to 48 if smell persists. I have no prob with the smell factor its common in this type of product. I wouldn't say this is memory foam just foam. It's about the same as the eggshell foam toppers except this one has no textures or patterns its just flat. It makes a slight improvement on the bed but I was over all very upset with this product esp since it doesn't even fit correctly. If you are looking for a good topper I would suggest that you spend a few extra bucks and go with Aerus Brand its sold here on amazon and its wonderful.
September 10, 2010
PROS:
Durable
Good for body/joint pain relief
Extremely comfortable
Easy to clean and maintain
back to menu ↑
Sleep Innovations Dual Layer 4-Inch Topper With Plush Fiber and Gel Memory Foam
Sleep Innovations 4-Inch Dual Layer Mattress Topper provides you with a blend of fiber comfort and the chiropractic benefits of memory foam. You get 2 inches of fluffy fiber to soothe and comfort you throughout the night and an additional 2 inches of cooling gel memory foam to provide you with much-needed support throughout the night. This patented formulation offers great improvement in airflow for cooler nights in summer and warmer ones in winter.
The US made mattress topper further claims to provide pressure point relief effectively reducing tossing and turning by improving sleep quality. Its top is made of quilted material which adds to the cloud-like comfort of a pillow top mattress pad or feather bed. Above all, instead of the traditional 3-year warranty offered by other companies, this one is protected by a 10-year warranty. That alone goes a long way to show just how committed and confident this seller is with quality.
Features:
It features dust mite and allergen resistance which is essential for convenience and a good night's sleep.
Has 2-layers one which is a Sure-Temp gel infused memory foam that curves to your body shape to provide ample comfort and another one which is made of fiber to provide a much-needed smooth feel.
Features gel swirl formula that offers enhanced cooling, support, and therapeutic comfort. That is in addition to providing you with proper spinal alignment which relieves pain from your body.
Its very design is meant to boost the durability of your older mattress. The topper itself is also very durable, the stitching is perfect and the alignment of the two layers has been well done.
Does the idea of sleeping on a puffy cloud sound heavenly to you? This two-layer mattress topper adds 2 inches of fluffy fiber-fill in a soft quilted cover to 2 inches of cooling gel memory foam, for ...
Available:
In stock
I love amazon but a big downside is that often products are online only, or not available to examine locally . The reviews have been a great guide if you have the time to read through them. I'll sum up what I've read, filtering out the obviously paid for reviews to help illustrate the realities of this mattress topper.I'll start by saying that this is a quality topper as far as materials are concerned. I went to the manufacturers web page and read up on everything. They make their stuff to a relatively high standard, much better than the memory foam toppers I've purchased at walmart in the past. It's made in the USA if you care about that, is tested and meets safety standards related to the chemical content of the foam. The gel foam they use is much cooler than other memory foam, and more supportive. The pillow topper is a bit thin, 1-1/2 inches, but it's close enough and a dream to sleep on. The gel memory foam expanded quickly out of the package without obvious odor, and I slept on it the first night. The instructions said this would help the foam expand quicker with my body heat. Felt great, and got better as it expanded over two days. Many reviewers complained about this memory foam being overly soft and that they experienced back pain from how far they sank into the topper. I feel like those people are unfamiliar with memory foam, or already have particularly good mattresses and don't need such a heavy duty topper. I say this because I have disc issues all down my spine, and my back feels great in that bed. Then again I have a firmer mattress, the disc stuff was recent and I had to find something I could sleep on without pain. It can be hard to maneuver around while in bed, but if you've slept on memory foam for a whole night before, and like it, this is a top notch topper for the money.Read more ›
May 20, 2014
If I could give the Sleep Innovations 4-inch Dual Layer Mattress Topper a 6 star rating I would. Last night I slept eight straight hours before waking up rested and refreshed this morning. I have not slept eight hours straight in a very long time. I have not slept and awoke as relaxed and refreshed either.The mattress topper provided the cradle-like support and cushioning my body craved. For years I've been sleeping on a Serta mattress we bought as it felt right at the furniture store. We installed the mattress on our platform bed frame, once used to support a waterbed mattress, and I have lived with a too firm mattress. We've tried various mattress toppers including the Sleep Innovations model. The Sleep Innovations model seems to be the perfect answer.Things I noticed when I first installed/used the mattress topper:*When we first laid the mattress topper on the bed mattress it seemed too small. Within five hours it fit our queen size mattress.*The topper is a bit heavy so it helps to have two people lay the topper on the bed mattress.*At first my lower back ached a bit when I laid down on the bed. Later the ache disappeared as the foam cradled my body.*The mattress topper cradled and supported my body and I felt like I was sleeping on a cloud.*I did not notice any movement from hubby while we slept. Sometimes he moves a bit (as do I) and we both snore. Last night I noticed nothing. It was heaven.*The one drawback of the mattress topper is a very slight odor. The smell is slowly dissipating.I will update this review if needed. For now I am a well rested happy camper.Recommend.Penmouse
December 29, 2013
Amazing product as most others have already mentioned! After sleeping on a quality fiber bed topper for years, I didn't think it could get any better. This beats anything in my wildest dreams. The foam is firm enough to support your body yet plush enough to contour to it and relieve any pressure points. It literally feels like sleeping on a cloud as others have said. It doesn't get too hot either at least for me. So happy with this purchase. It is silly to say, but I honestly do look that much more forward to going to sleep with this on top of my mattress.The only thing to mention to buyers is that it did have a (minor) smell when I took it out of the packaging yet this dissipated after a few days. Also, in the pictures in the product ad, the second topper (baffle boxed fiber one) looks like it is free and not attached; however, in the product I received, it is more like a mattress pad/fiber bed combo in that it stretches and secures to your mattress. Just thought I'd mention. It might be a little more expensive than some other options, but you so get what you pay for in this instance. Besides, you spend so much of your life sleeping, it just makes sense to invest in a good night's sleep. If you can't quite afford a full memory foam mattress, this is probably one of the best alternatives you can find in my opinion.
December 15, 2015
PROS:
Resistant to dust mites and allergens
Utilizes advanced technology to improve airflow
Ready to use in 48 hours after unpacking
10-year limited warranty
CONS:
It is a bit heavy and you may need some help to place it over your current mattress
back to menu ↑
Sleep Innovations Twin XL Memory Foam Mattress Topper
Although this one is slightly thinner than its other siblings from the same company (Sleep Innovation), it still promises to offer great sleep quality. Sleep Innovations 2-Inch Memory Foam Twin XL Mattress Topper comes with two layers, one being a memory foam layer that conforms to your body shape to ease pressure points and enhance heat distribution. The other layer comprises of waterproof protection, which besides being effective is quite soft and noticeably noiseless.
Has durable high-quality sides that stretch to accommodate up to 15-inch deep mattress which ensures that pad stays in the right place time after time.
Made of soft fiber which has been expertly stuffed inside the mattress pad in such a way that it also creates a noiseless waterproof barrier.
It is quite durable and it maintains its shape for many years. It is even covered by a 10-year limited warranty that protects the buyer from risks of premature wear and tear.
Features advanced cell technology which alongside strengthened cell walls works to enhance air circulation and regulate heat accordingly.

Are you dealing with a twin bed that
Available:
In stock
I ordered this foam to cover my cheap mattress (I'm in Afghanistan). The pad is definitely memory foam, not the cheap foam or egg carton cheap sponge stuff. The price was good and I was able to receive it in country. Needless to say, I have the most comfortable bed on camp. My mattress is warped and uneven so the foam has made it livable and even enjoyable to sleep on now. Here's to a good nights sleep...
September 10, 2010
I bought this pad for the notoriously hard mattress in my daughter's dorm room and it made her bed so comfortable, that now she says her bed at school is more comfortable than her bed at home. So if you buy this for your student but you want them to come home regularly, you might want to buy one for their bed at home too. The only complaint I would have is that the sleeve they provide to keep the pad in place is very inconvenient and does not work that well. We ended up forcing it under her sheet and then it still tried to slide off the bed. So then we bought rubber shelf liners and put them under the pad to prevent sliding
December 16, 2010
So comfy! My dog ate my previous mattress topper and this is a way better replacement! It is so soft and did not smell like plastic as most do when they come out of the packaging. My dog likes it too. Let's hope he doesn't eat this one as well 🙂
July 17, 2015
PROS:
Suitable for back as well as side sleepers
Long-lasting plus it is backed by a 10-year warranty
Designed with premium pressure relieving memory foam
Made in the USA
CONS:
Has a heavy odor upon unpacking
back to menu ↑
Best Price Mattress Memory Foam 4-Inch Topper
When you first lay down on this mattress topper, you will find that it is a bit firmer than you may expect. However, after you lay down on it, it gradually reacts to your body temperature and starts to contour according to your body shape. Best Price Mattress 4-Inch Memory Foam Mattress Topper eventually supports your weight and brings relief on all pressure points.
The strength of this topper is hard to beat given then it features a 4-inch layer that can go over any bed and turn it into a place where you can get comfortable sleep.
It is CertiPUR-USA certified meaning it is free from any harmful materials or chemicals.
It comes secured with a 5-year warranty which reassures the customer that this product is of high quality.
Available in Twin (39x75x4), Full (54x75x4), Queen (60x80x4) and King (76x80x4) sizes.
Memory foam provides a great sleeping surface. In normal temperatures it is somewhat firm, but when you lay down, it starts reacting to the temperature of your body and begins to mold itself to your ...
Available:
In stock
High-quality yet super affordable; I was initially worried it was going to be cheaply made, but not at all -- it's just as nice as the more expensive toppers I've owned in the past, if not better. Minimal off-gassing (odor) after opening the packaging. I've always hated my mattress until I added this topper. No more neck and shoulder pain (I'm a side sleeper so I need a softer surface), and I feel rested in the morning and actually look forward to going to bed every night for a change. Buy it, you won't be disappointed.
February 11, 2014
As soon as we cut the plastic, it began to expand, a beautiful sight. It's 4 inches deep. This item deserves a more illustrious name and higher price. Buy it, before they figure it out.
January 16, 2015
After hours of browsing and reading comments I finally decided to go with this foam topper. Being on the heavy side I was worried I'd just sink through. But I can't be anymore happier! It arrived quickly and it quickly took it's shape after opening it. It did have a slight odor to it but nothing to overpowering. The odor was gone completely after a day or two. I slept on it the same day and I just can't get over how well it's made and durable it is! I slept like a baby, I did not want to wake up. I was so impressed with it, I had to show everyone that came over to lay on my bed. Call me crazy but I just love it so much If anything happened to it or years down the line I needed another one I'd definitely buy it again.
April 21, 2015
PROS:
Has a zippered polyester mesh cover
Utilizes responsive active suspension which minimizes disruption to your sleep partner
Offers chiropractic benefits to the user
Safe for family and environment
CONS:
Comes with a terrible odor, which fortunately dissipates in a few days. This odor may leave you feeling dizzy.
How to Choose a Mattress
With so many mattress topper types on the market, it is perhaps more helpful to consider a few key points before making a purchase decision. The first factor you should consider is price. Memory foam and wool toppers are generally more expensive than latex. Another point worth taking into account is firmness. A good topper is one that provides pain relief and extra support so your natural posture is enhanced. You basically want to find a material that is relatively comfortable and soft. What about thickness? Toppers tend to fall in the range of between 2 inches and 6 inches. The thicker the mattress protector, the more it is likely to weigh and the denser it's likely to be. Thinner mattresses are preferred when you need to enhance a relatively new mattress while thicker ones are preferred for revitalizing aging mattresses.
Reasons You Need a Topper
A mattress topper can easily be the most valuable investment you can make for your mattress. First, it keeps your mattress clean and looking new for longer. You will actually need to replace your mattress more often if you use it without a protector. So in other words, a topper is a brilliant way to save on cash that would be spent on purchasing a new mattress all so often. In addition, usage of a topper can protect your mattress against dust mite build-up. That's, of course, to top up to the fact that it protects your mattress and validates the warranty. Remember, even a single stain on your mattress can render your warranty null and void.
Types of Mattress Protectors
Generally, there are 6 categories of mattress protectors all which come with their fair share of pros and cons. The most popular variety is the memory foam variety which is known for its chiropractic benefits. Latex is yet another common type and this one is best known for its firmness in addition to hypoallergenic benefits.
You can also find featherbed, fiber bed, wool as well as waterproof mattress protectors all, which are popular for various reasons.
Competition – Which One Is the Best Among Reviewed and Why
All these 10 mattress topper brands we've reviewed have their fair share of upsides and downsides. For instance, while the Best Price Mattress Memory Foam 4-Inch Topper promises ultimate comfort, it comes with a terrible odor that can easily turn you off. The All Season Down Alternative King Topper while renowned for its fluffiness fails the test because of it easily gets damaged when put under machine wash. Lucid Linenspa 2-Inch Memory Foam Topper, on the other hand, comes close to the top, all thanks to an attractive price tag and value for money but fails to conquer due to a sheer number of complaints about its awful odor (which fortunately dissipates in a few days of use).
Overall, Sleep Innovations Dual Layer 4-Inch Topper with Plush Fiber and Gel Memory Foam takes over the top position. It has a super-long warranty period, it's comfy, well-built and perfectly valued; its weight notwithstanding.
Sources: